For more than 20 years, the world's top online casino software developers have ventured into almost every corner of American and world culture to find new and interesting video slot themes. They have done so because the world's video slot players are diverse and always in need of new and exciting slot games to play for real cash.
Among all of the genres that have been included by the industry over the years, movie theme slot games seem to stand out above the crowd as far as popularity. This has led to an extraordinarily strong partnership between movie studios and online slot developers like Microgaming, PlayTech, and NetEnt.
Each of the aforementioned software development studios have put forth some amazing video slot games built around popular movie titles.  They have been able to successfully integrate each movie with exciting bonus features that include free spins in the UK and large bonus jackpots. Using these three software developers to represent the rest of the online casino industry, let's take a look at some of the top movie theme video slots these software developers have innovated.
Microgaming
Microgaming holds the distinction of being one of the online casino industry's first major software developers. As such, the company was one of the first developers to recognize the value of developing video slots around movies. If a movie had or has a major following, it only stands to reason that the movie's video slot sister would be just as popular. That has certainly proven to be the case.
Here is a partial list of the top move themed video slots developed in the studios of Microgaming: Lara Croft: Tomb Raider, Jurassic Park, Jurassic World, Psycho, The Dark Knight Rises, Terminator I and II, Highlander, Bridesmaids, The Phantom of the Opera, Halloween, and Tarzan.
PlayTech
While the online casino software development community was scrambling to secure licensing for access to top movies, PlayTech was putting forth most of its efforts working with Marvel Comics to secure unfettered access to all Marvel Comics content. The result has been and amazing list of Marvel movie video slots that video slot players all over the world love.
When it came time to kick things up a notch, PlayTech took these games and tied them all together in an innovative progressive slot bonus game called Marvel Mystery. Top prizes on this progressive game can reach as high as $1,000,000 USD. The list of games includes, but is not limited to: Iron Man I, II, & III, Ghost Rider, The Avengers, X-Men, Blade, Captain America, Hulk, and Wolverine.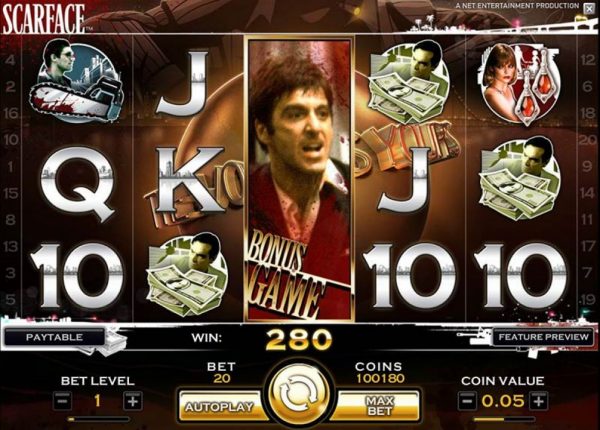 Net Entertainment (Netent)
As one of the industry's top innovators, Netent has proven to have a real knack for developing exciting bonus features built within slots based on popular movies. The list of movies this software developer has developed is quite impressive. Here is just a few of the developer's top efforts: Planet of the Apes, Scarface, Frankenstein, Aliens, The Pink Panther, Creature from the Black Lagoon, The Invisible Man, Conan, Excalibur, Dracula, and Jumanji.