Killer Raccoons! 2! Dark Christmas in the Dark, 2020.
Written and Directed by Travis Irvine.
Starring Yang Miller, Evelyn Troutman, Mitch Rose, Ron Lynch, Tom Lyons and Ron Jeremy.
SYNOPSIS:
On Christmas Eve, a former student is released from a decade-long stint in prison and, eager to leave town, boards an express train bound for Washington D.C.. Before long, however, a group of thought-to-be-dead criminals have hijacked the train along with a team of gun-wielding raccoons.
Somewhere in the deep, dark annals of YouTube, perhaps after some hefty, post-pub internet rabbit holing, you might stumble across the debut feature of indie filmmaker Travis Irvine. Murderous rodents, fake facial hair and acting more wooden than the trees that populate the film's woodland setting, the first commercial release from a group of Ohio University communications undergrads, Coons! Night of the Bandits of the Night — a horror comedy-cum-musical made in 2005 on a shoestring budget of $5,000 — is every bit as trashy as its title might suggest.
Fifteen years later, Irvine comes armed with more animal antics and an evidently larger pot of money in a sequel that, while now not appearing as though it was filmed with a potato, never scrimps on its so-bad-it-might-actually-be-good brand of tackiness.
In the spirit of the enjoyably zany sub-genre of films about animals terrorising people on public transport, the high-concept premise of Irvine's movie confirms just about every preconception you might have for a film called Killer Raccoons! 2! On Christmas Eve, Ty Smallwood (Miller), a survivor of the events of the first film and the subject of many recurring penis-themed gags, is released from a 10-year prison sentence with sights set on skipping town via an express train headed for the American capital. While on board he tries to connect with his prison pen pal, Darlene (Troutman), the younger sister of the now-dead girl Ty lost his virginity to ten years previously.
Meanwhile, a satellite manned by government-trained raccoons and overseen by a branch of the Department of Defense is hacked by a band of eccentric characters from Irvine's first outing — headed up by former camp guard Ranger Rick Danger (Rose) — who were thought to be long dead. Teaming up with the eponymous trigger happy rodents, the group take control of the train with a plot to blow up the city of Denver, leaving it up to Ty and co. to prevent disaster.
Much like Alien and its Cameron-helmed sequel, if Irvine's first film parodied the slasher genre — a Camp-Crystal-Lake-with-killer-critters type foray — his follow-up seems more attuned to the action blockbuster; only one that trades genuine thrills for taxidermy and a bankable A-list action star for former porn actor Ron Jeremy. And while Killer Raccoons! 2! riffs rather conspicuously on the likes of T2 and The Taking of Pelham One Two Three (its festive setting might even be a sly nod to the age-old Die Hard debate), its most exhausted point of reference is its own original.
Like the barrage of raccoon faeces that pepper the protagonists in the first movie, Irvine throws everything he has at the sequel — from resurrected characters to recurring jokes to crude sexual humour — in the hope that some of it sticks. Unless phallic-shaped spacecraft named PEN15 is very much your bag, or you've managed to first of all find, and then sit through, all 80-minutes of Night of the Bandits of the Night, most of it won't, and any of the countless references to "sh*t snakes", "sophomoric" or "breast-isisissts" will likely pass by without so much as a smirk.
If there are laughs, however, they can be found  primarily in the film's knowing deconstruction of sequel conventions and the tongue-in-cheek manner with which it embraces its own cinematic limitations. The shoddy special effects, for instance, are played almost entirely for laughs and the hammy acting is deliberately turned up to eleven. Characters often remark on the implausibility of events unfolding; while others acknowledge the film's use of different actors for the same part: "It's almost as if I'm a totally different person now".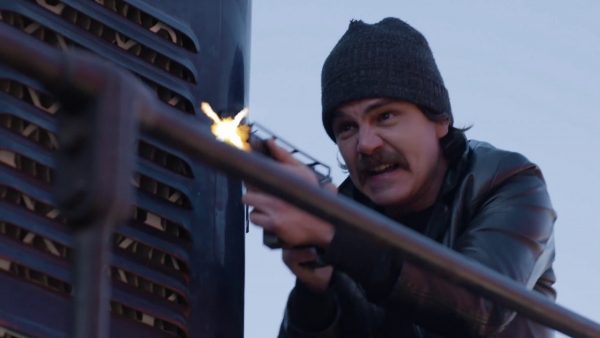 All this makes for an hour and a half that is terribly substandard yet strangely watchable. Through spray-painted VHS tapes, crappy wigs and duels with sandwich toasters, Irvine taps rather commendably into the silly side that exists within us all. Perhaps unintentionally, it seems to speak to our inner child, the version of us from yesteryear who had just seen their first Spielberg flick and, armed with little more than a basic JVC recorder or early camera phone and bags of enthusiasm, headed out during the summer holidays with their mates to film the first thing that came to mind. Deliberate or not, and even with shortcomings as subtle as a rodent wearing a Santa hat and wielding a machine gun, that all seems to be part of its charm.
Flickering Myth Rating – Film: ★ ★ / Movie: ★ ★ ★
George Nash is a freelance film journalist. Follow him on Twitter via @_Whatsthemotive for movie musings, puns and cereal chatter.