Yes, God, Yes, 2020.
Written and Directed by Karen Maine.
Starring Natalia Dyer, Alisha Boe, Francesca Reale, Timothy Simons, Donna Lynne Champlin, Wolfgang Novogratz, Parker Wierling, Allison Shrum, Tre'len Johnston, John Henry Ward, and Teesha Renee.
SYNOPSIS:
After an innocent AOL chat turns racy, a Catholic teenager in the early 00s discovers masturbating and struggles to suppress her new urges in the face of eternal damnation.
It's reasonable to read the synopsis of Yes, God, Yes and assume that a scathing condemnation of Catholic practices is going to be at the center of the story (at least if you are like me and have never seen the short story of which Karen Maine has adapted into her first feature-length film, bringing back her star from that short film, Natalia Dyer of Stranger Things fame). Surprisingly, this tender drama is not really bitter or angry but takes the approach of calling out the hypocrisy within the religion and the fact that most of us probably have at least one shameful secret, whether it be from our own times as a teenager or possibly even adulthood.
Such direction is traveled with clarity, vibing well with the scant running time that barely cracks 70 minutes without ending credits; the film is serious and thoughtful only when it needs to be, opting more for intentionally cringe sexual humor and innuendos that naturally comes with the territory of a high school girl (and one going to a private Catholic school at that) curiously becoming more inquisitive regarding horny thoughts and masturbation. Yes God, Yes (both the short film and this full-length version) also contain autobiographical elements of writer and director Karen Maine's real-life, which are palpable and give the proceedings a sense of authenticity beyond the early 2000s time period (which makes notable visible usage of everything from AOL chat rooms to antiquated wireless phones.)
Functioning as somewhat of a surrogate for Karen Maine, Natalia Dyer is Alice, a model student at the private school; she's the one that follows the strict dress code to a T whereas much of her fellow classmates disobey and get in trouble. Unfortunately, there are rumors going around school that Alice has engaged in sexual acts with a peer that already has a girlfriend. She's the only one denying the story, while the boy is more concerned that the allegations almost ended his relationship, over how it's affecting Alice. Matters are complicated when Alice does actually begin to become interested in sexual behavior following a brief but awkward roleplaying session with a man over AOL Instant Messenger (going as far to claim that she is 22 when she is asked the age-old digital conversation starter of A/S/L.)
This sets the stage for a weekend retreat hosted by the Catholic school where Alice has to deal with progressively getting hornier from shyly thirsting over a star football player, while simultaneously trying to squash the false rumors about her sexual life as she also conducts more secret research on sex itself. The best and funniest scenes of the movie involve Alice seeking attention from the boy, whether it be from telling sob stories or cleverly finding ways to get physically closer to him.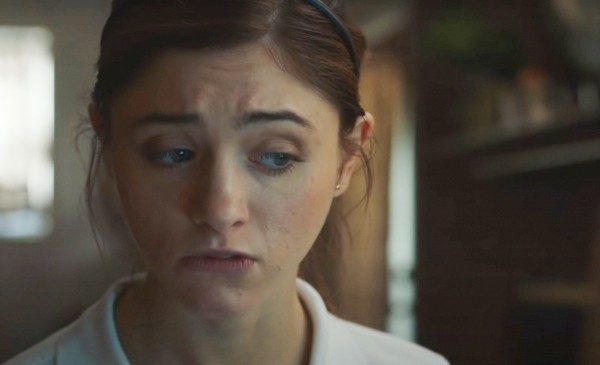 Of course, throughout all of this Father Murphy (Timothy Simons) gives a number of lectures on God's intentions for sex and masturbation being a sin. It turns out to be a creed that some people follow while others don't. Without spoiling the details of who does what, Yes, God, Yes points out not only how inane these beliefs are, but how not necessarily all of the counselors practice what they are preaching. It only further blurs what the students are actually supposed to be gaining from such misguided lessons rooted in shaming others.  Alice's perspective is the one that matters most, but it's also hard to not look at the running time and feel that certain other characters could have been fleshed out more to further drive home that theme of hypocrisy when it comes to the actions of both students and adults.
Natalia Dyer is outstanding, even when the script calls on her to bring all the themes home with a speech detailing what she has gleaned from the weekend experience, but Yes, God, Yes sort of ends when all of the character dynamics are really beginning to heat up. There's an often made, potentially sexist, analogy made in the movie that compares the act of getting horny to microwaves and ovens and how women need to be preheated to build to that sensation. All I'm saying is Yes, God, Yes bakes and bakes and by the time it's finished, you don't even realize the dessert has already been eaten. Still, it's wonderful, relatable, and should be sought out by both teenagers and products of Catholic upbringings.
Flickering Myth Rating – Film: ★ ★ ★ / Movie: ★ ★ ★ ★
Robert Kojder is a member of the Chicago Film Critics Association and the Flickering Myth Reviews Editor. Check here for new reviews, friend me on Facebook, follow my Twitter or Letterboxd, check out my personal non-Flickering Myth affiliated Patreon, or email me at MetalGearSolid719@gmail.com