The Flickering Myth writing team share their thoughts on the first trailer for Dune…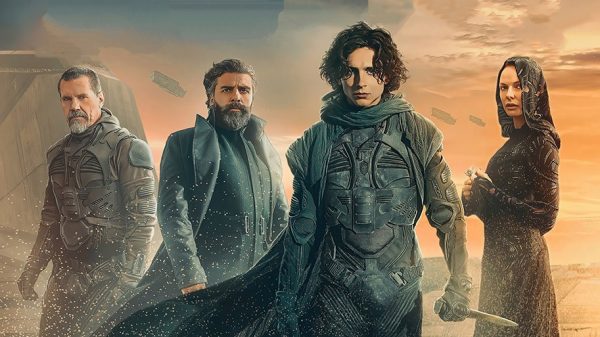 While it seems a little unclear at present if the movie will hold on to its planned December release date, Warner Bros. ramped up the publicity for Arrival and Blade Runner 2049 director Denis Villeneuve's next movie yesterday with the first trailer for Dune.
There's certainly a lot of anticipation for this latest attempt at bringing Frank Herbert's sprawling sci-fi epic to the screen, and following this first glimpse of Villeneuve's vision, our writing team got together to discuss the trailer and their excitement – or concerns – for the movie.
EJ Moreno – It looks like Dune, for better or for worse depending on how you feel about the source material. Villeneuve is a talented director, but I don't think he can make this work. I expect another Blade Runner 2049 on our hands.
Scott Watson – I hold David Lynch's version in high esteem. It was a huge part of my growing up. This feels similarly epic. It looks stunning. The score has some lovely nods to the original score. I'm really really looking forward to this. Jason Momoa as Duncan is going to own. As is Brolin as Gurney. Very impressed indeed with it.
Villordsutch – The saga of Dune has been one of my true literary loves for years. When I heard that Villeneuve was undertaking this mammoth task I was over the moon, as he's already delivered a number of classics. This trailer has given me the briefest of glimpses, that this is going to be epic. Denis looks like he may have actually captured the universe of Dune on film. Also, the use of Dark Side of the Moon was perfect for the trailer too. I am so very excited.
Ricky Church – I haven't read the book. I haven't seen the Lynch film or any of the TV miniseries that have followed. I know next to nothing about the source material or mythology. I've always wanted to check them out, but have never quite found the time.
I'm prefacing with that to say the trailer looks epic and quite interesting. The cast looks stunning and Timothee Chalamet looks very intriguing as the lead. The action, visual effects, production design all scream how much care and attention to detail went into it. I was interested before with Denis Villeneuve attached, but now I really want to see this thing (hopefully) on the big screen.
Chris Gelderd – I mean… it looks good and slick as most modern sci-fi films do but I think it will tank as hard as Blade Runner 2049. I don't think this is a film heaped in so much lore and fantasy that audiences are going to flock too. Just a gut feeling I have that this will be too much for the casual movie fan and be a bit of a trek that isn't going to win huge audiences, like BR2049.
Robert Kojder –  I'm also in the camp of knowing nothing about Dune but still found that trailer to be looking epic. This also has one of the craziest ensembles I've ever seen for a major blockbuster. Denis usually cracks my top five every year he releases a movie, and it looks like that trend could continue.
Tom Jolliffe – Is it too Dune for the general audience? Not Dune enough for the Lynch fans? Does it tick the checklist for the Herbert fans? That being said, it looks great and it's Denis, so it's most likely going to be good. Pre-Covid was a hard enough sell, but post? It's probably going to tank but I suspect like BR49, people will probably still talk about it in 20 years.
Gerald Jeffrey James – This is dark. Not tonally, visually. This is going to be to theater projectors what Crysis was to gaming PCs.
Martin Carr – This looks truly epic with outstanding visuals and some decent character introductions crammed in there. My only issue with Dune has been how effectively they can wrangle the complexities of this story. There is no denying the scope or scale on display, but Dune should come with its own York notes as standard.
Allen Christian – As a fan of both the David Lynch film and the original novel (for very different reasons, honestly), as well as Villeneuve's previous sci-fi films, this works for me.
There's maybe a visual sterility that I don't particularly love here, but I'm hopeful that's not entirely representative of the movie as a whole. I was hoping for more of Blade Runner 2049's use of color than Arrival's desaturated, bleak tones. I am also concerned that they replaced the word "jihad" with "crusade." I'm hoping that just marketing cold feet for the trailer and not that they've missed the point of the Fremen.
I still think that there's no money to be made here (even if the market improves), and that this will be yet another expensive Denis Villeneuve sci-fi with no hopes of breaking even, but this is still my most anticipated film of the year.
What did you make of the first trailer for Dune? Let us know on our social channels @FlickeringMyth…
A mythic and emotionally charged hero's journey, "Dune" tells the story of Paul Atreides, a brilliant and gifted young man born into a great destiny beyond his understanding, who must travel to the most dangerous planet in the universe to ensure the future of his family and his people. As malevolent forces explode into conflict over the planet's exclusive supply of the most precious resource in existence—a commodity capable of unlocking humanity's greatest potential—only those who can conquer their fear will survive.
The film stars Oscar nominee Timothée Chalamet ("Call Me by Your Name," "Little Women"), Rebecca Ferguson ("Stephen King's Doctor Sleep," "Mission: Impossible – Fallout"), Oscar Isaac (the "Star Wars" franchise) Oscar nominee Josh Brolin ("Milk," "Avengers: Infinity War"), Stellan Skarsgård (HBO's "Chernobyl," "Avengers: Age of Ultron"), Dave Bautista (the "Guardians of the Galaxy" films, "Avengers: Endgame"), Stephen McKinley Henderson ("Fences," "Lady Bird"), Zendaya ("Spider-Man: Homecoming," HBO's "Euphoria"), Chang Chen ("Mr. Long," "Crouching Tiger, Hidden Dragon"), David Dastmalchian ("Blade Runner 2049," "The Dark Knight"), Sharon Duncan-Brewster ("Rogue One: A Star Wars Story," Netflix's "Sex Education"), with Oscar nominee Charlotte Rampling ("45 Years," "Assassin's Creed"), with Jason Momoa ("Aquaman," HBO's "Game of Thrones"), and Oscar winner Javier Bardem ("No Country for Old Men," "Skyfall").