Wildfire, 2020.
Written and directed by Cathy Brady.
Starring Nora Jane Noone, Nika McGuigan, Kate Dickie, and Martin McCann.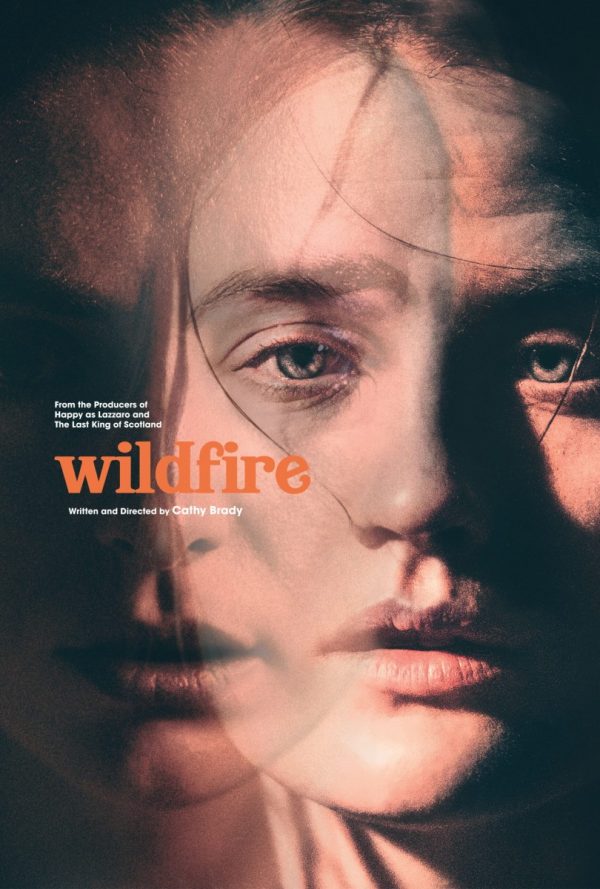 SYNOPSIS:
The story of two sisters who grew up on the fractious Irish border. When one of them, who has been missing, finally returns home, the intense bond with her sister is re-ignited. Together they unearth their mother's past, but uncovered secrets and resentments which have been buried deep threaten to overwhelm them.
In her ambitious feature debut, Cathy Brady tackles the thorny theme of inherited trauma through a specific geo-political lens, and despite some late-stage stumbles, makes the near-most of her two exceptional leads.
After being missing for years, Kelly (Nika McGuigan) makes a grubby return to her Northern Irish hometown, where she reconnects with her sister Lauren (Nora-Jane Noone). Yet beyond the obvious relief that Kelly has turned up alive, there is much fear percolating beneath the surface, that Kelly's untethered lifestyle is a marker for the same mental illness which prompted the sisters' mother to commit suicide while they were still children.
Brady's film opens with a stirring montage of news footage chronicling both the Troubles and the historic Good Friday Agreement, with a knowing final clip intimating that Brexit is imminently due to re-open the sutures of that conflict.
But Brady thankfully doesn't use Northern Ireland's divide as a neatly simplistic allegory for the estrangement of the two sisters, instead fashioning an uneasy tale of sisterhood that's concerning, touching, and later on temporarily ridiculous.
Much of Lauren and Kelly's early interactions sea-saw between soothing nostalgia and learned anxiety, from enjoying a dip together in the nearby lake or sharing a bed, to poring over the emotional detritus of their past as they examine their mother's belongings. Producing especially telling results are an old cassette tape of her voice and a jacket which Kelly has taken a liking to – the very jacket their mother wore when she died.
Brady creates a mood of discomfort where audiences aren't likely to be sure precisely where things are going, mining enormous amounts of tension out of actions as basic as a piece of paper being read or Kelly going for a swim with the local kids.
So many seemingly innocuous moments are flavoured by spectres both visible and not; there's the obvious mental health element, as well as the past of a hometown scarred by terrorism, the looming shadow of Brexit, and even the fact that Lauren works for an Amazon-adjacent logistics company which shows a patent lack of respect for its employees.
But as Lauren knowingly says, "It's this fucking town," because it's really the encroachments of their home population which won't let old wounds heal; the locals are intimately abreast of each other's business, and develop an excessive concern with what the town will think about even relatively benign behaviours.
Seemingly by design many of these ideas are more of a gloss than truly fleshed-out, only for Brady to make a disappointingly enthusiastic detour into silly melodrama territory in the third act, very nearly veering off the deep end in the process. Beyond the implausible escalation of intensity and a forced attempt to circle back to the sisters' central trauma, it just feels a tad manipulative in how it presents certain facts. And so for all the many great things it does, Wildfire falls somewhat apart at the last few hurdles.
Nevertheless, the performances are uniformly strong, and audiences are likely to be left gob-smacked by an end credits dedication to lead actress Nika McGuigan, who tragically passed away while the film was in post-production. While it's impossible to view Kelly through a neutral lens with this unfortunate added poignance, it is an outstanding performance on its own merits, with McGuigan wearing years of trauma on her face throughout.
Her screen chemistry with Nora-Jane Noone ensures the pair are entirely believable as siblings, Noone being the angrier, more fiery other to McGuigan's more mournful, sorrowful Kelly. Elsewhere Martin McCann is effective in a supporting role as Lauren's put-upon husband Sean, who becomes increasingly exasperated at his life being uprooted – quite literally in the case of his and Lauren's garden, which Kelly repurposes into a vegetable patch early on. Katie Dickie also appears in a small role as the sisters' aunt Veronica, though ultimately gets precious little to do.
Wildfire sometimes feels like it doesn't know what sort of film it wants to be; the slight, character-driven storytelling is periodically interrupted by joltingly intense flashbacks, and later on, outright melodrama as it heads towards the finish line – which, in a pacy 85 minutes, arrives before you know it.
Though deigning to silliness in its third reel, Wildfire presents a searing, well-wrought drama about generational trauma to mostly disarming effect, aided by spectacular performances from its two leads.
Flickering Myth Rating – Film: ★ ★ ★ / Movie: ★ ★ ★
Shaun Munro – Follow me on Twitter for more film rambling.