Tom Beasley chats to Antonia Campbell-Hughes, co-writer and star of the strange, London-set paranoid thriller Cordelia…
It's fair to say that Cordelia is not an easy movie to discuss. Set in London and dealing with a woman reeling from trauma in the wake of the 7/7 bombings, it's a paranoid thriller in the grand tradition of movies like Repulsion. The title character, played by co-writer Antonia Campbell-Hughes, crosses paths with upstairs neighbour Johnny Flynn – a cellist who might be trustworthy, but might be precisely the opposite.
Campbell-Hughes sat down for a chat on the phone with Flickering Myth, in which we unravelled some of the secrets behind Cordelia and discussed the bizarre controversy that saw the movie labelled on social media as a sexy period drama.
Hi Antonia, and congratulations on the film. I sat and watched Cordelia in the dark, on my own and it put me through the wringer.
Oh really? But it's not scary!
It's not so much scary as it is so strange and unsettling that I wasn't quite sure how to feel.
That's good, I think, because that's the sort of tone we set out to make. What I always thought was quite interesting is, say you spend 48 hours alone in a space and you're someone who's quite internalised or isolated, it's interesting what can happen to the human psyche when you self-isolate for a short period of time. It is that kind of fine line where things can go slightly off. That was the tone we wanted to transfer to an audience watching it.
And it's interesting that this is coming out now, when isolating in our homes on our own is something many of us have had to deal with.
I know, and hopefully not with the same results! When this was brought to me and I did a pass on it as a writer, the concept I thought was very interesting is the idea that people, especially in big cities like London and New York where people live en masse in a small geographical space, live like ants and they co-exist but never really engage with one another. In cities, people have to work so hard to survive the pace of living in a metropolis and I was interested in the fact that human beings don't have the time to interact with one another and that can be extremely isolating. It's more isolating to live in a heavily populated city than in the countryside. So I think what has been interesting about this time of lockdown is that the pace of city life has changed. There isn't that kind of fast pace to survive.
You sort of alluded to it there, but I'm keen to ask how this project was born and how it came to you?
I was cast in a TV series that the director, Adrian Shergold, was doing called My Mother and Other Strangers – a BBC period piece thing. He and I, in the first instance, had quite a connection and got on very well. I guess he was sort of watching me in this 1940s, trussed-up period thing and going "that could be a potential fit for Cordelia". So at the end he asked me to meet up with him and he presented me with this script-in-progress he had developed for and with, to a certain extent, Sally Hawkins quite a few years before. He gave me the script, which was in a more sort of loose format. It was less tailored, I suppose.
He knew that I had been writing for as long as I had been acting and said that, if I was interested in playing Cordelia, would I like to do a pass on the script and make it more of my own voice and almost contemporise it more. Adrian so wonderfully represents a different generation. He grew up with films like Repulsion and all of those iconic 60s and 70s cinema. My energy is much more from the European cinema point of view. A lot of the films I've done as an actress have been European co-productions. So I did a pass on it, over a month, and came back. I think the final result very much is like a marriage of two generations and two genders.
And how did that creative partnership work once you got on to set? Once you were acting, were you actor and not writer from then on?
It was funny because it didn't become very clear until the first day. On the first day, I was 100% actor. It was the only way to do it.
You're playing a dual role here. What were the challenges of that?
I think, before filming and in the months coming up to it, I was quite determined and there was trepidation as to how to make sure it was done very well and for it to be believable with how far we pushed the twin aspect. I worked on it quite a bit. We talked a lot about where their differences and similarities were. Obviously you look the same because you're the same actor, but we spoke about how different they should look and sound.
What I thought was the essence of the twins is they had very different paths. Absolutely, the change of path is an event that happens to Cordelia – a trauma which is very formative and shaping to her for 10 years subsequently. I think it worked quite well. We did have Caroline having a different voice to show the different paths they had led, but we pared that back and had them talk with the same accent. Their differences are so pronounced on screen.
Your co-star is the absolutely wonderful Johnny Flynn. How did he come about for this film? I noticed there's a poster for Johnny's film, Beast, in the Underground in one of the scenes.
You noticed that? I haven't thought about that since the day we filmed that. I remember it was there and we decided to sneakily put it in, but I haven't noticed it in the film since. You have a keen eye.
Johnny was someone we talked about a lot. I did a film with him about 11 years ago and I think it was one of his first films. One of the first films he did after music was one I did with him called Lotus Eaters, so I had that relationship with him and Adrian knew him from something. So we had both previously worked with him. I think it's one of Johnny's best performances, not to be biased. It's so different to how we normally see him.
It's a really interesting performance. You mentioned Repulsion earlier and that's obviously a key influence on the story. What were some of the other influences? It feels like a movie really steeped in various genres and references.
Adrian and I obviously have different films that inspired us. For me specifically, Jacob's Ladder was one. It's not so glaring on screen. Tim Robbins is a man dealing with being a Vietnam vet and coming back from war and the trauma of that. His apartment starts to become other and it's like it becomes this hostile environment, which is meant to be a place of safety. For me, that was very much a reference and Adrian's references were the films he grew up with.
One thing I noticed, and I don't know if this was intentional or not, but it's interesting given the Sally Hawkins connection. The green colour palette is actually quite reminiscent of The Shape of Water?
That's interesting. Maybe that's what comes across with the set build. That particular set build was a direct reference to a flat Adrian spent many years living in in Bloomsbury. I think it's almost a carbon copy, which is like a visual reference to his history. It was like a memoir to his history through the years.
The design of the movie, on that note, is so unusual. You've got these flats which you glide the camera around and there's such a contrast between these flats and the very modern London outside?
These buildings that we walk around in London have so much history and you never quite know what lies inside them. A lot of them are like stepping back into a previous generation.
And that's true to such an extent that when the poster for the film was unveiled, people thought it was a period film. Were you aware of that?
That was drawn to my attention. I don't really know why, because I'm wearing a silver dress that looks like it was from the 80s. I think it was wishful thinking on one person's part and then it spread like wildfire. And possibly because Johnny does so many period pieces?
I think the design of the building plays to that too. That green wallpaper does not look modern.
Those apartments in Bloomsbury really are like that. It's like stepping into a time warp.
Absolutely. As you said, it's an interesting thing about London, that it's almost two words existing simultaneously.
Aren't there regulations that you can't change the interiors of those apartments too much? That sort of thing was really important, making it feel quite timeless and placeless. That's what comes with people who live quite small lives. The outside majority of the world ceases to be.
That's one of the things that's so unsettling. So much of it is clearly set in our modern day, but there will be 10 or 15 minutes at a time when you could convince yourself it's a period piece.
Yes, exactly. That's very relevant to Cordelia's position as a person when we meet her. It's like she has been frozen in time because of this event she has experienced. She has retreated from the active world and been preserved in this spell of time. So that was quite intentional with the apartment and the set build and all of that ambiguous sense of time.
And with that trauma, the film evokes a very tragic event in recent British history. And it's an event I don't think has been evoked that much, certainly compared to the amount of American fiction about 9/11.
It's true. There was a lot of conversation about how present that should be in the film. We decided for it not to be so showcased and be slightly ambiguous. The point is, and I think this is probably very relevant for people who were affected by 9/11, that I think all of America was affected by 9/11 and it was a trauma for everybody, whether you were in situ in Manhattan or not. It really shook the embers and the foundations of everybody.
The extent by which Cordelia is affected, whether she was on the train or in which carriage, doesn't need to be so prescriptive because the point is that she is traumatised without any physical harm. But because there's no physical injury, she's expected to continue on with her daily life. And that isn't necessarily always the case when it comes to trauma.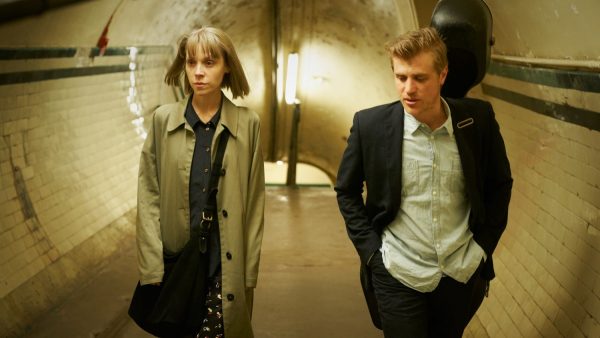 I think a lot of people will come out of this movie with different interpretations or ideas. Have you always had a consistent perspective, or has it changed while making the movie?
I've always known my own position on it. I think in terms of gender equality and about people being very humane and engaging with one another – and this is where the poster comes into play – whatever trauma or anxiety or coping mechanism they have both developed in order to continue on, people are ultimately quite fragile. Yet, we have to exist in an environment that lacks any slow pace or sensitivity. That's why Frank has his own trauma and they are in fact equal and they live as isolated individuals on top of each other. I have always been fascinated by how little patience we have for quiet common human characteristics like fear or vulnerability. As a human race, we don't have much patience for things like that, especially in modern society.
I'm certainly going to be watching it again at some point, because I find it fascinating. We spoke earlier about how strange a time this is. Have you been able to go back to work yet?
I did a Zoom show early on, in April, that was called Little Room. I think it was before other Zoom shows because it was actually when I first heard about Zoom. It had a great cast, with Claes Bang and Brian Cox and Nathan Stewart-Jarrett. Great people. So that was good. I was meant to be directing my first feature in June, and now I start next week. So I have been in solid pre-production.
That's exciting! What's that going to be?
It's a film I've had in development with Screen Ireland for three years now, called It Is In Us All. My lead actor is Cosmo Jarvis and I have a great cast. But it has been very interesting trying to get it going, with COVID protocols and health and safety. We have officers observing our set. But it's good. We're very nearly there.
Thank you very much, Antonia!
Cordelia is in UK and Irish cinemas from October 23rd.
Tom Beasley is a freelance film journalist and wrestling fan. Follow him on Twitter via @TomJBeasley for movie opinions, wrestling stuff and puns.