Books of Blood, 2020.
Directed by Brannon Braga.
Starring Britt Robertson, Rafi Gavron, Freda Foh Sheen, Nicholas Campbell, Kenji Fitzgerald, Paige Turco, Saad Siddiqui, Anna Friel and Brett Rickaby.
SYNOPSIS:
Tales of terror, stories etched in skin and a book guarded by the dead await anyone foolish enough to go searching for answers. These campfire fables for the unwary trade in guilt, pray on insecurities and offer up fragile hope for those embarking on a fool's errand. Beware all who enter here for there be monsters…
This anthology horror yarn from the author of Weaveworld, Hellraiser and Nightbreed is standard fare. Featuring a strong cast headed by Britt Robertson, Rafi Gavron and Anna Friel, these Books of Blood are populated with all manner of ghouls. A fraudulent psychic, a self-sustaining couple with secrets in the walls and some profiteering thugs all fall under its spell.
Unfortunately for the makers this followed on the heels of Monsterland which is superior in almost every way. Although the target audience is more in line with AMC's Creepshow, this sinister collection never goes far enough in either direction. Words etched into an eyeball, remorseful teens with an unquenchable darkness and psychopathic parental figures who care a little too much leave you wanting. This is no Amazing Stories, never comes close to HBO's Lovecraft Country lacking the nuance and is also missing any wow factor.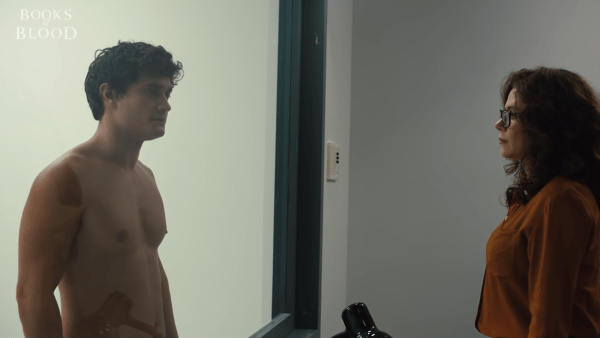 Much of the problem comes from its lack of originality. Although Clive Barker has written some great books an adherence to the source material on this occasion helps no one. Director and co-writer Brannon Braga might have been involved with The Orville, 24 and Star Trek: Next Generation, but their quality rarely shows though. Performances from Anna Friel and Britt Robertson are layered but neither is given much to work with. Robertson is either navel gazing or running while Friel was clearly in need of a pay cheque.
Similarly, Ravi Gavron who has featured in Catch-22, Westworld and A Star Is Born does his best to salvage things, but even that solid performance is diminished. Sinister guest houses, phobias to sound and home style surgery might strike fear into some, but what will scare most people is the lack of atmosphere. This adaptation offers up nothing dangerous even where needles and eyeballs are concerned, while things feel too fragmented before being tied off too conveniently at the end.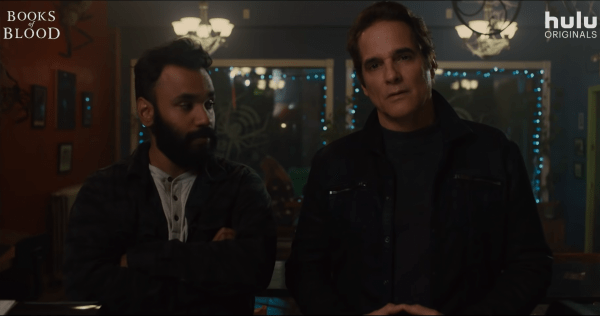 The Books of Blood are disappointing which probably says more about that source material than anyone involved in adapting it. Thankfully one saving grace on this project are the VFX which prove suitably B-movie in origin, but contemporary in execution. Flashes of Hellraiser come through recalling Barker's directorial debut, while full body prosthetics also get their moment to shine alongside some effective jump scares. Beyond that this feels like a wasted opportunity, only really suitable for an older audience who remember the book. For anyone else might I suggest Hulu's Monsterland as an alternative?
Flickering Myth Rating – Film: ★ ★/ Movie: ★ ★ ★
Martin Carr