Ricky Church reviews Batman: Three Jokers…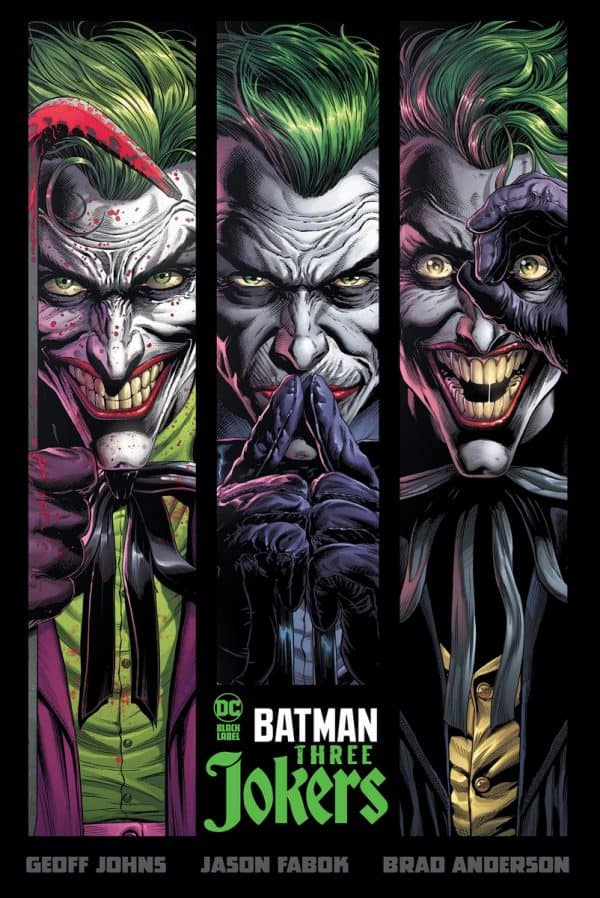 One of the most anticipated comics in the last several years has been Batman: Three Jokers from DC superstar Geoff Johns and artists Jason Fabok and Brad Anderson. This story was first teased nearly five years ago and finally published in its three-issue miniseries this summer and now, in a very quick turnaround for DC, has been collected in hardcover format. One thing is abundantly clear long before finishing the final page of the book: Three Jokers is an instant classic Batman story examining the legacies of both The Joker and Batman and how they define one another.
Teased in one of Johns' earlier DC stories, Batman discovered there has not been one, but three Jokers who have caused him havoc throughout the years, presumably trading places whenever they want. Now Batman has joined with Batgirl and Red Hood, two of his partners who have suffered tremendously at the hands of The Joker, to figure out the mystery behind the three Jokers and put a stop to whatever new evil they are plotting.
Right from the first page, Three Jokers comes off as a very ambitious story that is a spiritual successor to Alan Moore and Brian Bolland's classic The Killing Joke. Johns doesn't set out to redefine Joker like Moore did, but instead explore new facets to his character as each of the three Jokers represent a different aspect or appearance throughout Joker's 80-year publication history. There's the Clown Joker, who is much more playful, theatrical and silly than the others yet jut as deadly; Comedian Joker, who has a twisted sense of humour and is more sadistic; and Criminal Joker, who is based on Joker's first appearance way back in 1940's Batman #1 and is a very stoic, cold figure, barely laughing at all. The fact he is much more collected than the other two makes him all the more frightening.
Johns captures the personalities of the Jokers very well, differentiating each of them enough with their own characteristics so they don't come out as carbon copies. The story though is much less about how or why there are three of them, but more about their impact on the lives of Batman, Batgirl and Red Hood as well as everyone else in Gotham City. The way The Joker is handled, from how other cops speak about him to how his crime scenes are presented, show he is a cut above Gotham's other costumed villains, inhabiting his own creepy and evil corner of Gotham all to himself. However, Johns also examines the "meaning" behind Joker and how much of the allure he holds over many Batman fans comes from his lack of definition. Joker can be anything or anyone – it doesn't matter who he was before he became The Joker because The Joker is all he is now. Examining Joker's past or his place in the Batman mythology can be a make-or-break topic, but Johns balances it gracefully and delivers an answer that is both satisfying and thoughtful.
Conversely, Batman is his usual stoic self, but Johns uses the story to create some intriguing emotional beats for Batman as he deals with the trauma his proteges have suffered. Johns also takes the opportunity to examine an often overlooked element of Batman's character: his heart and empathy. So many writers and fans tend to focus on 'The Dark Knight' aspect to Batman that they focus more on the darkness he carries rather than the compassion he shares for his family, friends and the people he saves. Three Jokers takes it to another level by doing something no other Batman story has done regarding Batman's own trauma and highlighting the compassion for others he has underneath that tough exterior. Batgirl and Red Hood are also used well with the latter's angst and need for vengeance a significant focal point in the story, but Johns also uses this to provide further insight into the mind of Jason Todd and how he connects with others. There is a relationship moment with him that is a bit surprising as it has never been explored before but it feels within the character, especially given the context of this story.
While Johns does some great things with the characters, the real star of the show is artist Jason Fabok. He goes to great lengths to experiment with and broaden his style, using The Killing Joke as a springboard with its 9-panel grid and going from there. The level of detail he puts into the characters, from their facial expressions to body language to the various fights, is nothing short of incredible as he conveys their feelings and movements very well. Much as Johns differentiates The Jokers in their personality, so too does Fabok as he makes each one look distinct and menacing in their own individual way. Brad Anderson's colours compliment Fabok's artwork as he creates some very eerie and disturbing environments. The change in colour as one Joker starts laughing or the light of an explosion really makes Anderson's colours leap off the page. Together, Fabok and Anderson have made the most visually stunning book to be released this year.
The one thing missing from this collection is the vast amount of variant covers Fabok created of The Joker, putting his own spin on different images or moments of Joker throughout his long publication history. Instead, the only variants presented are the three covers of Batman, Batgirl and Red Hood along with an early promotional image of the three Jokers together. There also isn't an a foreword or other behind the scenes material from the team on the long development of this story. While those variant covers and other material are sorely missed, it is very likely they are being held back for the eventual Deluxe and hopefully even Absolute editions that are to come at some point in the future.
Batman: Three Jokers is an essential book to have for any Batman and Joker fan with its examination of their decades long rivalry. Johns' writing is fast paced and introspective while Fabok and Anderson's artwork is so very detailed it is worth pouring over every image in the book for aspects that might have been missed on the first read. Together, they've made a book that not only honours the characters, but is sure to be an instant classic among Batman adventures.
Rating: 9/10
Ricky Church – Follow me on Twitter for more movie news and nerd talk.