Omid Abtahi, who plays Dr. Pershing in The Mandalorian, says that season two's fourth episode fulfilled his Star Wars childhood dream.
In the latest episode of The Mandalorian – the fourth episode of season two – the sinister experiments of Dr. Pershing, played by Omid Abtahi, are revealed in a little more light.
After Din and his crew discover an Imperial lab of deformed test tube subjects, a hologram message by Dr. Pershing to Moff Gideon is played.
In the message, Pershing reveals that they are trying to inject Midichlorian rich blood into test subjects to make them force-sensitive but the results are going horribly wrong (reminiscent of Palpatine's efforts in Star Wars: The Rise of Skywalker, hinting at a possible connection).
The fact that Omid Abtahi got to be an actual Star Wars hologram was a big moment for the actor who tweeted out that ever since he was a kid he wanted to get this opportunity:
"I remember being 10 years old and seeing a hologram for the first time and thinking 'COOOOL!!! I want to be a hologram one day!' Well, The Galaxy responded."
#TheMandalorian actor Omid Abtahi fulfilled a life long Star Wars dream 🙌 pic.twitter.com/s0cqe0FNHn

— Star Wars Facts & Leaks (@SWTweets) November 23, 2020
It was certainly one of the creepier hologram messages we have seen in Star Wars, with Pershing finishing by saying that he needs more access to Baby Yoda so he can extract more of his blood and continue his evil experiments.
SEE ALSO: Giancarlo Esposito's Moff Gideon gets a Mandalorian season 2 character poster
With Moff Gideon now tracking Din and Baby Yoda's starship, the danger levels have certainly increased. Perhaps the pending arrival of Ahsoka will be the protection they need…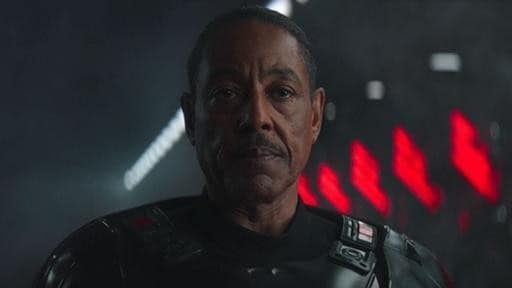 The Mandalorian season two sees Pedro Pascal (Din Djarin), Gina Carano (Cara Dune), Carl Weathers (Greef Karga), Giancarlo Esposito (Moff Gideon) and Bill Burr (Mayfield) joined by new cast additions Temuera Morrison (Star Wars: Episode II – Attack of the Clones), Katee Sackhoff (Star Wars: The Clone Wars), Timothy Olyphant (Justified), Michael Biehn (The Terminator) and WWE Superstar Sasha Banks.
The Mandalorian season two airs on Fridays on Disney+.