Tom Jolliffe looks back at Brazil and 12 Monkeys, released in December 1985 and 1995 respectively…
Former Python animation specialist, Terry Gilliam turned his hand to film direction and became known for creating films absolutely loaded with visual whimsy and outlandishly creative ideas. The limits of budget never stifled Gilliam's own limits despite some frustrations, and he often had a difficult relationship with producers. Whether it was Time Bandits, The Fisher King or The Adventures of Baron Von Munchhausen, the films would enrapture audiences, even if occasionally some couldn't tune into the oddball humour.
Box office success has often eluded a director who has also had struggles even getting some films off the ground. His Don Quixote adaptation had a false start when production shut down on his first attempt (damn those acts of God, among other things). It finally did arrive last year, but I'm not sure many people noticed. It may come as a surprise in fact, that Gilliam has a strong association with Christmas releases, given it's generally a time for safe bet money-spinners. Two of his best films had festive releases and both hit significant anniversaries this December. What better time than to take a look back:
Brazil
Gilliam began the 80's with a hit thanks to Time Bandits. That film would offer Gilliam a good grace that would last through a decade of disappointing returns. First up would be Brazil. The darkly comic and irreverent spin on 1984, with a sizeable budget wouldn't quite strike with a wide audience on its opening run. Critically it was a big success, probably remaining Gilliam's most universally adored film to date (from fans and critics alike). Brazil's brilliantly witty dissection of Thatcher era bureaucracy underpinned a surreal comic tale set in a Dystopian future. Python certainly courses through the veins of the humour, with Gilliam co-writing this screenplay along with Tom Stoppard and Charles McKeown (they shared an Oscar nomination).
The quirkiness and unconventional visuals of Brazil were certainly a calculated financial gamble from the studios point of view. Was it too strange? Perhaps for the kind of box office reserved for films like Back to the Future that same year. Brazil though, is so chock full of dazzling visuals, humour and sharp observations, that it has grown in popularity even more since its first release. Brazil is in fact, still almost depressingly prescient in the same way as Idiocracy, among its surrealist humour, has a grounding in a never shifting truth about society. If Brazil perfectly sent up British politics and society (from systems to trends) from the mid 80's, it rings truer than ever in 2020. Politics and social norms are so inherently comical in their (often) nonsensical nature.
Brazil also marked something of a star power jump for Gilliam. He'd worked with stars in Time Bandits, though many of whom were old Python band-mates popping in, but in Brazil they spread the net further. Bob Hoskins was on something of a good run at the time and popped in for a cameo, but more impressively, Robert De Niro offered huge star power for his barnstorming and enjoyable role. As leading man, Jonathan Pryce offered the right amount of unconfident, bumbling Britishness as Sam Lowry, the man almost comfortably resigned to the mundanity of his not entirely insignificant career. He disappears into his thoughts and increasingly evocative daydreams. What he lacks in ambition in reality, he makes up for in those daydreams which see him as a winged warrior fighting oppressors and rescuing his dream girl (who later appears, as played by Kim Griest, to be very real).
There's no two ways about it; Brazil is a masterpiece. It's a brilliant blend of sci-fi, fantasy and humour loaded with wonderfully quirky performances and unforgettable sequences. With assurance you can say there's nothing else quite like Brazil, which balances its elements so well (conversely, Gilliam's spiritual follow up, The Zero Theorem, didn't get the balance right). It may not have been a big theatrical success, but perhaps it came a little too soon. Indeed, it's also a film that's far better from the 2nd/3rd viewing onward than it is on first.
12 Monkeys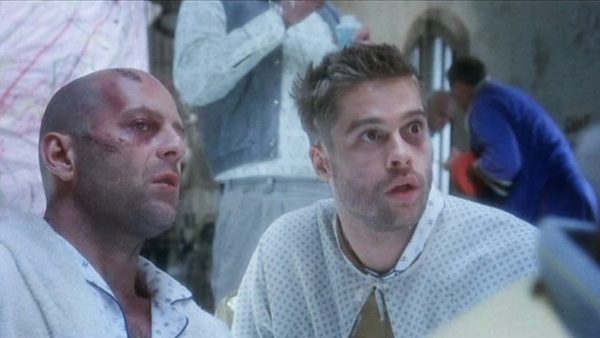 A decade after Brazil, Gilliam had made two more films. Brazil was deemed something of a financial disappointment, even if the critical reception still kept enough credit in Gilliam's corner. That was almost eroded by the expanding budget and indulgence of Baron von Munchausen, which was a big budget bomb (though accrued a strong cult following in the years after). The Fisher King, a safer bet, with enough fantastical scope within it to satisfy the directors visual muscles, proved successful (and with a star powered pairing of Jeff Bridges and Robin Williams, managed to draw in a reasonable audience). This saw Gilliam given another shot at a fairly big film, and thus 12 Monkeys was born.
Gilliam was required to compromise. He gets to make a post-apocalyptic time travel film, but the trade off is, he has to have a big star in the lead (Gilliam's penchant to that point had always leant toward a character actor as the lead). He got Bruce Willis. Willis had already had a new Die Hard out that year. He was back on top (after a disappointment or two with films like Hudson Hawk, Striking Distance and Color of Night) and also coming off the back of widespread acclaim for his role in Pulp Fiction. Gilliam's initial reticence was replaced with a bit more optimism, because Willis had proven his acting chops (some having felt he was repeating MaClane too much in sequels or similar characters). Add in Brad Pitt, who was still more a character actor than the mega star he'd become shortly after, also had star power.
12 Monkeys proved very popular. There were bigger blockbusters that year certainly (not least from Willis himself of course) but the film was a critical and commercial success. It had a little of Gilliam's humour and a whole load of his visual creativity (and almost obsessive approach to pulling off the shots he wanted). Willis was superb, proving the studios faith, but undoubtedly pleasing Gilliam too. Brad Pitt also managed to steal the film with a quirky and manic performance as a prominent figure in unleashing a virus (I know, I guess this is also still prescient) that would wipe out most of humanity. Like Brazil, the film also grabbed the Academies attention with the costume design (Julie Weiss) and Brad Pitt both receiving nominations. That being said cinematographers working with Gilliam through his peak will undoubtedly feel short changed by the Academy (here certainly), and the script and indeed Gilliam himself could probably feel aggrieved. Bookending that 10 year period, Brazil and 12 Monkeys rank as two of the best of the genre in the past 40 year period, as well as probably the two best films Gilliam has made.
What are your thoughts on Brazil and 12 Monkeys? Let us know on our social channels @flickeringmyth…
Tom Jolliffe is an award winning screenwriter and passionate cinephile. He has a number of films out on DVD/VOD around the world and several releases due out in 2021, including, Renegades (Lee Majors, Danny Trejo, Michael Pare, Tiny Lister, Ian Ogilvy and Billy Murray), Crackdown, When Darkness Falls and War of The Worlds: The Attack (Vincent Regan). Find more info at the best personal site you'll ever see…https://www.instagram.com/jolliffeproductions/