Last month's LEGO Star Wars Holiday Special saw several Star Wars alum returning to voice their respective characters, including Kelly Marie Tran, Billy Dee Williams, Anthony Daniels and a number of Star Wars: The Clone Wars veterans.
There were however many notable omissions, including Mark Hamill, who has developed quite the career in the realm of animated voice work since his initial outings as Luke Skywalker in the Original Star Wars Trilogy.
Asked by a fan on Twitter about his absence, Hamill offered up the following response:
I did not play the voice of Luke in the Lego Star Wars Holiday Special because:

A) I didn't want to risk tarnishing the legendary status of the original.

AND:

B) They didn't ask me to.#TrueStory https://t.co/rlQgwJODem

— Mark Hamill (@HamillHimself) December 1, 2020
The original they refer to, for those fortunate enough to be unaware of its existence, is the Star Wars Holiday Special, a made-for-TV variety show that aired a single time back in 1978 and saw Hamill, Carrie Fisher, Harrison Ford and the rest of the OG OT crew reprising their roles alongside the likes of Bea Arthur, Art Carney and Jefferson Starship.
SEE ALSO: The Star Wars Holiday Special continues to be a baffling, fascinating cultural relic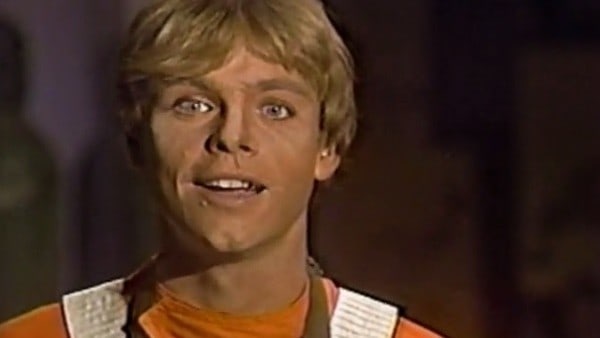 Directly following the events of "Star Wars: The Rise of Skywalker," Rey leaves her friends to prepare for Life Day as she sets off on a new adventure with BB-8 to gain a deeper knowledge of the Force. At a mysterious Jedi Temple, she is hurled into a cross-timeline adventure through beloved moments in Star Wars cinematic history, coming into contact with Luke Skywalker, Darth Vader, Yoda, Obi-Wan and other iconic heroes and villains from all nine Skywalker saga films. But will she make it back in time for the Life Day feast and learn the true meaning of holiday spirit?
The LEGO Star Wars Holiday Special brings together characters from the Prequel, Original and Sequel Trilogy eras, and features voice work from Star Wars alum Kelly Marie Tran (Rose Tico), Billy Dee Williams (Lando Calrissian) and Anthony Daniels (C-3PO) along with Star Wars: The Clone Wars veterans Matt Lanter (Anakin Skywalker), Tom Kane (Yoda, Qui-Gon Jinn), James Arnold Taylor (Obi-Wan Kenobi) and Dee Bradley Baker (Clone Troopers).