Screening right now on BBC America and taking inspiration from the books of Sir Terry Pratchett, The Watch is an irreverent tale of murder and mystery. Adapted and ushered into existence by show runner Simon Allen, it delves into the Discworld in a unique way, inviting audiences to experience a journey unlike any other. Simon recently took time out to talk to Martin Carr about his involvement and what makes The Watch so special.
What do you consider to be the key when adapting Terry Pratchett?
There had been many different takes on these incredible books in development for a long time and none of them had happened.  When I was asked for my own take in 2015, the responses they'd been getting from the industry suggested that buyers didn't feel the specificity of books could be carried over into television. I guess the books rely so heavily upon their author's presence in the story as both a commentator and narrator that it's a hard thing to replicate. The show we developed and ultimately sold to a network is a very personal response to the books. I left home at eleven years old and spent a large part of my life feeling unwanted and invalid. I've always been drawn to marginalised characters who don't have the advantages that a stable familial background can give you. I wanted to tell a story about the ultimate found family and I was very grateful to be given the support and latitude to do that. What finally sold The Watch was that simple emotional idea of marginalised characters working their way into the centre of a world that wants to shut them out – and of course the wild comedy, fantasy and disruption!
Your production designer Simon Rogers feels like a perfect fit. What did he bring to the table during the creative process?
Yes, Simon's work on The League of Gentlemen, Inside Number 9 and The City and the City made him the ideal choice. I wanted The Watch to look visually cluttered, chaotic and with its own geometric contrariness. Simon responded to that and helped us develop a world that looks like somewhere you recognise, but upside down, off its axis and warped. A big challenge we faced when it came to pitching the show was that the Victorian fantasy city has been done so many times on screen and feels quite overexposed as an idea. So our world is more modern but everything within it is still powered by the same magic and madness.
Simon Rogers nailed the idea of having concrete as our unifying element. Mainly because you can put anything from graffiti through to posters on it but it also made sense because there is a cheapness and speed about concrete, which reflects the council estates and other places I grew up in where we were all living on top of each other. Our concept artist Tessa Wessels out in Cape Town also did hundreds of drawings which were just remarkable, but again used that initial idea as a central jumping off point. Between the two of them with the whole team out in South Africa they built this extraordinary environment, which felt so tangible and immersive.
The Watch allowed me to work with all these extremely talented people. Part of my joy in watching it now is recognising the handprints of so many dear friends pressed into its very fabric. It does feel like Simon and Tessa's vison really gave an opportunity to people who perhaps historically have not been seen and celebrated for their creative talents. Crews who in the past have just been there to work on productions that have gone to Cape Town for purely logistical rather than creative reasons.
How essential was it to establish tone during the writing process?
Vital! We always wanted it to feel meta.  Heavy meta if you will! The Watch is self-aware and it becomes more so as it goes along, which is one way you capture that brilliant sense of narration and commentary from the books. DEATH in our show is quite a meta character and completely aware of everything. The henchgoblins are Marxists who gradually realise they are being used by the story as a crude fantasy allegory which I think is a largely discredited and a cowardly way of talking about difficult things. So we poke fun at that as a storytelling tactic.  We poke fun at EVERYTHING – even the grammar of television! One good example is in an establishing shot with a number of warning signs and as you track across the final one says 'can't you read?!' The self-awareness of music in The Watch also plays a part in building that meta tone. There's a great sequence where the score loses confidence in Sam Vimes when it's supposed to be soundtracking his big, brooding montage moment. Then there's Matt Berry's talking sword commenting on the narrative logic of the story he's in and identifying plot holes!
All those things helped us find the tone and we went much further with it than people might imagine. Through the character of Carcer, played by Sam Adewunmi, we are talking about the way narrative can be rigged to keep people traditionally (and often wrongly) defined as 'villains' in the margins. It goes way beyond what was in the books or even what we originally intended. It came about because Sam is not just an extraordinary actor but a natural born storyteller and I really must credit him with creating something utterly unique. Here is a villain who tries to rewrite the rules of the story he's imprisoned in. The way we pay that off at the end of this series pays off our self-aware tone with real and devastating emotion.  I think Sam lands a lot of blows with this performance in terms of representation and inclusion, including who gets to tell stories as well as who gets to be in them.
Considering the onus on COVID right now, what proved to be the most challenging elements of creating The Watch for you? 
We were not a show with the resources of Game Of Thrones so it meant we were constantly looking for ways to do things that didn't involve heavy lifting on special effects. We do have VFX in there but very few compared to most shows. It made us figure out how you can make a scene feel weird and magical without the benefit of loads of CGI. An example of which would be when we meet the Archchancellor of Unseen University and there was no budget to show him casting spells. That's why we see the impact of a spell rather than the original act of casting it. His magical efforts to correct the bad language of an errant teenager have backfired, so that every time he tries to swear music comes out. The Watch is jampacked with lo-fi solutions to hi-fi problems, which I think gives it a throwback analogue charm. In fact, in that first production Bible I wrote that The Watch had to be an analogue show in a digital age.
There is a moment in the rest home I remember where a glitter ball comes down from the ceiling in response to anti-violence spell. Something which not only illustrates the use of lo-fi solutions, but works perfectly in keeping that Terry Pratchett tone.
That's great! One of the most fun things for me was our decision to use licensed music, because as we establish in episode 2, there is a connection between this fantasy world and Roundworld (Pratchett's brilliant name for Earth). We ran with that and decided that some wizard at Unseen University has been copying the music of Roundworld – just like they copy streetlights and typewriters and other technologies. Originally that moment you're referring to had a different piece of music but it sounded like a tea dance or something and I really didn't like it. So instead, I tried Sussudio by Phil Collins on it which was honestly so funny and silly that I had to write a letter to him to try and get the rights! Unfortunately, Phil is smart and he knew we were most likely taking the piss, so we didn't get the track. Then someone suggested Wham! and we were so grateful that George Michael's estate had a sense of fun and gave us the rights to Wake Me Up Before You Go-Go. It's the second time I've used a Wham! track as a major plot point in a show!
Music is so important in this show and we took a kind of 'sampling' approach to it to match the way we've sampled and remixed the original source material. We don't just use pop tracks, we use scores from other shows. In episode 5, it's Crockett's Theme from Miami Vice which I've always loved. So much so that I even tried to get the composer on The Musketeers to write a variation of it! I wanted Porthos on his horse doing that Don Johnson broody cop montage riding through the streets of Paris. Sadly, it got scuppered but it finally happened on The Watch and I LOVE the fact I got to write letters to Phil Collins, Jan Hammer and George Michael's estate! This job is just crazy!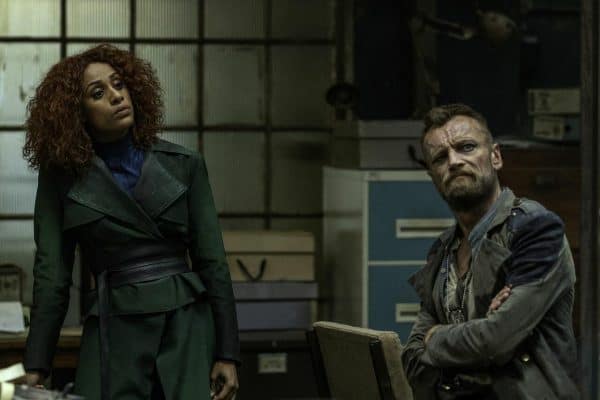 How do you think The Watch addresses issues of gender and identity?
One of the things I'm very glad people have picked up on is how The Watch is effortlessly queer and plays with gender constructs. That was a deliberate choice and part of our determination to make the world feel immediately inclusive. Cheery's gender fluidity is immediately accepted. It just exists. The Watch is a show about accepting people for who they are and making room for them in the centre where they haven't always felt particularly welcome.
To what extent do you think public opinion has influenced the critical reception of this show?
Whenever you do something this radical with such rich and well-loved source material, it's always going to provoke and polarise but I'm delighted that so many people love The Watch's queerness and heart and warmth. Of course there are others who haven't liked it all. Some (not all it's important to stress!)  seem to have examined it purely based on its fidelity to the books but The Watch was never sold as an adaptation – it was the radical take that gained traction and secured a greenlight. The Watch reflects diversity of the 21st century and the evolution of the socio-cultural vocabulary that's taken place since many of the books we're riffing on were originally published.
I would also just add that I totally respect a critical response from both press and social media that takes issue with my creative approach and interpretation – that goes with the territory. I accept it and actually a lot of it has been very reasonable. But sadly a few of the more extreme negative social media responses have struggled to articulate objections to the show's lack of fidelity without being racist, transphobic or ableist.  Whatever differences there may be between The Watch and the characters it was inspired by, I'm quite sure its spirit of inclusion and tolerance is exactly the same as that in which the books were written. At the very least, the show and the books share those values.
The Discworld novels have retained their cult status, yet established a place in mainstream culture. How essential is it that adaptations like The Watch, Good Omens and The Hogfather do something similar?
The industry is IP driven and we live in a naturally conservative world so most people gravitate towards the most direct adaptation possible. However, quite often, what made the original property so appealing to begin with goes missing in the movement between mediums. I have tried to solve that issue in my own way based on my own experiences of the world and who I am. I'm a writer, not a typist. I'm sure someone else will come along and try and approach the issue in an entirely different way. That's what makes the industry so interesting. We're all different!
Finally, describe for me your perfect Sunday afternoon.
This is dreadful but I watch Jaws almost every three weeks, so my perfect Sunday afternoon would be watching Jaws or Remains of the Day. Two films I watch over and over again for no reason and in fact are my wife's idea of hell. It's really interesting, you talked earlier about adaptation because I do believe we have arrived at a point in the world where, with the personalisation technology of algorithms, we are all encouraged to be narcissists. The manifestation of that for me I think is how I have embraced my comforts, which why I will watch Jaws again instead of something new!
SEE ALSO: Read our review of The Watch here
Many thanks to Simon Allen for taking the time for this interview.
The Watch is available to stream on BBC America now.
Martin Carr
Photos Courtesy of the BBC