Justin Cook spoke to actor Chris Lowell (GLOW, Veronica Mars) about his role in Promising Young Woman, which is now available to own on Digital, Blu-ray, DVD, and On-Demand. The following conversation contains spoilers from the climax of the film…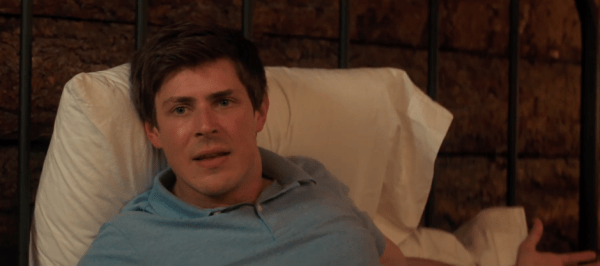 One man's name looms over the first two acts of Emerald Fennell's Oscar-nominated Promising Young Woman, casting an increasingly nefarious shadow as we hurdle toward the film's inevitable climax: Al Monroe. 
Upon meeting the "boss villain" of the film, however, we quickly learn that he's not what he was talked up to be. Al Monroe, who is in the middle of his bachelor's weekend celebration, is unassuming, bashful (I promise that's not a pun for my GLOW fans here), and decidedly … normal. He's even played by Hollywood sweetheart Chris Lowell, who's taken on quite a few "nice guy" roles throughout his career, whether it be in ABC's Private Practice or Tate Taylor's The Help. As the viewer, your first inclination is to like him. Until, of course, you're reminded of the monster underneath. 
As Lowell told Flickering Myth in an exclusive interview, he is candidly aware of Fennell's very intentional casting decisions for the movie — his own included. He and his male co-stars, from Bo Burnham to Max Greenfield, form a troupe of overtly likeable actors; actors who Fennell is eager to use your positive assumptions about and twist against you.
Check out Lowell's full interview with Flickering Myth, where he goes into fascinating, excruciating detail about shooting Promising Young Woman's climactic scene, admits to not picking up on the "comedy" part of the film's dark comedy tone at first, and joins the rest of us in advocating for a GLOW reunion.
The casting of the men in this movie is almost meant to be disarming. Yourself, Max Greenfield, Bo Burnham, a lot of actors with friendly faces who audiences would recognize from comedies, whose characters do insidious things. What was it like being intentionally cast as the "nice guy" and then, in reality, playing against that nice guy archetype?  
It was a great challenge. I want to play as wide-ranging roles as I possibly can. I think it was a pretty ingenious casting decision that Emerald was making with … Adam Brody and Sam Richardson and Max Greenfield and Chris Mintz-Plasse and Bo Burnham and myself. I think a lot of our past roles are nice, trustworthy, likable guys. I think Emerald really used those assumptions about us to flip this narrative of the "nice guy" on its head. Which she does throughout this film. I think she really takes the genre that she's working with and allows the audience to see a scene and think they know what direction it's headed … and then use those assumptions to take it a completely different direction. And I think it's the same thing with the casting. These are all actors and guys that we're used to seeing and trusting and loving and rooting for, and we're seeing them do things that — Adam Brody at the beginning is a great example. He starts off being the nice guy we expect him to be. He's not talking shit about the drunk girl in the corner. He's going to be the one to get her home safely and then you just slowly start seeing him justify pushing it a little bit further and a little bit further, until suddenly he's become the monster. And I think what's so scary about it … about what Cassie is doing to these men in the film … it's not violent! She's literally just forcing them to account for their behavior the moment they cross the line from being that nice guy that they've told themselves they are, to being these predators. 
(spoiler warning)
This movie walks such a thin tonal line, teetering between rom-com and revenge-thriller. Even some of the darkest moments are tinged with this unsettling comedy. As an actor in some of the movie's grimmest scenes, what direction were you given to help balance those tones in your performance?
It's funny you ask. When I read the script, I did not see a single joke in it. It was not funny to me. I showed up on set the first day and was talking to Carey and asking her what about the script she was drawn to and the character and everything. Her answer was, [Carey Mulligan impersonation] "Everything I do is so dark and dreary, and this was so funny and crazy." And I'm looking through my script being like, "This is funny?" It flipped me out. I think, in fairness, I do think when I show up in the film things stop being funny. I think that was very purposeful. It's the first time in the film that a weapon is introduced. And I think it was important for Emerald to … as an audience member, following the tropes of the films we've seen in the past, there are these moments where the woman gets the weapon and she kills off the bad guys. But statistically speaking, the moment a weapon comes out, the woman is the one who suffers. That's the victim. And I think in that scene, when the scalpel comes out, and we think we're gonna have this cathartic murder-revenge moment take place, I think she forces us to reckon with the fact that like, "No, statistically, actually, what happens is he's gonna overpower her. She's gonna be a victim, yet again." I really think she is constantly working with our expectations of what we're going to see and what actually exists, what actually is. 
So preparing for that scene … in first reading it, it was so disturbing and difficult. Just sort of like thinking about the themes that we're talking about. That was a challenge. But then, once I sort of figured out how I wanted to play it … and Emerald had very specific ideas about each one of these characters. With Al Monroe, who I play, he's essentially the boss villain. Like, this whole movie we hear about Al Monroe, Al Monroe, Al Monroe, and throughout the film, we've met the douchiest asshole guys you can imagine. So you're set to believe that when we meet Al, he's gonna be the worst of the worst. And of course, in Emerald's brilliant writing, when we meet Al, he's conflictingly a really kind, decent guy. He's like, "I don't want to cheat on my fiance. I don't want to do anything. I love my wife." He's not the kind of person that we want him to be. So, I think it was really important for Emerald, for my performance to reflect that. For me to come across as non-threatening as possible until I am suddenly murdering someone.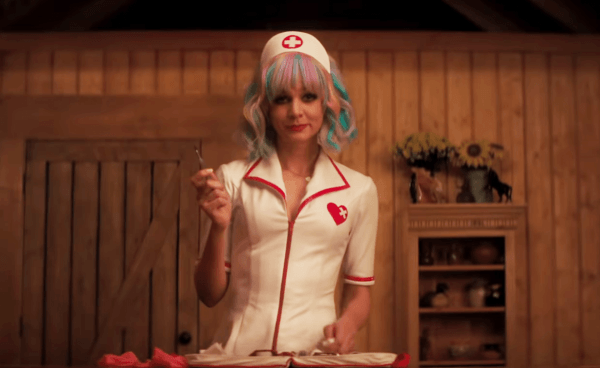 That alone, that's a scene that plays out over like 12 minutes. It's a real slow boil. Normally, I feel like in movies when the guy snaps, it happens in like two seconds. When the person goes from thinking that everything's OK to flipping out. And this had to be something that built over minute after minute after minute after minute. And that's such a fun challenge. I mean, to just try and ride that wave and to have it be just relying entirely on Carey and myself … that's intimidating, but that's also the rush. That's why we do it. That's why you sign up for it, to see if you can rise to the challenge.
Not only does the tension in that scene keep building and building, but Emerald lingers on the actual suffocation for such an uncomfortably long time. 
Oh my god, I remember us talking about how that was going. On that day we shot that, Emerald was like, "I've heard it takes two minutes for someone to die of asphyxia. So once you get the pillow over her face, we're just gonna roll for two minutes. And I'm gonna yell out everything 30 seconds, so Carey knows when to die. Action!" It was just like, "Oh. My. God." And that's literally what would happen. We would have the struggle, I would get the pillow over her face, and then literally the first AD would just yell out, "Time!" It would be Carey and I screaming and struggling and then you'd hear, "30 seconds! 60 seconds!" And then, at 90 seconds, is when Carey was supposed to give out, and then the camera finally got to me — that was a brutally exhausting day. Both physically and emotionally, just what you're doing. There's actually a take where we mismatched our blocking, and I actually did start suffocating Carey. And we had a little signal that we'd give each other to stop, obviously. But I remember, she tapped me on the leg, I got off her, and she sat up and just tears exploded out of her eyes. Less because she was emotionally scared, and more because physically she was experiencing that actual trauma in real-time. It was exhausting. And then, I remember the stunt coordinator telling us, "You're going to be just completely beat by the end of these takes because there's no break." Normally, when you do stunts, everything gets cued up for this one fall or one quick stunt that you get in one shot and then you can perfect. This was just a long, wide struggle that you just had to stay in because there was nothing to cut away to.
This is definitely a movie that has provoked a lot of conversation about topics and subject matters that don't often get brought up in mainstream filmmaking, namely sexual assault. What sort of impact do you hope a movie like this continues to have on our culture as more people go out and see it?  
I think the best thing about it is that you cannot see this film and not have an opinion about it. It forces a conversation, which I love. To try and solve or sum up or fully, successfully contextualize the way that sexual assault has permeated within our culture in all sort of ways, to try and have a clean, tied-up answer for all of that in 90 minutes would be so disrespectful. And I think Emerald knows that. And I think what she is doing in this film is planting the seed in the audience's mind that forces them to talk about it when the credits are done rolling. I think that's what's so impressive about it is that, you can't not have an opinion about the movie. There's no way you could walk away from this film with a "meh" response. It just won't let you off the hook that way. I think that's a great way to make art. 
Being an actor-director yourself, what did you take away creatively from working with Emerald Fennell, another actor-director, on this movie?
You know, one thing that I love about Emerald is being an actor herself, she knows how to talk to actors. And by that I mean that she knows how to give direction that is applicable. A lot of directors will talk to actors kind of in theories. In big picture ideas, and that's great, but it's very difficult to take that and translate it immediately to the way you're supposed to deliver a line in this scene right here. And Emerald is very good at giving direction to actors that is hyper-specific, that communicates what she is going for, but doesn't feel constricting. Doesn't feel like she's giving you a line-reading or not letting you put your own flavor on it, which is amazing. What I loved about her, especially given the very difficult and heavy subject matter that we're dealing with in this movie is, this very easily could have been made entirely in hushed tones and a somber environment. And instead, Emerald was full of jokes, full of humor, constantly keeping everybody in good jovial spirits. I think it kept us all sane because I think if we had really allowed ourselves to get completely consumed by the subject matters of this film, I don't know that we would have come out of it alive. It was great to have this really jovial, uplifting, playful environment on set. I think it actually allowed a lot of the actors to take more risks because there was a sense that it was OK to take risks.
To switch gears for the last question, GLOW was incredible. And I just gotta say, the scene where Bash hears about Florian's death and "Man on the Corner" plays is a scene I've watched upwards of a dozen times, because of how hard it hits. I know recently you took part in an Enlisted reunion, can you imagine a reunion of some sort happening with the GLOW cast in the future and would that be something you're interested in?
I hope so man. God, that was one of the most fun jobs I've ever had in my life. I mean, similar to Promising Young Woman, and only that, that was a job where you could have laugh-out-loud moments followed by extraordinarily somber and powerful subjects. It was such a zany job — I love every single one of those actors so much. And the creators. That yeah, I would take any opportunity to do anything with any one of them. Because it was a blast. You don't get jobs like that very often. 
Many thanks to Chris Lowell for taking the time for this interview.
Justin Cook