Retaliation, 2017.
Directed by Ludwig Shammasian and Paul Shammasian.
Starring Orlando Bloom, Janet Montgomery, Anne Reid, James Smillie, Charlie Creed-Miles and Alex Ferns.
SYNOPSIS:
Decades after he was molested by a Catholic priest, a man deals with his abuser's return as he is tasked with demolishing the church where the crimes took place.
Over the last year, dozens of smaller films have been released digitally, taking advantage of the increased attention on VOD platforms while cinemas have been closed. Retaliation – originally known as Romans, after the Bible verse referenced late on – is an unusual case though, in that it premiered on the festival circuit way back in 2017. Given its powerful premise and the presence of a bona fide A-list star in leading man Orlando Bloom, it's difficult to understand what has left this gathering dust on the shelf for so long.
Perhaps it's a result of its confrontational subject matter. This is a movie in which Bloom's character Malcolm – a demolition worker still emotionally shattered by the sexual abuse he experienced as a child – utters dialogue like "I rape myself 'til I bleed". It's an unflinching story, in which Malcolm's trauma resurfaces with a vengeance when the abusive priest (James Smillie) returns to town. His subsequent downward spiral threatens to destroy his relationship with on-off girlfriend Emma (Janet Montgomery) and his devoutly religious mother (Anne Reid).
This is Bloom's movie and it might be his best ever performance, summoning real nuance at the heart of a character who could easily be a caricature. His overriding emotion is rage, of course – the title is well-earned – but Bloom's eyes betray a sadness beneath it. This is rage born not of hatred, but of trauma that has nowhere to go – no outlet to escape other than twisting an even denser knot in Malcolm's stomach. The fact his job literally consists of smashing up churches is a little heavy-handed, sure, but it's fitting that a job as seemingly cathartic as swinging a sledgehammer around does nothing to break through his shame, guilt and self-hatred.
The focus on Bloom's performance does, inevitably, leave the supporting characters looking a little thin. Anne Reid makes the most of her screen time, but is written as a generic religious pensioner, while Montgomery is desperately short-changed by a script which positions her as little more than a punching bag for Malcolm's worst personality traits. Charlie Creed-Miles fares slightly better as an Irish preacher with his own shocking history as a survivor of abuse, and he brings a suitable intensity to his performance, but the character's position at the centre of the rapidly unravelling third act leaves him looking like something of an afterthought.
But when Bloom takes centre stage, Retaliation is a powerful piece of work. Sibling director duo Ludwig and Paul Shammasian dig their fingers into the heart of Malcolm's trauma, not least in the sequences in which the character recounts his history to a tape recorder in an attempt to exorcise his demons. This segues into a scene involving a pair of scissors which is so horrifying it makes Jordan Peele's Us look like a primary school arts and crafts class. Bloom's turn is one of carefully controlled mania, and it's exceptionally done.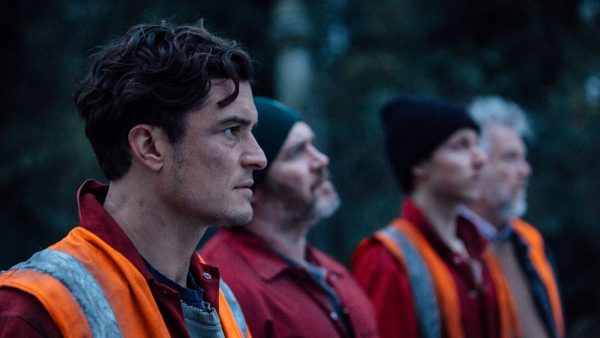 Retaliation's quiet release is ultimately a really confusing fate for a movie which has a lot to say and isn't afraid to say it frankly. It's a film with the tragic and far-reaching consequences of abuse at its heart and, even if the final act makes a few false steps, it emerges as an enthralling character study anchored by an A-list star delivering a performance of real nuance, control and sophistication. Though it lacks the shocking mundanity of something like the hugely unappreciated Calvary or the scalpel-sharp potency of the Oscar-winning Spotlight, it's a compelling addition to the canon of movies about the sickness of sexual abuse within the Catholic Church.
Flickering Myth Rating – Film: ★ ★ ★ ★ / Movie: ★ ★ ★
Tom Beasley is a freelance film journalist and wrestling fan. Follow him on Twitter via @TomJBeasley for movie opinions, wrestling stuff and puns.