The Columnist, 2020.
Directed by Ivo van Aart.
Starring Katja Herbers, Genio de Groot, Rein Hofman, Achraf Koutet and Bram van der Kelen.
SYNOPSIS:
A newspaper columnist who receives death threats seeks bloody revenge on the internet trolls who make her life a nightmare.
"It isn't hard to be kind" says Femke Boot (Katja Herbers), a newspaper columnist who seems to be the target of internet trolls on social media thanks to her opinions on pretty much anything she feels like writing about. It's something most of us can relate to – some of us more than others – in this age of manufactured outrage because somebody says something we may not agree with, be it political or social (or simply disliking a universally-praised movie), and we feel the need to put fingers to keyboards to let everyone know how we feel, regardless of the impact that course of action may have.
Satirical Dutch horror The Columnist recreates the experience of being disliked by complete strangers for daring to write something that ultimately doesn't matter or actually impact anybody to any great degree – Femke Boot gets trolled if she writes about her feelings on gender equality and she also gets trolled for writing about what she had for breakfast, so she can't win – as Femke becomes more and more distraught, eventually going to the police who simply advise her to stay off social media which, as we all know, is easier said than done, especially when you make your living from it. After that, Femke takes matters into her own hands as she becomes rather adept at dispatching her detractors.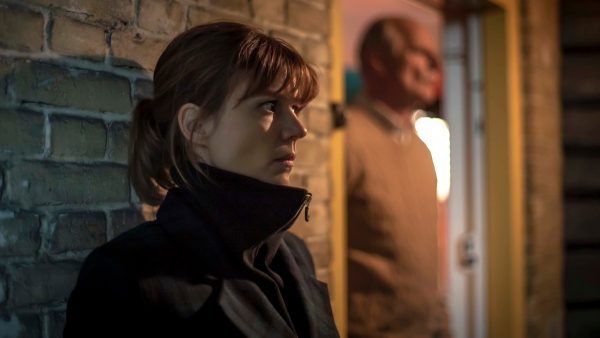 But rather than become a simple Falling Down-style tale of someone who simply cannot take it anymore, The Columnist looks at every angle with a wry eye, a nod and a wink at our own behaviour as we either condemn or condone what Femke eventually does because, let's be honest, we all really love to see if or how we're being talked about and writer Daan Windhorst covers all bases as the real and virtual worlds intertwine and Femke has to deal with friendly neighbours who turn out not to be so friendly when her back is turned, trolls who join in because it's the 'cool' thing to do, another who says abusive things to her but he wouldn't talk that way to his girlfriend and so on. To compliment such thoughtful writing the central performance from Katja Herbers is bang on, flitting from vulnerable single mother to knife-wielding badass and back to creative working mum as if nothing has happened with consummate ease.
Whilst all the performances are pretty good there is a bit of filler material that the filmmakers have crammed in, possibly to pack out the short running time of 84 minutes. Femke's teenage daughter is having problems at school where she regularly has run-ins with the headmaster due to her views on freedom of speech, and whilst it does sort of tie in with Femke's story with its themes of not being able to say what you like just because somebody else doesn't agree, it does feel like a last minute addition to the script. As well as Femke's relationship with her daughter, there is also a shoehorned-in relationship with fellow writer Steven Dood (Bram van der Kelen) which only really serves a small purpose near the end when Femke is on the verge of being found out. Steven is introduced as a rival on a TV talk show where his only real purpose is to tell Femke that there is a difference between professional and personal personas, and whilst it helps to show how naive Femke is in the beginning there is no real reason for him to be there other than to keep asking Femke where she is going of an evening.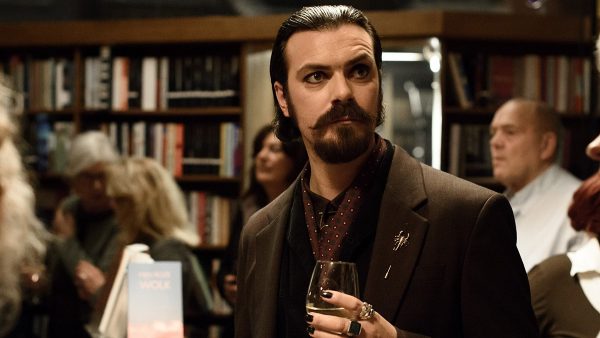 But these are really small flaws when you look at the bigger picture. Yes, social media and online-based horror movies are the current trend thanks to the current Covid situation and, if truth be told, most of them are rehashed found footage or mockumentary ideas given a technological twist thanks to whatever social media platform is in vogue at that given moment. The Columnist is no different in that it is a much-trodden tale of a wronged woman seeking vengeance against those who wronged her but the wit and black humour – not to mention the kills themselves – are all done with enough style and technical skill to overcome any accusations of retreading old ground and never overstepping the mark into parody or spoof, as it could have done very easily, or being preachy and po-faced, which makes The Columnist a rare beast, namely a socially conscious contemporary horror that is actually fun to watch.
Flickering Myth Rating – Film ★ ★ ★ / Movie ★ ★ ★ ★
Chris Ward