Red Stewart on why Godzilla vs. Kong could fail to live up to its promise…
Not since Batman v Superman: Dawn of Justice has a big budget blockbuster brawl been as hyped as Godzilla vs. Kong. This remake of the 1962 classic will see the two giant monster franchises crossover in spectacular fashion. Or will it? The truth is, based on past trends, we have every reason to believe that the film will not live up to the hype. We hope we're wrong, but don't count on it. Here are our five reasons for thinking so, and if you'd prefer the article in video form, you can watch it above…
#5. Humans
Humans have been the bane of the Godzilla reboot since the first picture released back in 2014. The film was chastised for limiting Godzilla's screen time in favor of multiple human arcs. King of the Monsters was supposed to course correct this, but ended up being worse with an awful story about ecoterrorists.
We're not saying we want to see 3 hours of Godzilla and Kong being brutes, but when the trailers show us scenes like a little girl controlling Kong or a group of teens investigating Godzilla's wrath, it doesn't give us faith in the storyline.
#4. Action focus
Having a greater focus on humans wouldn't necessarily be a bad thing were the action up-to-par. While Gareth Edwards was momentarily able to keep the camera centered on Godzilla's exploits, Michael Dougherty was unable to do the same in Godzilla: King of the Monsters. And similar issues were present in Kong: Skull Island.
Godzilla vs. Kong is a flick that needs to avoid shaky cam and quick cuts away from the behemoths on-screen. People are checking out this movie for the titular fights. But considering the filmmakers were unable to realize that beforehand, we don't see them changing this time around.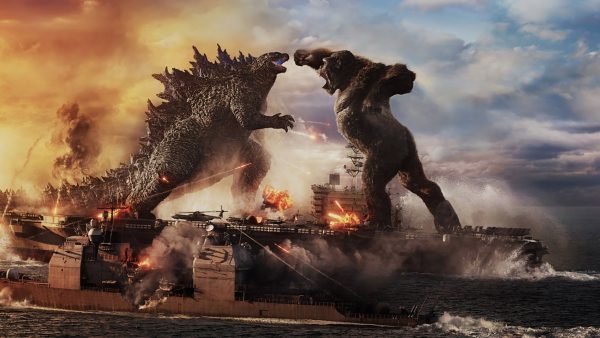 #3. Visual Effects not up to par
Godzilla vs. Kong is, above all else, a visual feast. Immersion is everything when it comes to increased scale. And if you can't maintain that with consistent special effects you will lose interest.
Godzilla vs. Kong's first trailer dropped in late January 2021, and while impressive in parts, it's clear there is a lot of work left to be done. Particularly with the battleship brawl in broad daylight. Work that we're not sure can be done in two months time.
#2. The Director
Adam Wingard isn't the first name that comes to mind when you think of directors for a Godzilla vs. Kong movie. Wingard started off in the low-budget horror genre, achieving successes with You're Next and The Guest. Unfortunately, unlike Sam Raimi, Wingard has been unable to maintain that streak. His past two works, Blair Witch and especially Death Note, were slammed by critics and audiences.
Despite this, he was handed the reins to Godzilla vs. Kong, and we don't think he'll pull off a return to form.
#1. Godzilla Depowered
We love King K, but let's be honest- at the end of the day, he's nothing more than a giant gorilla. Amazing strength and stamina for sure, but nowhere near the level of Godzilla- a dinosaur-esque monstrosity who can shoot nuclear radiation.
Kong can be strategic all he wants, but it's not a fair fight. Just like how there had to be contrived nonsense explaining why Batman was able to fight Superman in BvS, we fully expect something to occur explaining how Kong doesn't get immediately annihilated by Godzilla. And that will be disappointing, at least, for fans of the green guy.
Legends collide in "Godzilla vs. Kong" as these mythic adversaries meet in a spectacular battle for the ages, with the fate of the world hanging in the balance. Kong and his protectors undertake a perilous journey to find his true home, and with them is Jia, a young orphaned girl with whom he has formed a unique and powerful bond. But they unexpectedly find themselves in the path of an enraged Godzilla, cutting a swath of destruction across the globe. The epic clash between the two titans—instigated by unseen forces—is only the beginning of the mystery that lies deep within the core of the Earth.
Godzilla vs. Kong is directed by Adam Wingard (The Guest, Blair Witch) and sees Millie Bobby Brown (Stranger Things), Kyle Chandler (Bloodline) and Ziyi Zhang (The Cloverfield Paradox) reprising their roles from Godzilla: King of the Monsters, while new additions to the MonsterVerse include Alexander Skarsgard (Big Little Lies), Julian Dennison (Deadpool 2), Brian Tyree Henry (Atlanta), Demian Bichir (The Hateful Eight), Rebecca Hall (Holmes and Watson), Jessica Henwick (Iron Fist), Eiza Gonzalez (Baby Driver), Shun Oguri (Crows Zero), and Lance Reddick (The Wire).
Red Stewart