Tom Jolliffe looks back at three Rs from Arnold Schwarzenegger in Raw Deal, Red Heat and The Running Man…
If you're a physical media hound with a penchant for alphabetizing, who also happens to be a Schwarzenegger fan, chances are you'll have three great Arnie flicks in close proximity to each other. In Arnold chronology these three also came during a period where the Austrian Oak was on fire as a box office draw, and at his peak as a physical performer. From 1982 to 1991 particularly, he was batting out an impressive number of cult hits, not limited to Barbarians, Cyborgs, Quaids and playing two Army hardasses with Predator and Commando. Additionally he had a couple of comical numbers that also gained no shortage of cult appeal. Yet there were also three films (four if we were counting Red Sonja) beginning with R which can occasionally be a little forgotten in Arnold's CV. Two get particularly glazed over in discussions for classic Arnold fare, whilst the third, The Running Man certainly has it's own stamp of cult adoration. Let's take a look at Arnold's three R movies.
Raw Deal
There may well be well founded reasons this gets a little forgotten about. In the Arnold glory years it's perhaps the most low rent of the films he did. It felt almost like something you might have seen in the Cannon staple with a star on the wane rather than the rise. Back on release it was blitzed with dire reviews, and Arnold was deemed awkward. It was supposed to be his first more grounded human role. He'd been a barbarian and in Commando he was very much a zinger firing comic book creation. Yet by the end of Raw Deal, we have a film that is most like a Simpsons McBain riff than anything Arnie has ever done, and it's actually as 'bad' as the Simpsons recurring gag makes folly of.
However… Raw Deal in retrospect is a great slice of trashy B movie fun. It's one of the most meat and potatoes actioners Arnie did. He's not supposed to be an indestructible demi-God (although it ends up going down that super-manly road), nor is the film high-concept in any way. Arnie is Joseph P. Brenner, a cop in witness protection who leaves his safety to go undercover to help out an old friend, and infiltrate a criminal organisation. Cue plenty of action, a few one liners, even if this film isn't played with quite the same wink and nudge as other Ahnuld works of the time. As I say, it feels Cannon (and there's a certain griminess), but that's actually a good thing.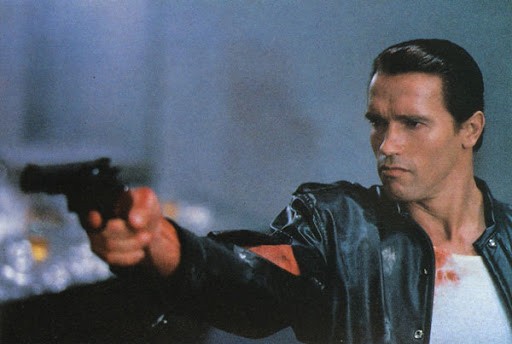 You could describe the delivery of Raw Deal as ruthlessly efficient from action veteran John Irvin. It doesn't have the spark that you'd get from a McTiernan, Cameron or Verhoeven, but it was solidly constructed. The script just feels non-descript and not so tailored for Arnold, whereas other films he made felt perfectly constructed for him. When Arnold murders the line 'they murdered, molested and mutilated her' you get a sense that this may have been better served as an Eastwood/Bronson vehicle. Elsewhere it screams 80's, right down to a gloriously cheesy synth score from Chris Boardman. The support cast is well served with reliable villains in Sam Wanamaker and Robert Davi.
Red Heat
Arnold plays a rigid Russian cop who epitomises robotic stoicism, who travels to America to escort a wanted criminal back to the homeland to face justice. Said crim escapes and Ahnuld is reluctantly partnered with a slovenly American cop played by Jim Belushi. Red Heat is absolutely rock solid. It's at the well maintained part of middle of the road. It's got action cred coursing through its veins, from the iconic lead, the specialist direction of Walter Hill and a driving, percussion and bass laced score from James Horner. The dynamic between Schwarzenegger and Belushi works very well here too.
Red Heat in the 90s or beyond would stand taller, but coming out in such an epic period of machismo action and buddy cop classics, this does get overlooked. Hill himself had more success with 48 Hours. Arnie of course had so many cult classics that era too. Even Belushi was a tad more successful buddying up with a K9 in K9. Red Heat is a very decent buddy cop film though with enough unrestrained villainy from Ed O'Ross. Perhaps one aspect the film doesn't quite hit on is the set pieces. There are some good sequences, always well handled by Hill, not least duelling buses and a bathhouse smack-down, but there's not really the one iconic big moment perhaps.
The Running Man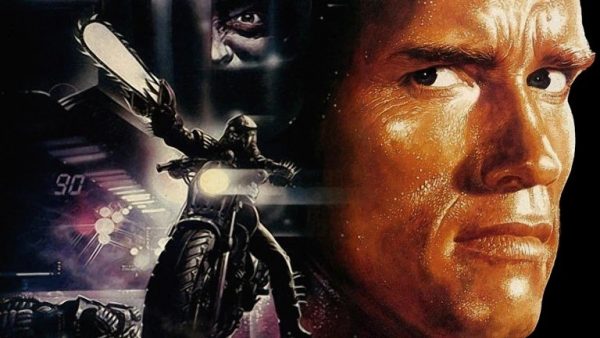 A Jean-Claude Van Damme, Dolph Lundgren or Steven Seagal would have loved this kind of film in their CV. It's got cult status in its veins. It's well regarded among fans, but still, doesn't often crack an Arnold top five. That's probably testament to Arnie's quality output and as far as sci-fi/high concept he's certainly had more iconic fare with The Terminator, Predator or Total Recall. The Running Man, loosely based on the Stephen King novel (about to be readapted by Edgar Wright) is a dystopian sci-fi with an acerbic eye squarely on the increasingly corporate approach to home entertainment. Just how far will a TV studio go to grab ratings? The Running Man provides an entertaining answer.

As Ben Richards, Arnie is framed for murder and forced to compete in a gladiatorial TV show where death is an inevitability, only this time, they put the wrong contestant in against their superstar gladiators. One by one Arnie does battle in his spandex jump suit against an array of comically named opponents with distinct skill sets, be it Buzzsaw (who has a buzz-saw), or Sub-Zero, who ice-skates (and sadly doesn't fire ice bolts from his hands and shatter people). They should have called it Arnie vs The Morbidly Obese as every opponent bar Jesse 'The Body' Ventura, seems to be on the thick set side.
The Running Man was probably a Paul Verhoeven/James Cameron away from being even more lauded, as Paul Michael Glaser (Starsky actor turned director) does a solid job but doesn't quite have that majestic flair that would have elevated the film further. Like the other aforemtioned R's from Arnold, this also has a very decent 80's score from Harold Faltermeyer.
SEE ALSO: How Schwarzenegger Reigned Supreme in the Action Genre
What are you thoughts on Raw Deal, Red Heat or The Running Man, let us know your thoughts on our social media channels @flickeringmyth…
Tom Jolliffe is an award winning screenwriter and passionate cinephile. He has a number of films out on DVD/VOD around the world and several releases due out in 2021, including, Renegades (Lee Majors, Danny Trejo, Michael Pare, Tiny Lister, Ian Ogilvy and Billy Murray), Crackdown, When Darkness Falls and War of The Worlds: The Attack (Vincent Regan). Find more info at the best personal site you'll ever see…https://www.instagram.com/jolliffeproductions/