As we continue are A-Z of action, we bring you a selection of entries from M-Q…
Explosions, fist fights, one liners and quite a lot of mullets. We're getting toward the business end of an action A-Z, hitting the middle ground toward the home straight. More carnage will ensue and we've all got bigger biceps and oilier chests to show for it. Check the previous entries here:
Here are the next batch of eclectic action selections, taking in classics, cult films, underground hits and the dustiest corners of the video store isles from back in the day:
Maximum Risk
Not content with introducing John Woo to Hollywood, Jean-Claude Van Damme went onto bring Ringo Lam and Tsui Hark to Western attention. Ringo was first, with Maximum Risk (the first of three collaborations with JC). This film puzzles me. Not so much the film itself. It's very solid. The action is great, bringing Lam's trademark visceral grit, a nice antithesis to Woo's more balletic style. The film has the feel of an old school Euro thriller, that is bookended in France and the bulk of which brings Van Damme's French cop protagonist over to New York, after discovering a body in his latest case is a long lost twin he never knew about. This was perhaps the first to really drive a consistency into Van Damme's performance and Lam was really the one (continued in Replicant and In Hell) who took Van Damme to the levels he's since proven capable of). The puzzling thing is, despite all these elements and a great co-star in Natasha Henstridge, this one never gets that highly regarded among action aficionado's, but more oddly, among Van Damme fans. His constant brawls with behemoth, Stefanos Miltsakakis are superb and rank as the most authentic looking brawls in JC's career (their elevator fight especially).
Men of War
Written by Oscar winning screenwriter, John Sayles, this marked something a little more thoughtful in the action career of Dolph Lundgren. Though Sayles' original script would have more action and humour sprinkled in over rewrites, much of his humility remained behind. It may well be Pocahontas crossed with Heart of Darkness, but has more human range in it than most of the genre at the time, and has enough action throughout to also please genre fans less interested in the philosophical questions. For Lundgren, he benefitted from having an actors director in Perry Lang on board, whilst the whole expendable crew dynamic is actually far more interesting and involving than The Expendables franchise ever was. It may in retrospect still fall into an increasingly maligned, white hero in Asia trope, but at least treats the native characters with some humility (well played particularly by Charlotte Lewis and a scene stealing B.D Wong). As villain, Trevor Goddard may step in from more conventional genre fare as an unhinged, scenery chewing maniac, but he's excellent regardless, as is the late great Tiny Lister as cohort turned foe as the team have a moral split. This one is very underrated,  but has found a little more love in recent years. The cinematography and music is also superb, making it not a million miles from some of the epics of the time.
Midnight Man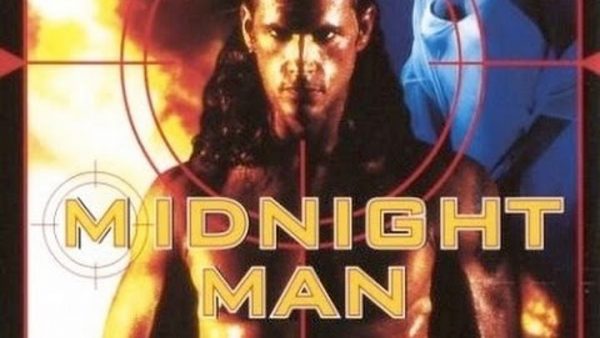 With his Pantene perfect locks and Chippendale bod, Lorenzo Lamas occasionally came off a little cheesily in some of his action films. Where some of his contemporaries seemed more intent on kicking people, it sometimes felt like Lamas wanted to show himself off. Van Damme in fairness used to be the same. Midnight Man features a sequence where Lamas fights in his underwear, showing off his legit martial arts skill. The plot is cheesy as hell as a cop must reclaimed lost memories of an ancient martial art in order to take down a powerful Yakuza syndicate. There's a little mysticism and magic among conventional Yakuza fare from the 90's. It's a lot of fun taken in the right spirit. It's not exactly Samurai Cop for hilarious badness either, but as a slice of B movie hokum, it ticks boxes.
Nemesis
Legendary in the early 90's video action scene, Nemesis is a hodgepodge of influences and whimsical creativity from Albert Pyun. It's corny, cheesy, but intermittently thoughtful too. The effects range from goofy, to grating, to brilliant but like much of Pyun's work, for better or worse, it's dialled up to eleven. If the Terminator inspired roboskeleton finale falls limp, pyrotechnic heavy shootouts (including Olivier Gruner shooting his way down through 10 floors to escape villains) more than make up for them. It's one of the best cyberpunk films of the era, loaded with carnage and impressive stunts. It's a commendably creative film.
Nighthawks
Somewhat forgotten and underrated action thriller which really introduced Stallone to the genre, before First Blood solidified him as an action man. Stallone and Billy Dee Williams join a taskforce focused on combating international terrorists, with their sights set firmly on the mysterious and nefarious Wulfgar (Rutger Hauer). Wulfgar is rumoured to be heading their way from London and it soon transpires that he has indeed come to NYC. As a duo, Stallone and Williams are good and there's a good cast here in a film that maintains interest through the cat and mouse chase. There was a feeling from Stallone, that Bruce Malmuth didn't bring enough to the film as a director (ironically, Steven Seagal would say similar in 1990's, Hard to Kill), and it's efficiently, if not spectacularly directed. One can't help but wonder what a Friedkin or Frankenheimer might have brought to a project like this. Still, there are great moments, most of which revolve around the times which Rutger Hauer is on screen. He's intensely charismatic, and it was apparently to the ire of Stallone who was being overshadowed.
Ninja: Shadow of a Tear
Brit ass-kicker extraordinaire Scott Adkins has had a couple of very productive long term collaborations. With Jesse Johnson, he continually hits his A-game, and the same can mostly be said about his original director of choice, Isaac Florentine. Florentine's martial arts background inevitably instructed his directorial career. Adkins gained his own level of infamy, initially through playing Boyka, the antagonist turned hero in the Undisputed franchise (from the second film onward). He also did a couple of Ninja films with Florentine. The first, forgettable, the second, superb. It's full to the brim with great fights, and whilst 'ninja' aficionados might bemoan the lack of actual ninja attire, martial art film fans will undoubtedly revel in a film littered with beautifully choreographed and shot fight scenes where Adkins defies gravity and leaps, kicks, and flips his way through countless villains.
Only The Strong
In theory this was supposed to be a breakout film for Mark Dacascos, in reality it took time to gain traction with audiences, by which time his potential as a cinema lead had been deemed past. Sheldon Lettich had a long standing and successful connection with Jean-Claude Van Damme and knew how to construct a martial arts film. Here we have the rough high school saved by an inspiring teacher,  played by Dacascos, who shows a group of the worst offenders, the art of Capoeira. It was the first major film to bring the Brazilian martial arts to prominence on screen (particularly as a central technique within the film). Dacascos makes for an interesting and enigmatic lead, with a kind of sensitivity not often seen with his contemporaries, and Lettich constructs the many fight scenes well. The soundtrack is great and the film has a feel good underdog spirit, and an enjoyable final showdown with big stakes. It's very good and surprises people when they finally catch it.
Out for Blood
Don 'The Dragon' Wilson always had a certain affability about him on screen. In his peak period he was a likeable action hero and didn't really evoke the kind of fearsome baddassery that he carried with him during his in ring career as a world champion kickboxer. It also felt like he enjoyed what he did and was less concerned with his on screen image (like say Lamas). His initial films with Corman et al were more concerned with pitting Wilson in the kind of films Van Damme was doing. Out for Blood was a bit more of a straight up action film, getting away from tournament fighting. Here, he plays a vigilante lawyer who is…err…out for blood. It's silly, but again, quite affable and an enjoyable change of pace for Wilson taking him into vigilante territory and making him a little more morally obtuse.
Out for Justice
Steven Seagal in his prime and in his pomp, doing something few else could do with such convincing bravado. Out for Justice might be the most 'Seagal' film he ever made. He's playing a Brooklyner. He's a tough guy cop, deeply moralistic and with a shady mob past that gives him a bridge and respect between law and the lawless. The film's simplicity is a big strength too. A maniacal, drug addled mob flunky, played by William Forsythe (with as much relish as you'll see any villain played) murders Seagal's partner in broad daylight, then rampages his way through the city. Seagal sets out to dole out justice, and bring the rampage to an end. Along the way there's an array of bone crunching fights showing Seagal's on screen fighting prowess at its very best, not more so than the greatest bar brawl ever committed to celluloid. The final sequence is also eye wincingly violent and brutally brilliant.
Passenger 57
'Die Hard in a'…It was always a good pitch opener, around this era in action films. Passenger 57 pitted the new sub-genre in an airplane and introduced Wesley Snipes as an action hero. The film proved immensely popular, particularly among black audiences bereft of a more relatable alternative to Stallone, Van Damme et al. It took Snipes to a whole other level of popularity and pop culture. Whilst the film is brief, it's also enjoyable. Snipes proves a fiery and charismatic hero with blisteringly fast moves (it was the first film to really utilise Snipes' martial arts prowess). Bruce Payne revels in playing a sociopathic villain who counts Liz Hurley among his baddy entourage. Always bet on black!
Point Break
It's Point Break. What else can I say? Stylish, dumb (but also deceptively clever beneath the surface), gorgeous and visceral, the film puts Keanu Reeves into a genre he's since redefined twice. He's the perfect poster boy for vaya con dios bro-ness. He seems dumb. a dreamer, young dumb and full of… He exudes dumbness, but the reality is, he's got a brain beneath the 'whoa.' Kathryn Bigelow brings an interesting gaze and sensibility to this bromance action film, with a gift for constructing glorious images and set pieces. The skydiving and surfing sequences are dazzling and the action set pieces aside, with foot chases, brawls, gun fights and chases are equally thundersome. Reeves is perfectly cast to portray a blankness masking inner depth, and Patrick Swayze just exudes charisma, even with his fanciful anti-establishment ideologies.
Project A
Jackie Chan, Sammo Hung and Yuen Biao in Project A. Trailblazing fight sequences in the undisputed golden period of Hong Kong Martial arts cinema, combine with death defying excruciatingly painful looking stunts to bring an action adventure film with a difference. As with most of Chan (and Hung and Biao) films of the era, it's a lot of fun, loaded with as much comical grace and timing as fists and feet flying. Genuinely breathtaking sequences from a period in action cinema that will never be matched for a combination of insanity and creativity.
The Quest
Van Damme made his directorial debut and revisited the fight tournament sub-genre which made him a star to begin with. Whilst the direction is a little erratic, as Van Damme undoubtedly jumped back and forth between objectivity behind camera and subjective self indulgence on screen. The Quest certainly has plenty of enjoyable moments from beginning to its predictable climax. The film certainly benefits from a beefy budget and a great support cast with James Remar and the inimitable Roger Moore.
The Quick and The Dead
Sharon Stone was at the height of her fame, still riding off the infamy from Basic Instinct. She'd been in a mixed bag and off the back of The Specialist, opposite Sly Stallone (a chemistry void romance), she came to The Quick and The Dead. Sam Raimi injects plenty of style (even if he's restrained by his standards) to this enjoyable lady gunslinger western. It may not have ranked with films like Unforgiven or Tombstone, but is still enjoyable. Stone is aided by a stellar cast including Gene Hackman, Russell Crowe and a baby faced Leo DiCaprio.
Quigley Down Under
Another Western which casts Tom Selleck as a master marksman sent down under for a job. He arrives to discover he's tasked with gunning down Aborigines' which goes right against his moral code. He's then left for dead by his employer (a villainous Alan Rickman). Revenge is of course on the cards. Simon Wincer knows action and provides some good set pieces whilst Basil Poledouris provides an atypically barnstorming soundtrack. Selleck is charismatic and it marks another effective action role which suggested he could have been more prolific in the genre in the 80's and early 90's. As you might expect with any film billing Rickman as a baddie around this era, the movie belongs to him.
What are you favourite action films beginning with M-Q? Let us know on our social channels @flickeringmyth, join us next time for R-V and if you haven't already, be sure to check out A-D, E-H, and I-L.
Tom Jolliffe is an award winning screenwriter and passionate cinephile. He has a number of films out on DVD/VOD around the world and several releases due out in 2021/2022, including, Renegades (Lee Majors, Danny Trejo, Michael Pare, Tiny Lister, Nick Moran, Patsy Kensit, Ian Ogilvy and Billy Murray), Crackdown, When Darkness Falls and War of The Worlds: The Attack (Vincent Regan). Find more info at the best personal site you'll ever see…https://www.instagram.com/jolliffeproductions/