Tom Jolliffe offers up ten essential Tony Leung films…
With boyish good looks, charisma and immense gravitas, Tony Leung has been mesmerising audiences for over 40 years. As well as an ability to convey so much through saying so little, he also has the rare ability to drift between genres as comfortably as anyone. He's been an intense and enthralling actor, dashing romantic lead and an action hero. There's very little that Tony Leung (Tony Leung Chiu-Wai) can't do and it would seem strange that it's taken so long for him to make his way over to Hollywood in Marvel's latest hit Shang-Chi and the Legend of the Ten Rings (or given his generally excellent standards, maybe not surprising it's taken so long). Alongside Chow Yun-Fat in particular, Leung has often been considered one of the all time greats in East Asian cinema, with himself and Chow often called the Pacino and De Niro of Hong Kong cinema.
If some audience members watching the Marvel hit are unacquainted with Mr Leung, then here is an Essential selection of films to begin your journey into an exceptional CV:
Hard Boiled
The Pacino and De Niro of Hong Kong facing off in John Woo's peak film. Woo had already worked with Leung in Bullet in the Head, an excellent and dramatic riff on Deer Hunter. He's also become particularly synonymous with a selection of Chow Yun-fat's most iconic works such as The Killer and A Better Tomorrow. This unison of two already iconic actors would end up, in an odd way, derailing the cops and robbers gun genre made so popular through Woo, Ringo Lam and Tsui Hark. It wasn't that the film wasn't popular, but it set a bar so high, particularly in the construction and delivery of action scenes, that few could match up. A complex thriller sees a rogue cop (Chow) tracking a criminal organisation of which a deep uncover cop is a part of (Leung). Once the latter's cover is blown and a hospital is taken over, it's down to the reluctant partners to take down the bad guys. It's dramatically engaging with both actors on top form and Woo perfecting his melodrama. The action scenes are simply astonishing, the likes of which haven't been seen since.
Infernal Affairs
Famously remade as The Departed, by Martin Scorsese, Infernal Affairs was part of a cop/crime film resurgence in Hong Kong at the turn of the century. This thriller sees a cop go undercover in a triad gang and a gang member take up a position in the police. A taut, gripping and engaging thriller is lead by the stellar Leung and fellow HK superstar, Andy Lau. I will say, The Departed is one of the rare remakes I think are worthy of the original. Scorsese's might be more grandiose and even more star powered (with a cracking soundtrack), but Infernal Affairs does tell the same story far more lithely. Leung is atypically charismatic. There were two sequels but they never came up to the same level.
Chungking Express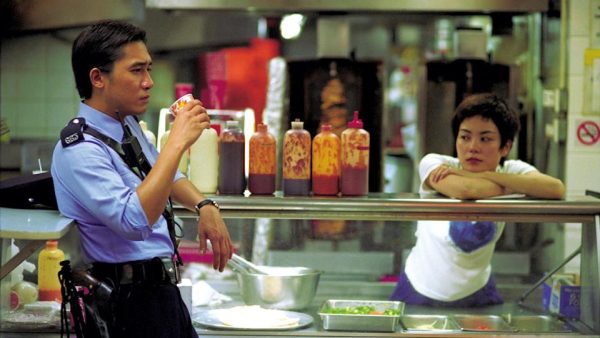 Leung leads a great cast in Wong Kar-wai's quirky romance which tells two parallel and interweaving stories. Leung was a frequent collaborator with Wong, who tended to cast the charismatic star as an introspective romantic lead. Leung is also superb in the others. As for Chungking Express, this Tarantino championed and effervescent film is brimming with energy and imagination. Leung's segment, as the object of Faye Wong's affection is more rooted in rom-com for certain. The cinematography from Christopher Doyle (a long term collaborator with Wong) is stunning. They never made a bad looking film together. Leung here is effortlessly interesting (even as a closed off character who is inherently flawed) and Wong is adorable. The flipside, with Takeshi Kaneshiro (who even outdoes Leung in the rakishly handsome stakes) and Brigitte Lin (like Wong a famous Chinese pop starlet turned actress) is also great. The iconic soundtrack, headed by California Dreamin' by the Mamas and Papas, is immense. The film is a great starting point for Wong as it feels distinctly western in some aspects, whilst retaining some unique and creative HK quirks (and brilliantly capturing the energy of the place too).
In The Mood For Love
Stunningly shot and achingly beautiful, In The Mood For Love is undoubtedly the most iconic collaboration between Leung, Wong and Christopher Doyle (along with fellow cinematographers Kwan Pung-leung, Mark Lee Ping-bin). No one ever looks bad, shot under the watchful eye of the director and his superb camera team. When you're as mesmeric to the lens as Leung and Maggie Cheung, the results will be inevitably stunning. With a strong and evocative colour palette the film has often been ranked as one of the most beautiful ever committed to film, whilst the subtlety in story-telling of a refrained and ultimately unachievable romance is touchingly told. Leung and Cheung say very little, both knowingly suffering at the hands of unfaithful/unloving partners, but emote so much. Leung is a big favourite of mine and likewise Maggie Cheung is utter perfection in almost everything.
Hero
Zhang Yimou's stunning wushia epic brings back the forlorn lovers from In The Mood For Love (with Leung and Cheung forming part of stellar cast), as well as Christopher Doyle behind the camera. The result is a beautiful and stunning epic with a very distinct and evocative colour coding. The lighting and mise-en-scene of various sequences have their own particular colour, be it striking blues, greens, reds or amber. A nameless assassin (Jet Li) recounts his victorious encounters with three of the greatest assassins in the land, to a megalomaniacal emperor. Li has never been better, and highlights along the way include a battle with Donnie Yen. The segments with Leung and Cheung are also highlights, particularly given their exceptional ability to tell so much without words.
The Grandmaster
Leung stars as Ip Man in this martial arts opus about the legendary master (who taught Bruce Lee). There have been countless adaptations in Hong Kong/China, and this film bringing Wong and Leung together once again is one of the better. It's fantastical and beautifully shot. The film has been somewhat eclipsed by the more action heavy franchise headed by Donnie Yen. Leung undoubtedly has a more complex enigma compared to the stoicism of Yen (by contrast I suppose Yen is way beyond in the action scene stakes). This isn't the best film Wong and Leung have done, but it's an interesting shift into something more action packed and I suppose 'traditional' or audience friendly.
Bullet in the Head
Leung and John Woo's first film together. Three friends escape Hong Kong in war time Saigon to begin a criminal enterprise. It's inevitably horrific, encountering horrors in war and consequences from their life choice. As per usual with Woo the film is bolstered with heroic bloodshed and complex, morally obtuse characters. Leung is superb as the more balanced of the group who tries to keep things together, and feels a weight of responsibility after one of the group ends up mentally disabled due to a bullet in the head. It certainly dips into melodramatic, but even with those Woo sensibilities that could occasionally threaten to be too much, someone like Leung was always so good at playing it a few notches down but with enigmatic grace.
Happy Together
Yet another of his Kar-wai Wong collabs, sees Leung co-star with the late great Leslie Cheung. The gay lovers move to Argentina looking to start a new life. What transpires is an essential entry in LGBT cinema. It's a tumultuous tale of passion, abuse, and off/on again drama. Cheung brings an undoubtedly painful realism to the role as his character suffers through emotional turmoil and loneliness. Leung manages to make a flawed character engaging. He has his trademark enigmatic silence as well as occasional bouts of uncontrolled anger. Like most of the other aforementioned Wong films, Happy Together has recently had a much deserved and absolutely stunning 4K tidy up.
Lust Caution
Among the litany of great directors Leung has worked with, he's also been leading man in the most controversial film from Ang Lee, Lust Caution. The film would become notorious for its explicit sex scenes as a young woman is tasked with seducing Mr Yee (Tony Leung) in war time China, who has ties with the Japanese. All controversy aside, the film is languid and a little overlong but still sees Lee in good form with an intriguing espionage story. Leung is excellent and the film sadly tarnished the career of actress Tang-Wei who found herself temporarily blacklisted in China due to the sexual scenes.
Flowers of Shanghai
Leung may well be photogenic, but he's also been particularly blessed throughout his career to have worked with so many visually spectacular directors (and cinematographers). Hsiao-Hsien Hou cemented his reputation for stunningly shot cinema with Flowers of Shanghai. A collection of stories centered around a group of brothels in late 19th Century Shanghai. The film is lavish and glamorous. It's beautifully shot and paced too and the score is gracefully melodic. Leung as expected is able to quietly magnetise your gaze to him with effortless skill.
What is your favourite Tony Leung film? Let us know on our social channels @flickeringmyth…
Tom Jolliffe is an award winning screenwriter and passionate cinephile. He has a number of films out on DVD/VOD around the world and several releases due out in 2021/2022, including, Renegades (Lee Majors, Danny Trejo, Michael Pare, Tiny Lister, Nick Moran, Patsy Kensit, Ian Ogilvy and Billy Murray), Crackdown, When Darkness Falls and War of The Worlds: The Attack (Vincent Regan). Find more info at the best personal site you'll ever see here.