Tom Jolliffe on the season of forgiveness. Can Christmas movies get away with being bad? Yes… yes they can….
Tis the season to be jolly. As for you. Yes, you! I know you've had your tree up since the beginning of November. For a short time, the rotting pumpkin was still perched on your doorstep too. You've been eagerly awaiting Christmas. This is a season for forgiveness and reflection. We can also forgive a particular type of movie. A kind of movie that gets a free pass quite unlike any other genre, at any time of year (the closest would be horror films during Halloween, where we'll happily watch a bad horror film). Yes, Christmas movies, which have a high ratio of 'bad' movies, are forgiven in a way few other genres are. There's a reason the stereotypical Hallmark formula is most popular in their Christmas output.
Have you ever found yourself watching something and suddenly having a moment of self-awareness? "Why the heck am I watching this?" I once flicked past a TV movie, I Saw Mommy Kissing Santa Clause. It was a pretty by-the-numbers and fluffily harmless Christmas TV movie starring staple TV actors Corbin Benson and Connie Sellecca. A paper-thin premise drives the film. It doesn't sketch characters with too much detail and sticks to quaintly innocent material throughout.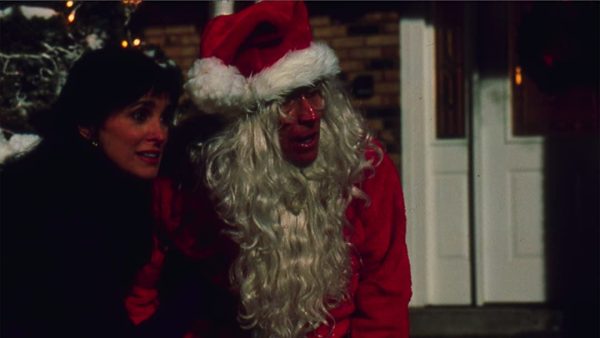 Had it not been a Christmas film, being watched in December, would I have stuck out the whole movie? Actually, I always found Sellecca compelling at a time she'd regularly appear on Channel 5 (UK) in darker dramas about malevolent husbands. Shlocky TV thrillers. So perhaps I'd have stuck it out, but the main reason I saw this TV Christmas film through to the end, was simply the fact it had a requisite level of seasonal charm. Seasonal charm is easy to do. You just need a combination of decorated sets, appropriately Xmasy costumes and suitably seasonal music.
Maybe the season itself, based on family traditions, becomes inherently predictable. Perhaps then, movies following predictable formulas are somehow comforting. The raucous Christmas comedy has a particularly enjoyable pattern.  It's a series of increasingly farcical events. You usually have two guys ending up in some kind of festive battle, two polar opposites and despite the lunacy of the events they propel, all end up good in the end. Deck the Halls is a good example. It's not a great movie by any stretch of the imagination when picked apart objectively. Gags are almost illogically silly, and obvious. Set-ups and payoffs are delivered with all the subtlety of Elon Musk let loose on his Twitter feed.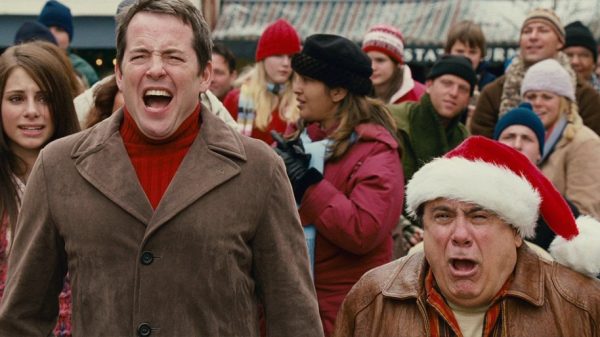 The formula for a film like Deck the Halls is two and a half acts of sight gags, lewd humour, physical comedy, mean-spirited battles and over-the-top performances, which finally give way to a finale where the characters remember that the true spirit of Christmas is about family. You could break it down to goofy, goofy, maudlin. So many festive films do the same. Those rare excellent ones like Bad Santa, or more recently 8 Bit Christmas, nail everything more satisfyingly of course. However, I'll still happily sit through something as affably harmless and undemanding as Deck the Halls (which I've seen three times now) and enjoy it. 
Somehow too, pitting renowned actors into arguably lazily delivered Christmas movies, just seems to work. If they seem stilted and awkward in melodramatic seasonal fare, or in having to make themselves look daft in an irreverent comedy, then all the better. It tends to go one of two ways. An actor is desperately trying to make the best of it through festive gurning and ear-to-ear grins, or they're genuinely having a whale of a time. Danny DeVito for example has a great time in Deck the Halls.
Chemistry is also another interesting factor. Good chemistry in the Xmas film double act is definitely welcome. In fact, it can elevate a bad film to no end. In a Christmas movie, a distinct lack of chemistry, where you can almost feel the frost between the leads, also seems to add something enjoyable too, particularly if said characters are supposed to be friends, or married. I always felt there was a distinct lack of chemistry between Tim Allen and Jamie Lee Curtis in Christmas With the Kranks. Yet the awkwardness, and at least from Allen's side, a lack of enthusiasm, strangely feel compelling because it's a Christmas film, but might have torpedoed a straight-up family farce comedy set in July instead.
It's a strange anomaly in the Matrix, but there are a whole load of critically annihilated films which have had a second life and become cult films, largely due to Christmas movie forgiveness. Sometimes it's a hearty dose of nostalgia too, something we grew up on. I used to think Santa Clause: The Movie with John Lithgow and Dudley Moore was great, but I was shocked to learn that critics considered it as pleasant as a music festival portaloo at the end of the weekend.
One of the best examples of this is Jingle All The Way. For Schwarzenegger, it came the same year as he put out Eraser. His more Arnold-friendly action extravaganza wasn't hugely well-received, and felt like a tired retread of better days. Jingle All the Way felt like a desperate stab to find new relevance, audience and perhaps transition. His comedy work had started with promise, slowly going downhill. 
When Jingle All the Way came out, I was 15. I considered it, as an Arnold fan, a nail in the coffin of his career as an action titan. He was pushing 50 after all. It didn't feel right for him to be doing the kind of material that you'd be more inclined to see from Steve Guttenberg well into a post-Police Academy/Short Circuit decline. Then something happened over the years. I noticed an increasing trend of revisionists, reappraisers and newbs suddenly lauding Jingle All the Way with love. It wasn't that the film was good. It wasn't that we'd missed important messages or subtle gags, or misread performances. It wasn't that people suddenly thought Sinbad was misunderstood as a performer. They loved Jingle All the Way for an array of reasons.
I'll give you a few. It's really, REALLY, daft. It's incredibly silly. The broad humour is scattershot, ranging from simple physical comedy to sly irreverent digs at suburban Christmas obsession (perhaps the few more wry observations in the film), cynical consumerism skewing gags, to completely illogical cartoon humour (the police officer who blows himself up, ending up with singed hair and skin but otherwise fine), or Arnold's rocket pack exploits. 
So much of Jingle All the Way makes no sense and doesn't bear even a passing resemblance to reality, occasionally sticking two fingers up to physics (like Verne Troyer being punched across a warehouse for comedic effect). Like a lot of Christmas movies, the actors play everything big too. There's something almost panto-esque about how some seasonal movies have their actors play roles. Big facial expressions, grandiose movements, and exaggerated line delivery. It's like you can let loose that little bit more and this exaggerated style feels more befitting of pre-50s Hollywood melodrama.
Then, watching Jingle All the Way once more, I suddenly realised I'd perhaps initially misjudged Arnie's performance. He's kinda awkward, and again that works, but he really puts his back into it. He's overplaying so much of the physical humour and jokes. He's left subtlety at home, as you should in such a film. That said, he's as restrained and stoic as Ryan Gosling in comparison to Sinbad who almost goes too high up the dial.  
A key reason Jingle All the Way has stood the test of time and has become a firm tradition in some households now is the presence of Phil Hartman. It can oftentimes be the fact that someone just steps into an objectively bad film and does something showstopping. Hartman does this as Howard's (Arnold's) ingratiatingly slimy neighbour Ted.  Sure, a festive film can be forgiven for its sins, but does it at least need to have some enduring element beyond the festive stuff? The forgivable crap Christmas film is a thing, but there are certainly limits.
For one, you can't be objectionably witless and horrid. Bad Santa 2, even with its festive backdrop, is nearly unwatchable. It has all the puerile and mean-spirited humour of the original, without the impish charm and minus an endearingly schmaltzy end. Likewise, Billy Bob-Thornton was pitch perfect in the first, but way wide of the mark in the second. Another that would struggle for redemption from last year might be Pups Alone which felt erratically paint by numbers but as if someone awkwardly sliced up and stuck together parts from five different paint-by-number books.
Ultimately, you don't need to be that original, that witty or that subtle, but if you can be endearingly silly and have enough broadly delivered seasonal warmth, audiences will tune in and enjoy. 
What's your favourite 'bad' Christmas film? Are any too unlikeable to forgive? Let us know on our social channels @flickeringmyth…
Tom Jolliffe is an award winning screenwriter and passionate cinephile. He has a number of films out on DVD/VOD around the world and several releases due out in 2021, including, Renegades (Lee Majors, Danny Trejo, Michael Pare, Tiny Lister, Ian Ogilvy and Billy Murray), Crackdown, When Darkness Falls and War of The Worlds: The Attack (Vincent Regan). Find more info at the best personal site you'll ever see here.