White Noise, 2022.
Written & Directed by Noah Baumbach.
Starring Adam Driver, Greta Gerwig, Raffey Cassidy, Sam Nivola, May Nivola, Don Cheadle, Jodie Turner-Smith, André Benjamin, Lars Eidinger, Barbara Sukowa, Mike Gassaway, Matthew Shear, Francis Jue, Danny Wolohan, J. David Hinze, Logan Fry, Thomas W. Wolf, Bob Gray, Erik Moth, Bill Camp, and Gideon Glick.
SYNOPSIS:
At once hilarious and horrifying, lyrical and absurd, ordinary and apocalyptic, White Noise dramatizes a contemporary American family's attempts to deal with the mundane conflicts of everyday life while grappling with the universal mysteries of love, death, and the possibility of happiness in an uncertain world.
Noah Baumbach has been a darling of the indie movie scene for close to two decades, working extensively with Greta Gerwig and Wes Anderson and being responsible for the likes of The Squid & The Whale, Frances Ha and most recently the acclaimed Marriage Story which is perhaps his best received work to date.
It may have come as a surprise to some that Baumbach chose to follow this up with an adaptation of the seminal Don DeLillo novel White Noise, an absurdist, comedy drama depicting a professor of Hitler studies Jack Gladney (Adam Driver), his wife Babette (Greta Gerwig) and their four children from various marriages. The film follows the uprooting of their existence by an accident that results in an airborne toxic event, causing a mass evacuation and an existential crisis.
The film has earned somewhat of a mixed response following its premiere at Venice in August and its not hard to see why. The first act is an engaging black comedy following the absurdist premise of a professor of Hitler studies and his dysfunctional family as they are forced to spend time together pondering their existence. This is also where the film works playing against Baumbach's usual style, although he still finds room for quirky dialogue.
We can see some clear parallels between the 80s setting and the commentary on commercialisation and class as well as a parallel for the state of the environment and humankinds impact on it.  Adam Driver and Gerwig are both terrific, vastly different to their previous more idiosyncratic roles in other Baumbach works, here more contemplative and melancholic, reflecting the downbeat nature of the films events.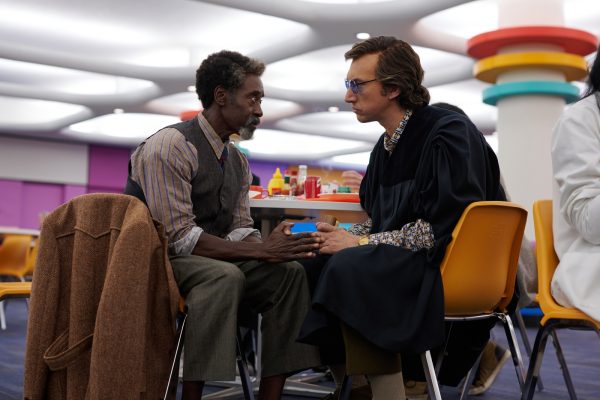 Don Cheadle is also given an opportunity to show his acting range in a welcome role away from the MCU as one of Jack's colleagues Murray who is a professor of American Studies and wishes to do for Elvis what Jack has done for Hitler with one of the film's highlights being a joint analysis of the two men in a sort of sparring match.
It is a shame the film loses some of the quirks and thrills of its first hour, once the events of the disaster are peeled back and an element of normalcy returns it runs out of steam and while never dreadful, never quite recaptures the strength of its opening two acts.  Perhaps it is no surprise that such a wild swing from Baumbach would struggle to land all its punches but it is frustrating given that when the punches do land they are mighty effective and make for an a times exhilarating piece of work, that just fails to come together across its 2-hour runtime.  It does redeem itself with a seemingly out of place supermarket dance sequence to LCD Soundsystem's New Body Rhumba, written for the film.
While frustrating that it cant' quite replicate the enjoyable messiness of its first hour across its whole runtime, White Noise is an enjoyable swing from all involved, a complete departure from Noah Baumbach's previous work with some off-kilter performances from Adam Driver, Greta Gerwig and Don Cheadle especially. It is a faithful adaptation of its source material and while it may prove divisive, it's worth a watch due to the talent of all involved and the pure levels of absurdity at times.
Flickering Myth Rating – Film ★ ★ ★ / Movie ★ ★ ★
Chris Connor