If you found yourself thinking, "Is that? No… it couldn't be" upon hearing a familiar voice come out of a certain muscly, ponytailed character in Hulu's Koala Man, your ears aren't playing tricks on you. Hugh Jackman (yes, that Hugh Jackman) does, in fact, lend his voice to the new adult animated series.
If there ever were a perfect-on-paper animated TV series for Jackman to sign on for, Koala Man would be it. Much like Jackman in another life, the titular Koala Man (aka Kevin Williams), is an Australian superhero; and while the show is an American production, it takes place in an alternate reality where the land Down Under is the world's foremost superpower.
Flickering Myth caught up with the show's creator and star Michael Cusack (fellow Aussie and co-creator of Adult Swim's Smiling Friends) at New York Comic Con in October, where he described how he snagged the Greatest Showman star for a regular role on his show.
"We kind of aim for the stars when we're casting," he explained. "It's pretty bizarre being an Australian show on American TV, maybe we can just land some big actors, so we went for Hugh Jackman and other people of his caliber and for some reason, he… his kids really liked it, and they convinced him. But hopefully he liked it too [laughs]. And he just said, 'Yes.'"
Cusack echoed viewers' general surprise at his involvement and continued, "I have no idea, and I still don't know how we got him, but we did. And he was really, really good in the show."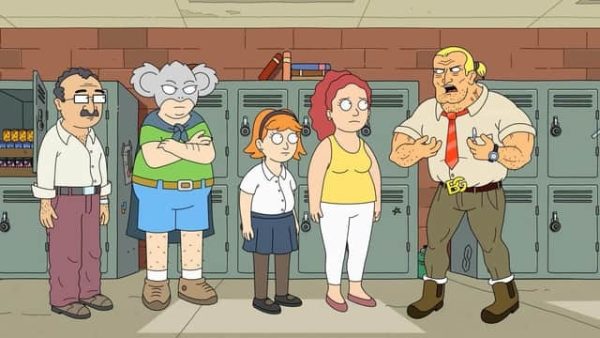 While Jackman has lent his voice to a number of animated projects in the past, including starring roles in Flushed Away, Missing Link, Rise of the Guardians, and Happy Feet (and several TV guest spots), he's one of Hollywood's definitive leading men and an unquestionable "get" for any project. In the show, Jackman gets to lean on his mass appeal and natural charisma in voicing Big Greg, the most well-liked man in Kevin's hometown of Dapto.
But he's not the only notable performer to touch down in the ultra-mundane and grotesquely violent world of Koala Man. Emmy-nominated Sarah Snook (Succession) plays opposite Cusack as Kevin's wife Vicky, and they are joined by a star-studded guest line-up that includes Jemaine Clement, Hugo Weaving, Miranda Otto, and many more.
Not to mention, Jackman's longtime friend and Australia co-star Nicole Kidman is a character in the show as well: the Queen of Australia, who, in one episode, Koala Man must protect from an assassination plot. While she does not lend her voice, her character is yet another nod to the show's world of Australian supremacy.
As of October 2022, Cusack still hadn't met Hugh Jackman, despite the whole show having been recorded. He said, "I went to New York to do the directing job of Hugh Jackman, and then, I got Covid when I was there. So I couldn't even see him."
Demi Lardner, who plays Kevin's daughter Alison, also hasn't met her co-star. She joined Cusack at NYCC and told him, "Would love to meet Hugh Jackman though! If you could arrange it."
Koala Man's entire eight-episode first season is available to stream now on Hulu in the US and Disney+ in Australia.