Emma Cockroft reviews Final Fantasy XIV: Stormblood…
In a world of ever-increasing MMOs how is it that pay to play ones can still compete with the free market? In my opinion Final Fantasy XIV is one of the best pay to play ones around. With is stunning visuals, interesting story and many different classes this game offers so much to its players and it is because of this it holds such a strong fanbase. It really is one of the more story driven MMOs around. This game has taken up a lot of my very little and precious free time and because of various other commitments has taken me far too long to write my review then it should have! While this game is still a pay to play you can grab various free trials online so you can experience this breathtaking game!
Here we have Stormblood the newest expansion to Final Fantasy XIV. The story continues with the warrior of light travelling to the new far eastern land of Gyr Abania with a group of warrior friends, visiting strange new places and encountering different enemies whilst trying to liberate the cities and people from the grip of the Garlean Empire. Square Enix have spent a lot of time creating and developing this story. It pulls you in with its good voice acting and facial animations (the cut scenes look amazing!) all accompanied by a beautiful soundtracks that make this expansion their strongest one yet!
Stormblood and its new lands are worth experiencing and exploring. There really is something for everyone to do here be it crafting, exploring or fighting in one of its many new dungeons it really does feel jam-packed with content. Its stunning settings and stories are really a wonder to behold. There is so much to do and explore that it can be a little time-consuming but at the same time it feels worth it. From the dazzling depths of the Ruby Sea to the Japanese port of Kugane with its cobbled streets and market stalls that really do seem add a mystical feel to the game.
Two new jobs have been introduced as well as raising the level cap to 60. Red Mage and Samurai. While Red mage is more popular and combines a nice blend of casting, melee attacks and throwing in the dual casting ability. I found myself playing this role a lot and it has become one of my favourites. Its fun, enjoyable to play and doesn't get boring. Samurai is a good damage dealer with the potential to release some devastating combos but its one I haven't had the chance to play that much. The new job gauges add something as well, all classes now have them but they seem to be built for the new jobs. I thought these made the battles a bit clearer and easier for me adapt to whilst adding something new. You want to fill up these bars to unleash the devastating abilities that come with them.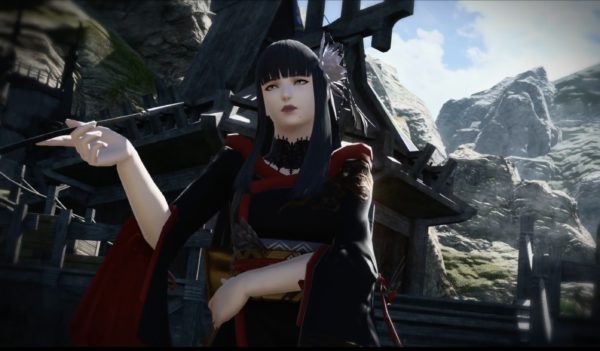 However you need to be level 50 to unlock these jobs which means hours of grinding unless you purchase the level booster Square Enix offers, which increases your character to level 60 and bypasses all the story. I quite like this as it gave me an option to just try the new content out straight away if I wanted to or I could carry on grinding my little white mage to try and get her to level 60 to be able to fully experience this.
Another new edition is swimming. Here Square Enix have done it again, the underwater world is beautiful and is initially amazing. However the novelty wears off when you realise there is no underwater combat and there is little more to do then simply explore and it does feel slightly underdeveloped. However this doesn't take all that much from the game and is simply one of the new fun additions that you can experience.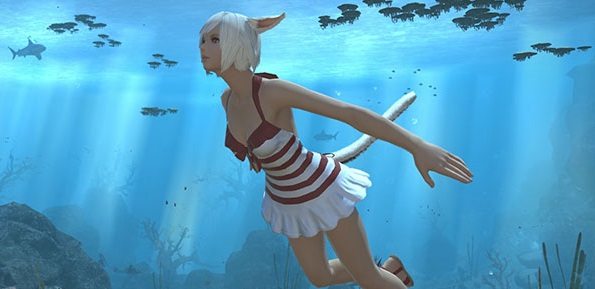 While the new expansion offers so much at the same time it's still the same routine. Accept a quest, go here, do this and return for some experience and a reward. Or getting locked out of a main scenario quest as you're not a high enough level so you have to spend time in a dungeon or grinding away killing monsters to finally get to a level to finally be able to accept a quest. As there is so much to do in this game you can overlook any repetitive missions as if you get bored doing this you can always undertake one of the many other tasks Stormblood provides.
There is still so much more for me to do in Stormblood and I really wish I could have had a better internet connection to enable me to play it more. I really want to spend more time on its dungeons and its NPC quests. It is worth the hype and is definitely worth a play. I am not done with this game just yet….
Pros:
+ New Job classes are fun to play
+ Stunningly beautiful word
+ Story quest are interesting and fun
+ New dungeons
Cons:
– Quests can be a bit repetitive and boring
– Not good for new players
– Swimming can get a bit boring after a while.
Rating: 9/10
Reviewed on PC.
Emma Cockroft