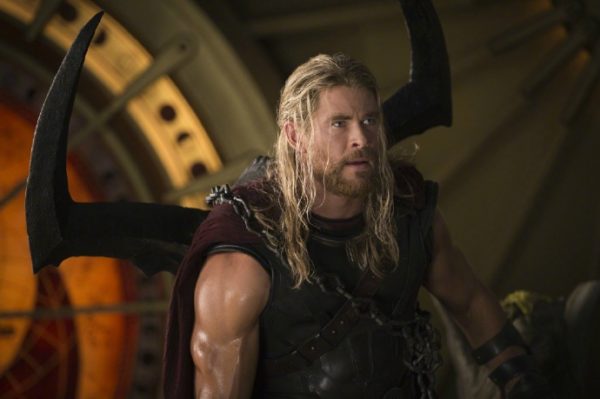 Back when Thor came out in theaters, everyone was a bit apprehensive. Marvel simply didn't have the greatest track-record getting their works adapted to film (YET). The first Iron Man film, at the time, was considered a bit of a "unicorn". It was a solid film in its own right, and a massive step up for Marvel in terms of quality. Then Iron Man 2 happened. This, of course, led everyone to fear the worst for Thor's first solo outing.
And how did it do? Not too bad, actually. The film has its detractors, sure, but Chris Hemsworth owned the part, and director Kenneth Branagh perfectly struck a balance between the mythological, and the banal. Thor: The Dark World fared about the same, critically. So what about Thor: Ragnarok, the Asgardian's third solo adventure? Is there much connective tissue to the other films? According to director Taika Waititi, Thor: Ragnarok should not be compared to the previous two. In fact, he'd prefer it if you view this film as a fresh start of sorts. Speaking to Screen Rant, the director had this to say…
"I think the main challenge, for me, was actually working at getting away from the other two films. And again… Yes, the other films are there, and it's great to watch them. I think they're good films. But I don't mind if people start with this film. In my mind, for me, this is is my 'Thor 1.' I've seen the other films, and I respect them a lot. But I can't spend too much time thinking about this as a threequel. Because then I'll get tied up too much in respecting what went before, and respecting what's going to come after. It just, for me, has to be a standalone thing. Because this could be the only time I do this. And I just want to make it a version of a Marvel film in the best way possible."
SEE ALSO: Thor: Ragnarok's connections to Guardians of the Galaxy, Avengers: Infinity War and Planet Hulk teased
SEE ALSO: Thor: Ragnarok's early box office projections point to $100 million domestic opening
In Marvel Studios' "Thor: Ragnarok," Thor is imprisoned on the other side of the universe without his mighty hammer and finds himself in a race against time to get back to Asgard to stop Ragnarok—the destruction of his homeworld and the end of Asgardian civilization—at the hands of an all-powerful threat, the ruthless Hela. But first he must survive a deadly gladiatorial contest that pits him against his former ally and fellow Avenger—the Incredible Hulk.
Thor: Ragnarok is being directed by Taika Waititi (What We Do in the Shadows) and features Marvel veterans Chris Hemsworth as Thor, Tom Hiddleston as Loki, Anthony Hopkins as Odin, Idris Elba as Heimdall and Mark Ruffalo as the Hulk alongside Cate Blanchett as Hela, Tessa Thompson as Valkyrie, Jeff Goldblum as the Grandmaster, Karl Urban as Skurge, Taika Waititi as Korg, Clancy Brown as Surtur, Rachel House as Topaz, and Sam Neill in an as-yet-unrevealed role. It is set for release on October 24th in the UK and November 3rd in the States.
… You can find Jordan on Twitter (@JordJJones), and Facebook.