Anghus Houvouras on Star Wars: The Last Jedi (major spoilers follow)…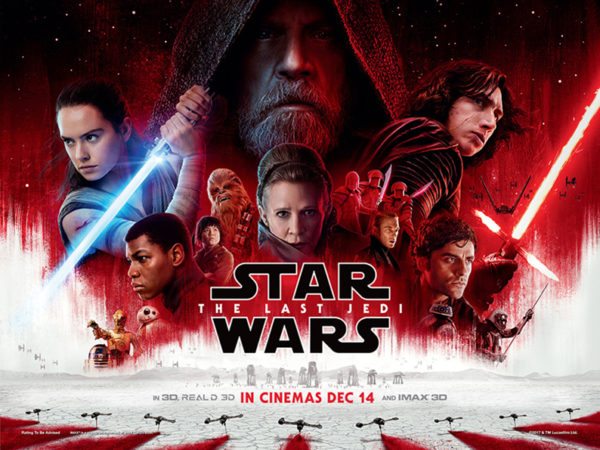 It's all been done. That song by Canada's eighth best band Barenaked Ladies was bouncing around my head as I watched the latest installment of the Star Wars saga. A galaxy, far, far away isn't nearly as exciting as it used to be. Not since Disney bought the franchise and turned it into an annual blockbuster money printing machine. The series has been floundering ever since the lackluster Star Wars: The Force Awakens opened in 2015, followed by the even more formulaic and haphazard Rogue One: A Star Wars Story. The Last Jedi is the third and most salient example that it's all been done and Disney has little interest in doing anything differently.
Trust me when I say, this sucks. Disliking things that are insanely popular is fine, but when you write columns and reviews for publications being a downer leads to charges of elitism, bias and other assorted dickery. I went in hoping this Star Wars movie was going to be an improvement. A movie that was both entertaining and compelling and continues to expand the galaxy far, far away that George Lucas created and brought to the screen so many years ago. The Last Jedi is entertaining at times and for a few moments manages to be compelling, but the idea of world building is long dead. By the way, I'm about to spoil the shit out of this movie, so if you haven't seen it yet you might want to hold off.
The Last Jedi is a muddled, messy melange of good intentions and terrible execution. Two and a half hours of cinema that produces about 45 minutes of excitement. There's another 45 minutes of interesting ideas and a solid hour of bloated padding that will make you consider if the filmmakers and Disney have any real idea what they're doing. It's strange for the second film in a new trilogy to feel so disconnected from the first. There's a scene that perfectly articulates the problems with Episode VIII. The Force Awakens ended with young Rey bringing Luke Skywalker his lightsaber back. When we see the next moment in that scene in The Last Jedi, he chucks it over his shoulder showing his lack of interest in revisiting that part of his life. It also acts as a metaphor for writer/director Rian Johnson being uninterested in carrying the baton passed over to him by The Force Awakens director J.J. Abrams.
There are so many ideas introduced in The Force Awakens that are completely abandoned in The Last Jedi. Mysteries like 'Who are Rey's parents?' are answered in a flat, matter of fact way without weight while 'Who is Supreme Leader Snoke?' is completely abandoned. He's just a really bad guy with really strong powers. Want to know more? Shove it up your ugly ass, because Rian Johnson and Disney aren't going to tell you.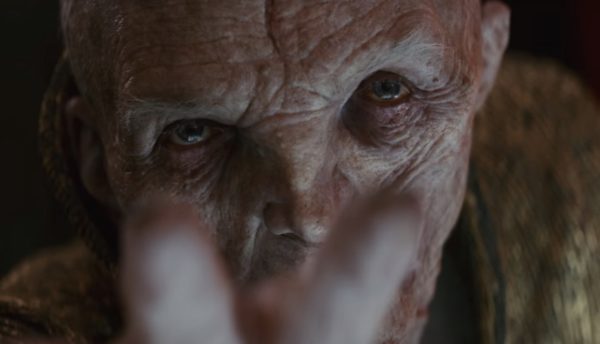 That's the most infuriating part of the Disney Star Wars era: consistently dropping the ball when it comes to worldbuilding and storytelling. You take the most popular film series on planet earth and introduce a character like Supreme Leader Snoke. Apparently he has insane levels of power and is the most malevolent force in the universe. His appearance in The Force Awakens was clouded in mystery – one that fans speculated endlessly about for the last two years. But instead of learning about our villain, he just chews a little scenery and then gets killed in an act of betrayal that Stevie Wonder could have seen coming. Not because he's blind, but because he's smarter than your average second grader.
These Disney-made Star Wars movies are about creating cool moments. And there are plenty of cool fights and space battles in The Last Jedi. But the characters are treated like terrible dialogue spewing exposition pieces with 75% of them given nothing to do. The dynamics aren't altered at all. The characters at the end of The Last Jedi are very much the exact same as they were in The Force Awakens. Kylo Ren is still an emotional wreck desperate to embrace his role as the arbiter of a new universal order. Rey is still the all-powerful next Jedi who gets about a day and a half of training and handles every moral conflict while doing the right thing with almost zero moral dilemma. The characters here are so plainly rendered that they become boring. There are some interesting developments hinted at between Rey and Kylo Ren, but the reset button is hit before the end of the movie. Any potential for character growth is sacrificed for narrative tidiness. For example:
Am I supposed to care about Rose (Kelly Marie Tran) because she lost her sister considering we never saw them together for a single solitary moment?
Does Vice Admiral Holdo's (Laura Dern) sacrifice have any emotional weight if the character is introduced and given five minutes of screen time before she dies?
Why would you trap Poe Dameron on a ship for 75% of the movie and have him yelling like an angry child throwing a tantrum in the checkout line of a grocery store because Mom wouldn't buy them a candy bar?
Even potentially pivotal character moments are completely undone by poor choices. Finn's going to sacrifice himself to save the Resistance? What a bold move, quickly undone by a silly attempt at building a relationship with a new, terrible character. Luke's going to make a final stand against Kylo Ren to inspire the Resistance following in the footsteps of Obi Wan Kenobi? Nope, it's just a force ghost projection so he doesn't end up sacrificing himself. Oh no, wait, he dies anyway because he was finally at peace. I'm not sure what Rian Johnson was freebasing when he wrote this, but I'd recommend halving the dose.
The Last Jedi isn't a Star Wars film, it's a Disney movie. A four quadrant crowd-pleaser afraid to take any risks or delve into darker territory, plagued by writing and directorial choices that are barely coherent, and has no cohesion with the previous chapter.
And that my friends, is supremely disappointing.
Anghus Houvouras