Henry Bevan on the problem with fan expectations…
I love Spider-Man. Spider-Man 2 is my favourite superhero film, I was addicted to 1990s TV show. Tobey Maguire is an underrated actor. But, I didn't like Spider-Man: Homecoming, at first. I hated how Peter's quest to be a hero relegated the supporting characters and I felt the filmmakers made a superhero movie with teenagers instead of a teen movie with a superhero.
The filmmakers spoke about honouring John Hughes, yet they jettisoned his usual themes of isolation, the impact money has on mental health and the stereotyping encouraged by cliques. Modern teen movies like Lady Bird, The Edge of Seventeen and Easy A have tackled these subjects, but Homecoming failed joining their ranks, to do what they do on the biggest possible stage because it was more like Ferris Bueller's Day Off, Hughes' great but most vapid teen movie.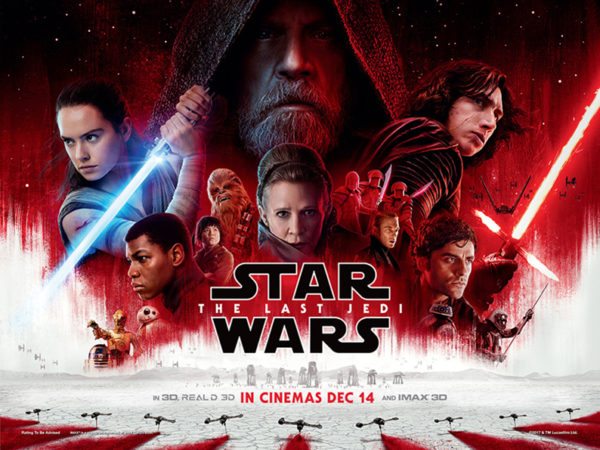 As a lover of Hughes and the wall-crawler, I went into the film with a level of expectation the film probably had very little chances of reaching. This is something director Rian Johnson has touched on when discussing the fan reaction to Star Wars: The Last Jedi. Everyone expects something from a Star Wars movie and rarely do all the wishlists line up.
So far more than 30,000 people have signed a petition to strike The Last Jedi from canon (yes, seriously) and the number will probably keep growing. If this is the route fans want to take, then they'll have to create petitions to strike The Phantom Menace, Attack of the Clones, Revenge of the Sith, Return of the Jedi, The Force Awakens and Rogue One from canon as well. Basically, Star Wars fans are infamously fussy and they haven't been truly happy with this franchise since 1980. This, of course, didn't stop the film from earning the second highest domestic opening ever and it will reach one billion dollars.
When something is as popular as George Lucas' space baby, it stops being owned by one person and becomes owned by everyone — and when something is owned by everyone, it doesn't actually belong to anyone. You can't make a film by committee, and Johnson, like Lucas, had to make the film he wanted to make, the film he wanted to see. We gave The Last Jedi both thriving and withering reviews, and anyone who dislikes the movie has every right to — unless they hate it because it features a black man and an Asian woman, those fans are the people ruining Star Wars.
Mass ownership and the expectations that come from being beloved could be a possible reason for the negative fan reaction, along with trolls and the fact Johnson basically reveals that the fan knowledge means nothing. Everyone has an idea of what they made a Batman movie or a Star Wars episode, and this can only lead to disappointment. This is another reason DC has a harder job than Marvel. The Marvel Cinematic Universe started with characters the mass audience didn't know anything about — Robert Downey Jr. is defining Iron Man, for example. There have been countless versions of Batman and there is only one type of Superman people will accept. Why do you think Henry Cavill's Man of Steel randomly became Christopher Reeve's in Justice League?
I had a series of expectations when watching Homecoming. My version of the character is too defined by Raimi's vision, the one I grew up with. Once I had gotten over my bitterness and lowered my expectations I was converted by its goofy charm and well-told story. Don't get me wrong, I still have beef, but I now appreciated its vision. Maybe, once they've settled down, the angry fans might learn to like The Last Jedi.
Henry Bevan