Your Monday edition of The Week in Star Wars contains a lot of new promotional stuff for The Last Jedi, comments from the cast and crew, a teaser poster for Solo: A Star Wars Story, and more…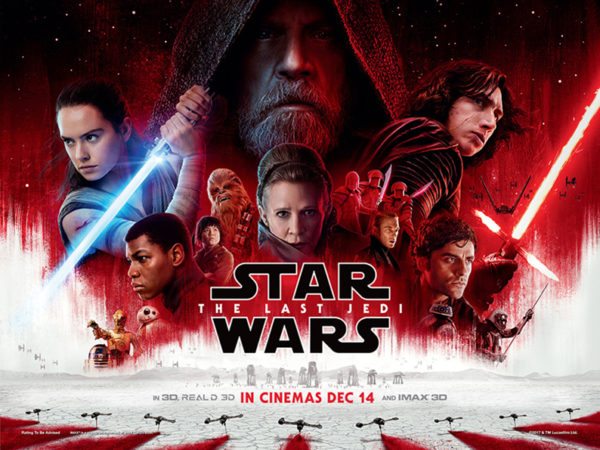 Can you believe it: this week sees the release of Star Wars: The Last Jedi! And with only a few days to go before we can all see the continuation of the Star Wars Saga, promotion and hype for the film is kicking into overdrive. The cast and crew all recently attended a press conference ahead of the premiere, and Mark Hamill revealed that he had and director Rian Johnson had very different visions for Luke Skywalker's character in the eighth movie. "The most shocking thing I read was it's time for the Jedi to end, " he said. "And I mean, I understood Luke's regret at being wrong about who the chosen one was and he feels responsible for creating potentially the next Darth Vader and hey, I mean, ruining your nephew's life. Like not perceiving that he was going to the Dark Side until too late, so that weighs heavily on him. But all the characters face challenges in the second act of a three-act play or opera. I mean this is where all the darkest things happened. I mean, there's triumphs of course but more than its share of tragedies…"
…Johnson himself spoke at the press conference about the various fan theories for Star Wars: The Last Jedi – saying none of them have guessed the film's major reveals. "I love reading the fan theories," he added. "Having been a Star Wars fan myself and been on the other side of the curtain most of my life it's pretty cool to be back behind, like peeking through saying seeing like I would have people guessing…"
…But it's not just the release of Star Wars: The Last Jedi that's approaching, it's also the one year anniversary of the tragic passing of Carrie Fisher who died last December. Speaking with ComicBook, Johnson spoke about working with Fisher on Star Wars: The Last Jedi, utilising her vast experiences as a writer and script doctor. "We wouldn't rewrite the scenes but she would throw out suggestions for jokes, and lines, and ideas. And we'd go back and forth… There are a few scenes that we got together with her and the other actors in the scene and kind of shaped it. I mean, if you have Carrie Fisher standing there with you, you'd be a fool not to use her writing talents…"
…Daisy Ridley will be carrying the flag for female characters in the Star Wars universe as Rey moving forward, but a recent interview around Johnson's new trilogy following Episode IX sparked some debate that her character will be finished by the time Episode X rolls around. However speaking with the BBC, Ridley has clarified her comments saying its a contractual thing and she would like to do more if the opportunity arose. "When I did sign up, I did sign up for three films and that's where I sort of saw the story ending," she said. "I think everyone has perhaps taken that as me going, 'I don't want anything to do with it' which is vastly untrue because this is awesome…"
…You can watch the interviews from that press conference here, and the highlights from the premiere here. 17 new promo posters were also released, you can watch a new international trailer and featurette here and one that follows Daisy Ridley on set here – who was also featured on a new international poster. Kylo Ren was too on this poster, and this new TV spot features Rey and Ren interacting. Luke Skywalker and R2-D2 meet in this TV spot, some new posters were released featuring Rey and Ren, and new character posters for Luke Skywalker, Leia Organa, Finn, Poe Dameron and BB-8 were also released along with a new featurette…
…And lastly on The Last Jedi, Neil Calloway has penned an op-ed which says that the film has a lot to live up to…
…Looking to the future of the Star Wars Universe now, and it's been revealed that the Obi-Wan Kenobi spin-off will begin production in January 2019 which presumably means we'd see the film arriving in Lucasfilm's as-yet-unrevealed 2020 slot…
…Speaking of spin-offs, and the first teaser poster for Solo: A Star Wars Story has been leaked, which you can check out here…
…In a new interview with Rolling Stone, J.J. Abrams has revealed that he had no intention of returning to a galaxy far, far away when he was announced as the director for Star Wars: Episode IX – but felt he had to come back. "When the opportunity presented itself to finish a story that we had begun with these new characters, to tell the last chapter of their story, it felt like there was a chance to do it in a way where we could go beyond, and do better than we did in VII," he said. "I learned so much in that movie and I saw that this was a chance to sort of realize something that we hadn't quite achieved – and part of that was it was simply the beginning of these new characters and their story. The opportunity to sort of take what we had learned, to take the feeling of who these characters are and what they are and give them a final chapter that felt in the spirit of what we begun? It was too delicious of an opportunity to pass up…"
…Once Star Wars: Episode IX is done and dusted, we'll be looking ahead to Rian Johnson's new trilogy which will continue the Star Wars saga. In a new interview with Mashabale, Johnson shut down the fan theory that he would adapt the very popular Knights of the Old Republic storyline, saying he wants to explore new avenues in the universe. "Oh, [the fans] love Knights of the Old Republic," he said. "I played that game when it first came out and it was like, god, I loved it. Yeah, that's a fantastic game. And I understand it, the instinct to automatically go to something that you know and love, that you've already seen. To me, what's really fun is the notion of what new stuff are we gonna see, what new stories can we tell?.."
…Johnson will reportedly be helming all three films in the new trilogy, but Kathleen Kennedy also revealed this week to Newshub that she would love to see Thor: Ragnarok director Taikia Waititi take on a Star Wars movie. "I think he has exactly the right sensibility," she said. "It was very exciting to see him step into the Marvel universe and do such an amazing job with Thor…"
…But maybe he should take a step back, as there is another director who would like a shot at the Star Wars franchise: Tommy Wiseau, who announced on Twitter that – although he's very busy – Lucasfilm should contact him about directing a movie soon…
…EA and DICE released a new trailer for Star Wars Battlefront II which reveals its Star Wars: The Last Jedi content, which you can watch here…
…And finally, here's your comic book preview for Star Wars #40: ASHES OF JEDHA part 3! As Queen Trios' forces move in to strip what's left of Jedha, the Rebellion and the remaining Partisans struggle to save the planet for its survivors! The echoes of Rogue One continue to be heard through the Rebellion!
That's all for this week – may the Force be with you.
Luke Owen is the Deputy Editor of Flickering Myth, a presenter for WrestleTalk, and the author of Lights, Camera, GAME OVER!: How Video Game Movies Get Made. You can follow him on Twitter @ThisisLukeOwen.