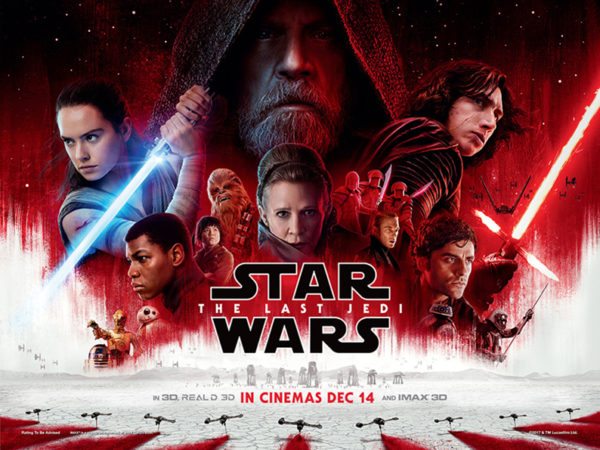 It's become tradition that whenever a new Star Wars movie is on the horizon, fans pore over every rumour, spy photo and piece of marketing material in the build up to its release, proposing countless theories in an effort to answer some of those burning questions about the galaxy far, far away.
And of course, it's been no different with Star Wars: The Last Jedi, but according to director Rian Johnson, none of the theories out there for Episode VIII have hit on any of the film's big reveals.
"I mean, nothing that's really nailed big stuff," Johnson tells Screen Rant. "I love reading the fan theories, you know, having been a Star Wars fan myself and been on the other side of the curtain most of my life it's pretty cool to be back behind, like peeking through saying seeing like I would have people guessing."
Presumably by "big stuff", Johnson is referring to questions about Rey's parentage and the identity of Supreme Leader Snoke. Which means we can likely discount the theory that Rey hatched from an egg.
SEE ALSO: Mark Hamill on disagreeing with Rian Johnson over Luke Skywalker's role in Star Wars: The Last Jedi
SEE ALSO: 'On the Set with Rey' featurette and new TV spot for Star Wars: The Last Jedi
In Lucasfilm's Star Wars: The Last Jedi, the Skywalker saga continues as the heroes of The Force Awakens join the galactic legends in an epic adventure that unlocks age-old mysteries of the Force and shocking revelations of the past.
Star Wars: The Last Jedi is set for release on December 14th in the UK and December 15th in the States and sees returning cast members Mark Hamill (Luke Skywalker), Carrie Fisher (Leia Organa), Adam Driver (Kylo Ren), Daisy Ridley (Rey), John Boyega (Finn), Oscar Isaac (Poe Dameron), Lupita Nyong'o (Maz Kanata), Domhnall Gleeson (General Hux), Anthony Daniels (C-3PO), Gwendoline Christie (Captain Phasma), Billie Lourd (Lieutenant Connix), Andy Serkis (Supreme Leader Snoke), Peter Mayhew and Joonas Suotamo (Chewbacca), Tim Rose (Admiral Ackbar), Mike Quinn (Nien Nunb), Simon Pegg (Unkar Plutt), and Warwick Davis joined by new additions Jimmy Vee (Pan) as R2-D2, Kelly Marie Tran (Ladies Like Us) as Rose, and Benicio Del Toro (Guardians of the Galaxy) and Laura Dern (Jurassic Park).