Matt Rodgers on the best ever video game movie scenes…
The first part of 2018 will see two high profile videogame adaptations hit the big screen in an attempt to do what 2016's Assassin's Creed couldn't, by breaking a curse which has stretched back as far as 1993's infamous Super Mario Bros. movie.
First we'll get Sony's Alicia Vikander starring Tomb Raider reboot (March 16th), followed a month later by Dwayne Johnson's Rampage (April 20th), an adaptation of the 1980's single-screen arcade game in which a giant gorilla, lizard, and wolf take down a bunch of skyscrapers.
Who knows whether they'll break the run of cartridge based catastrophes, but rather than focus on the negative aspects of this much maligned sub-genre, here at Flickering Myth we thought we'd replay the best moments from throughout the history of videogame adaptations, starting with…..
Silent Hill (2006)
When Brotherhood of the Wolf director Christophe Gans was handed the reins to one of the most cinematic console properties around, it was hoped that he would be able to capitalise on the horror mystery of Silent Hill in a more successful way than had been achieved with 2001's Resident Evil.
While the film doesn't completely work, feeling like a series of loosely held together, wonderfully shot cut-scenes, it's still in the upper echelons of videogame adaptations, and that's because of sequences like the one we've chosen.
As Radha Mitchell's Rose continues to frantically search for her adopted daughter in the mist smothered, bloody walled décor of Silent Hill, she rounds a corner to be faced with one of the franchise's most twisted creations; the nurses. A mutilated faced spectre that contorts her body in a J-horror manner if light is shined upon her. It's a little bit like the most macabre party game ever, and it's a scene that manages to capture the claustrophobic intensity that underpins the most terrifying bits of the game.
Lara Croft: Tomb Raider (2001)
One of the best opportunities to get the formula right was when Angelina Jolie was perfectly cast as English gentility come kick ass Indiana Jones explorer in Simon West's Tomb Raider adaptation. The combination of actress and material was so spot on that even when the first film was universally panned, they attempted an upgrade with 2003's Cradle of Life.
Unfortunately it turned out that this iteration was only given two lives and no 'continue' countdown, but that doesn't mean that some of the levels weren't hugely impressive. None more so than the robot training scene, that incorporated all of the choreographed fighting elements that made controlling Lara Croft such an addictive experience back in the back in the day; double handed gunplay, forward rolls, and the use of fallen objects as makeshift bridges. It was as close as the franchise got to replicating the fun of the game.
Doom (2005)
It's easy to forget that they made a film of id Software's iconic 1993 First-Person-Shooter Doom, let alone that it starred Dwayne Johnson, Karl Urban, and Rosamund Pike. That's right, Rosamund bloomin Pike!
The premise was simple, a group of marines get sent to a research facility on Mars where they're systematically picked off by genetically engineered beasties, the execution kind of dull and uninspired, failing to make the most of its Aliens concept.
What Doom did do (say that quickly five times) was embrace its pixelated source, which is something a lot of videogame movies actively ignore. The way in which this manifested in Andrzej Bartkowiak's film is during a five minute FPS sequence that's as bonkers as it is inspired. Featuring stalled reloads, which we've all done as we frantically press the wrong set of buttons, close-up head shots, and great use of the shadows to hide the oncoming beasts, it's the kind of creative flourish that's too often lacking in similar rental fodder. Take a look and tell us it doesn't have you reaching for the joypad.
Resident Evil (2002)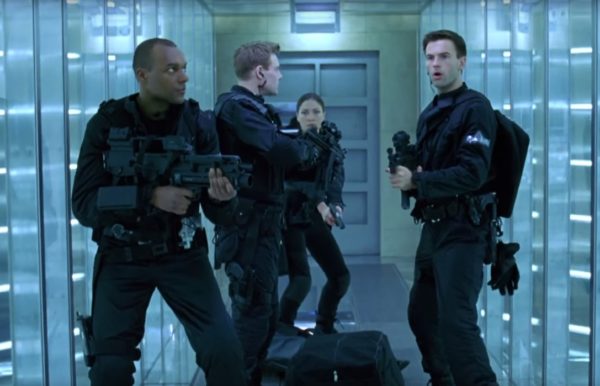 With six films spanning fourteen years, the odds that we'd get a sequence from the much maligned, commercially successful Resident Evil franchise ($1.2 billion dollars worldwide) were quite low, even if it is slim pickings when it comes to overall quality.
We could have chosen the desert crow attack from 2004's Apocalypse, those bloody birds were always tough to shoot, or the appearance of fans favourite, Nemesis, during that same film's finale.
The most iconic scene, and one that 2017's The Final Chapter made a point of revisiting, is the original film's lazer corridor. Paul W.S. Anderson may have completely abandoned the horror aesthetic from Capcom's genre-defining game in favour of Resident Evil 5 action mechanics, but when it's as brilliantly executed as this pre-SAW dice with death, then you'll forgive that lack of subtlety.
Warcraft (2016)
From the off, Duncan Jones's Warcraft was fighting a losing battle. By the time the movie came out it was a past-its-prime property, which had seen users dwindle from a record-breaking twelve million, to a last count five.
It was also attempting the kind of world building afforded to an HBO mini-series, rather than niche franchise starter, with a final battle that threatens to collapse under the weight of so many moving parts. However, when Warcraft worked, focusing on the smaller moments, it's largely glitch free entertainment.
Case-in-point is the wonderful woodland ambush, which forgoes the usual drab fantasy palette in favour of clearly defined characters and some superb Orc kick-ass action, all circling around Jones's brilliant camera work, fully immersing the player/viewer in the middle of this chaotic scrap.
https://www.youtube.com/watch?v=m0DbfOnOBQo
Hopefully, with Tomb Raider, Rampage, and the recently announced Super Mario Bros. animated movie, lists such as this one will become redundant, and we'll be celebrating the top videogame movies of all time, rather than picking out impressive cut-scenes. Obviously you can come at me with suggestions of those moments I've missed, but until then we'll fire up our SNES mini and play Alien3 for a couple of hours. Game Over Man!
Matt Rodgers
SEE ALSO: Rumour: This year's Call of Duty will be Black Ops IV
SUPPORT FLICKERING MYTH: Help us keep the lights on by backing us on Patreon