Black Panther, 2018.
Directed by Ryan Coogler.
Starring Chadwick Boseman, Michael B. Jordan, Lupita Nyong'o, Danai Gurira, Martin Freeman, Daniel Kaluuya, Letitia Wright, Winston Duke, Angela Bassett, Forest Whitaker, Sterling K. Brown, Florence Kasumba, John Kani, and Andy Serkis.
SYNOPSIS:
T'Challa, after the death of his father, the King of Wakanda, returns home to the isolated, technologically advanced African nation to succeed to the throne and take his rightful place as king.
There have been a lot of discussion around "superhero fatigue" in recent years, and many are getting tired of the old Marvel formula. Ryan Coogler and co-writer Joe Robert Cole may have found a solution. Black Panther feels like a familiar recipe made by a world class cook. By the time you leave the cinema you will feel as if you have eaten nothing but fast food for the last 10 years, but now you've finally got a taste of real food.
An early scene tells you that, while the rest of the world saw nothing but war, suffering and slavery, Wakanda was a place full of wonder and riches. Powerful images of slaves being chained and taken to ships are juxtaposed with beautiful landscapes until finally, in the middle of a forest, we see the main city of Wakanda. Career-defining work can be seen within a 5-minute spawn, as the design team gives us an Afrofuturistic country that feels as fantastic as it feels real. Timbuktu-inspired skyscrapers mixing metal with mud and sand rise from the streets filled with rich details and culture and a beautiful colour palette. Ruth E. Carter especially has done an Oscar-worthy job with the costume design, clearly inspired by different African cultures that breathe life into the 5 tribes that inhabit Wakanda and that give each character a unique personality. For the first time in the Marvel universe, we get a film that feels grounded and lived in.
In the middle of all this lies Chadwick Boseman as the newly crowned T'Challa. Director Ryan Coogler is best at making character-driven films with emotional development, and Black Panther isn't the exception. Boseman is completely in control as the cool-tempered T'Challa that has a Shakespearean conflict within. While Boseman does a good job in the role, he feels like the least interesting characters in his own movie. Thankfully the reason for that is that all the other characters are insanely good.
Among them, three stand out. For all then talk about black representation in the film, I was not expecting it to be so feminine as well. It is the female characters that are the strongest in Black Panther. Starting with Nakia, T'Challas ex-girlfriend played by Lupita Nyong'o, a spy that starts to question Wakanda's isolationist policy. Danai Gurira's general Okoye is tradition personified, as she is so loyal to the role she is oblivious to the possibility of change, and she is incredibly badass. And then there's Shuri, T'Challa's sister, played by Letitia Wright. Shuri steals every scene she's in – whether as the comic relief, or as the Q to T'Challa's James Bond. Wright is the smartest character in the MCU since Tony Stark (if not smarter) and she's not afraid to step up and be a stronger warrior than even her brother. All the characters are given depth and room to breathe and develop beyond just archetypes, and that helps the film feel so fleshed-out.
But T'Challa needs to overcome his greatest challenge before he can settle into his role as king. A superhero film is only as good as its villain, and Black Panther has the best villain since Heath Ledger's Joker. Michael B. Jordan plays Erik Killmonger, a man as dangerous as he is charismatic. Jordan not only gets you to feel for him with his swagger and contained rage, but you may find yourself actively rooting for him and his plan. Like the best villains, you root for Erik because he's right. His plan makes sense and he comes from a place of pain that feels justified. Killmonger is the world's reckoning, and you have to stop and remind yourself he's the villain, because you may find yourself wanting a new king. His only flaw is that we don't see him for half the movie.
Black Panther manages to fit a lot of genres into one, while never feeling like it's biting more than it can chew. This is an origin story, a superhero film, a Shakespearean tragedy, the black James Bond we've all been waiting for, and an epic sci-fi/fantasy film, all while having a surprising amount of humour that feels right and never distracting. While this is still a Marvel film and it does follow some familiar points, it feels fresh and it manages to make you forget this shares a universe with Ant-Man.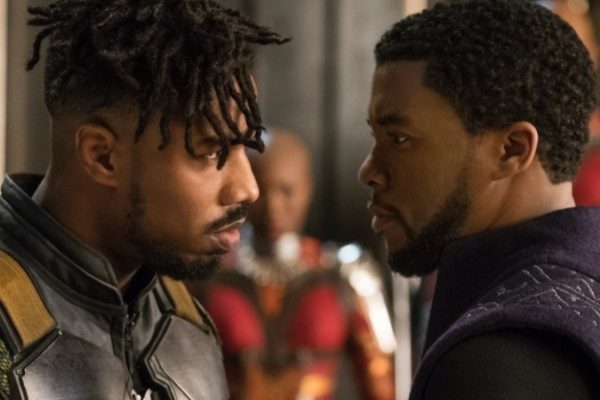 You can feel how Creed prepared Ryan Coogler for the fight scenes in Black Panther. If Rachel Morrison hadn't become the first female Oscar-nominated cinematographer this year, she could have easily earned the nomination next year with this film. Her camera stalks slowly and from afar like a panther with wide and tracking shots, then goes for the attack with smooth but quick movements, using close ups to get you right into the emotional core of each fight scene. If you liked the one-take fight scene in Creed you will love this film. The action is perfectly choreographed – though the CGI doubles look a bit iffy – and it all culminates with an epic all-out war scene that feels like The Phantom Menace done right, all the while Ludwid Göransson's incredible score adds depth to the action with his mixture of African tribal sounds and synthesizers. For the first time in a Marvel film, the action feels grounded. Every punch hits hard, and you feel every claw slice like it's hitting you.
Black Panther is more than a superhero film, it transcends the confines of the genre to tell an Afrofuturistic spy tale that ask questions about our collective responsibility as a global community, all while becoming Marvel's first masterpiece.
Flickering Myth Rating – Film: ★ ★ ★ ★ / Movie: ★ ★ ★ ★ ★
Rafael Motamayor is a journalist and movie geek based in Norway. You can follow him on Twitter.