Thor: Ragnarok, 2017.
Directed by Taika Waititi
Starring Chris Hemsworth, Tom Hiddleston, Cate Blanchett, Idris Elba, Jeff Goldblum, Tessa Thompson, Karl Urban, Mark Ruffalo, and Anthony Hopkins.
SYNOPSIS:
Thor: Ragnarok hits home video in a Blu-ray + DVD + digital copy edition that's overflowing with bonus features. Much of the extras reinforce the fun, tongue-in-cheek humor found in the film, which is a nice touch.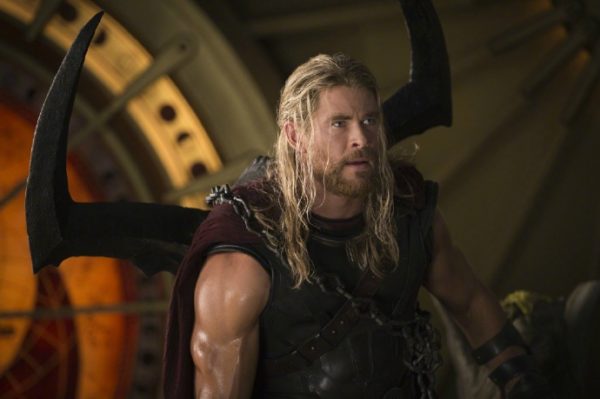 These days, I feel like so many trailers for superhero and other genre films are so same-old-same-old that they tend to blur in my mind. When I saw the first trailer for Thor: Ragnarok, though, it hit me right between the eyes, between the use of Led Zeppelin's "Immigrant Song" (my favorite band, and one of my favorite songs of theirs) and the retro 80s logo. Throw in some humor that was lacking in the previous Thor installments and I was sold.
Sure, it feels like someone said: "Hey, the Guardians of the Galaxy movies did really well – do what they did," but that's not such a bad thing. I've never been a big Thor fan, preferring heroes who are more conflicted and fallible, so seeing the son of Odin kicked around a bit while cracking wise was okay by me. I also love how this film, like many others in the Marvel Cinematic Universe, feels like one of those classic Marvel comic books where the main character is having an adventure anyone can follow along with, but there are still tie-ins to the larger story universe that he inhabits.
The film opens with Thor captured by the demon Surtur, whose defeat he believes will prevent Ragnarok from happening. That's pretty important to him, since it will mean the destruction of his homeland of Asgard if it occurs. He manages to achieve his goal but returns home to discover that Odin is MIA and his trickster brother Loki has taken their father's place.
Thor finds his dying father on Earth. Odin warns him of the coming of his firstborn child, Hela, and when she appears, everything pretty much goes down the tubes for Thor as she rampages through Asgard. Hela leaves Thor for dead in outer space – he survives but ends up on the planet Sakaar, where it turns out that the Hulk has been besting opponents in combat. Thor has to figure out how to get the Hulk on his side and escape from the planet so he can take Asgard back from Hela.
In addition to giving Thor plenty of humorous moments, Ragnarok also puts the hero through the wringer and leaves him fundamentally changed when he comes out the other side. While Hela is a pretty standard-issue villain, Jeff Goldblum steals the show with his droll take on the Grandmaster, who runs Sakaar. While he's not a particularly deep villain, he adds a playfulness that tends to be missing in the Thor films, where everything is about the heavyhanded sturm und drang that's a big part of Norse mythology.
This home video edition features the movie on Blu-ray and DVD discs, along with a code for a digital copy of the film. The bonus stuff is on the Blu-ray too:
Commentary: Director Taika Waititi approached this track the same way he approached this movie, opting to take a light-hearted approach to the subject matter. He serves up plenty of information, though – he just does so in a fun way, rather than being overly serious about his task. It's not often that you can say that about a commentary track.
Director's introduction (2 minutes): Waititi also provided a funny optional introduction to the film.
Getting in Touch With Your Inner Thor (6 minutes): Star Chris Hemsworth talks about the changes to the character for this film, which was something he wanted to see happen because he felt that Thor had become a bit of a one-note character.
Unstoppable Women: Hela and Valkyrie (6 minutes): The performances of Cate Blanchett (Hela) and Tessa Thompson are examined here.
Finding Korg (7 minutes): Waititi also put on a motion-capture suit to play Korg, one of the other gladiators on the planet Sakaar, and he talks about that here.
Sakaar: On the Edge of the Known and Unknown (8 minutes): The cast and crew talk about the planet, which was the setting for the Planet Hulk storyline that ran through the Incredible Hulk comic book in 2006-2007. That storyline also influenced this film in some ways.
Journey Into Mystery (6 minutes): The title of this piece is a nod to the anthology comic book series where Thor made his debut in 1962. It touches on that history, including the influence of Jack Kirby's artwork on the look and feel of Ragnarok, while putting the movie into context within the vast scope of the MCU. Now, rather than picking up a couple other comic books at the shop to understand the bigger picture, we have to make sure we set aside time at the movie theater a few times a year. We can debate whether that's a good thing.
Gag reel (2 minutes): This should be self-explanatory.
Team Darryl (6 minutes): Waititi was the guy behind those funny short films featuring Thor living with a guy named Darryl, who has a new roommate.
Marvel Studios: The First Ten Years – The Evolution of Heroes (5 minutes): This one looks at other MCU characters, including Captain America and Iron Man, and their history to this point. It also touches on the upcoming Avengers: Infinity War.
Deleted scenes (6 minutes): Three of these are actually extended scenes.
8-Bit Sequences (3 minutes): These are storyboards for two scenes rendered in 8-bit videogame graphics, for a little of that retro 80s feel.
You know, one thing I miss about the early days of DVD was when a studio would often put three things in the edition: a commentary track, a making-of documentary, and deleted scenes. Much of what's listed above could have made a nice long documentary, rather than having the viewer go through this stuff one at a time. I suppose the studios do that so they have plenty of bullet points for their marketing materials, but it's still annoying.
Ah well. Maybe I should watch Thor: Ragnarok again and get in a better mood.
Flickering Myth Rating – Film: ★ ★ ★ / Movie: ★ ★ ★ ★
Brad Cook