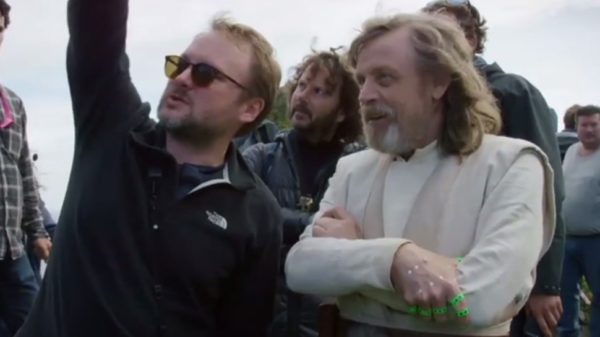 Last year, Mark Hamill revealed that he "fundamentally disagreed" with all of the choices that writer-director Rian Johnson made for his character Luke Skywalker in Star Wars: The Last Jedi. even going so far as to state that the Luke we saw in the movie is "not my Luke Skywalker".
Despite his misgivings over Johnson's handling of Luke – which are now shared by a section of the Star Wars fanbase – Hamill admitted that he eventually got on board with the storyline, and "I came to really believe that Rian was the exact man that they needed for this job."
During an interview with Flickering Myth to discuss the upcoming home-entertainment release of The Last Jedi, Johnson spoke about his working relationship with Hamill, and whether the actor's concerned affected him.
"Well, of course it affects you," admitted Johnson. "The truth is that it was more so in this case just because of who he is and who the character is, but you go through this process with every actor and every character that you have. There is always going to be stuff in the script that they get and stuff in the script where they're like: "Where is this coming from? How does this work? Why am I saying this? Why is this where the character ends up going?" It's a conversation and that's just called working on a movie. This was no different, except it was Luke Skywalker and Mark Hamill [laughs]."
SEE ALSO: Rian Johnson says Star Wars: The Last Jedi fan reception hasn't altered plans for his new trilogy
"There's also just an adjustment because Luke is different," Johnson continues. "He's not the same as Obi-Wan, but he's the Obi-Wan of this trilogy. He's not the Luke of this trilogy. More than that, where he was coming from in The Force Awakens meant that it would have been weird and dishonest to just have him be exactly the way he was in his twenties. Obviously these 30 years have changed him, otherwise he wouldn't have exiled himself on that island. So there was a certain amount of asking where his head is at now and why is it there. Mark was maybe coming into it more expecting what some of the fans might have been expecting – that it was just going to be 20-year-old Luke, except with a beard [laughs]. Because I respected the character and wanted to take that character's arc seriously to figure out why he's doing what he's doing, it was never going to be that."
SEE ALSO: New concept art for Star Wars: The Last Jedi features Luke, Kylo Ren, Yoda and more
Be sure to check back next week for our full interview with Rian Johnson as he discusses the fan reaction to The Last Jedi, the relationship between Rey and Kylo Ren, Rey's parentage, the death of Supreme Leader Snoke, and his new Star Wars trilogy.
In Lucasfilm's Star Wars: The Last Jedi, the Skywalker saga continues as the heroes of The Force Awakens join the galactic legends in an epic adventure that unlocks age-old mysteries of the Force and shocking revelations of the past.
Star Wars: The Last Jedi sees returning cast members Mark Hamill (Luke Skywalker), Carrie Fisher (Leia Organa), Adam Driver (Kylo Ren), Daisy Ridley (Rey), John Boyega (Finn), Oscar Isaac (Poe Dameron), Lupita Nyong'o (Maz Kanata), Domhnall Gleeson (General Hux), Anthony Daniels (C-3PO), Gwendoline Christie (Captain Phasma), Billie Lourd (Lieutenant Connix), Andy Serkis (Supreme Leader Snoke), Peter Mayhew and Joonas Suotamo (Chewbacca), Tim Rose (Admiral Ackbar), Mike Quinn (Nien Nunb) and Warwick Davis joined by new additions Jimmy Vee (Pan) as R2-D2, Kelly Marie Tran (Ladies Like Us) as Rose, Benicio Del Toro (Guardians of the Galaxy) as DJ and Laura Dern (Jurassic Park).