Prior to the release of Star Wars: The Last Jedi, it was announced that Lucasfilm had handed Rian Johnson the keys to his very own Star Wars trilogy.
Johnson has recently revealed that he's started work on said trilogy, which as you'd expect is completely shrouded in secrecy. We have no idea whether it will feature any familiar faces, what the story will be, or even which time period it will take place in.
However, one thing we do now know is that Johnson isn't altering his plans in the wake of the mixed reception to The Last Jedi:
"No, not really," said Johnson when asked if the fan response has impacted his new trilogy. "I feel like every Star Wars thing that's made has a big, loud response because Star Wars fans are passionate and that's what makes them awesome. I don't think it's possible if you're telling a story you care about and it comes from your heart. It's kind of not possible to be intellectually processing what everyone else wants. Nor would it be a good thing. I don't think that's a healthy way to tell a story."
Are you excited to learn what Johnson is cooking up for his new Star Wars trilogy, or has The Last Jedi dampened your enthusiasm? Let us know in the comments below…
SEE ALSO: Rian Johnson reportedly ditched J.J. Abrams Star Wars: Episode VIII draft for The Last Jedi
SEE ALSO: Rian Johnson calls the conversation around Star Wars: The Last Jedi "wonderful"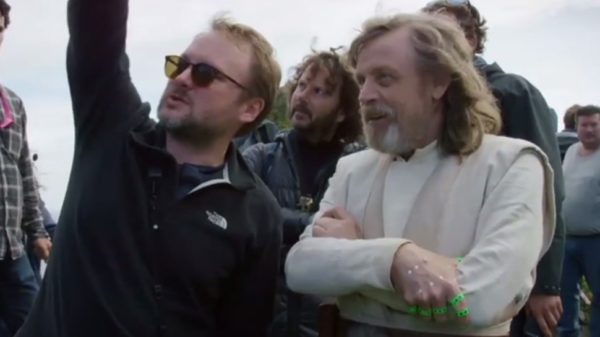 In Lucasfilm's Star Wars: The Last Jedi, the Skywalker saga continues as the heroes of The Force Awakens join the galactic legends in an epic adventure that unlocks age-old mysteries of the Force and shocking revelations of the past.
Star Wars: The Last Jedi sees returning cast members Mark Hamill (Luke Skywalker), Carrie Fisher (Leia Organa), Adam Driver (Kylo Ren), Daisy Ridley (Rey), John Boyega (Finn), Oscar Isaac (Poe Dameron), Lupita Nyong'o (Maz Kanata), Domhnall Gleeson (General Hux), Anthony Daniels (C-3PO), Gwendoline Christie (Captain Phasma), Billie Lourd (Lieutenant Connix), Andy Serkis (Supreme Leader Snoke), Peter Mayhew and Joonas Suotamo (Chewbacca), Tim Rose (Admiral Ackbar), Mike Quinn (Nien Nunb) and Warwick Davis joined by new additions Jimmy Vee (Pan) as R2-D2, Kelly Marie Tran (Ladies Like Us) as Rose, Benicio Del Toro (Guardians of the Galaxy) as DJ and Laura Dern (Jurassic Park)
Via Erik Davis