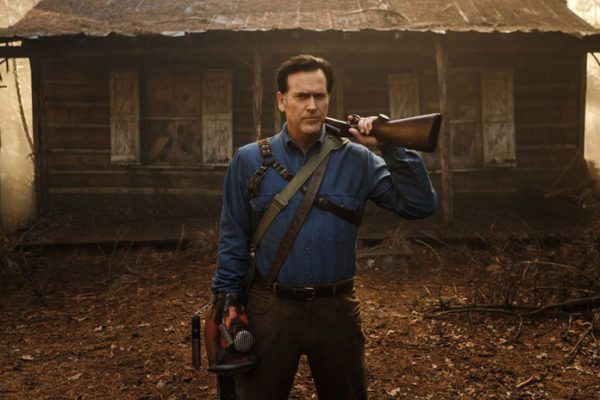 With Starz yet to make a decision on the future of Ash vs. Evil Dead, and cancellation looking like a very real possibility, actor Bruce Campbell has suggested that we may have seen the last of his cult hero Ashley J. Williams should the network opt against renewing the show for a fourth season.
"If they cancel it, I think Ash is done," said Campbell during an 'Evening With Bruce Campbell' event at the Irish Film Institute (via Bloody Digusting). "I have lavender on my property. I'm going to smoke weed and hang out."
This runs contrary to Campbell's comments from earlier in the month, where he teased the possibility of a fourth Evil Dead movie should Starz pull the plug on the TV series: "We're in the horrible television limbo right now. We're going to see what the TV gods have in store for us. We're ready either way. If they take us off the air, we can think about another movie. And if they don't, we can just keep plugging away.
SEE ALSO: Exclusive Interview – Bruce Campbell on Ash vs. Evil Dead Season 3, Stuntmen, and Stephen King
Ash vs. Evil Dead airs on Starz on Sunday nights and has five episodes remaining of its third season. If you're hoping to see more, it's probably a good time to start showing your support for the series to Starz.