Jessie Robertson reviews the seventeenth episode of Arrow season 6…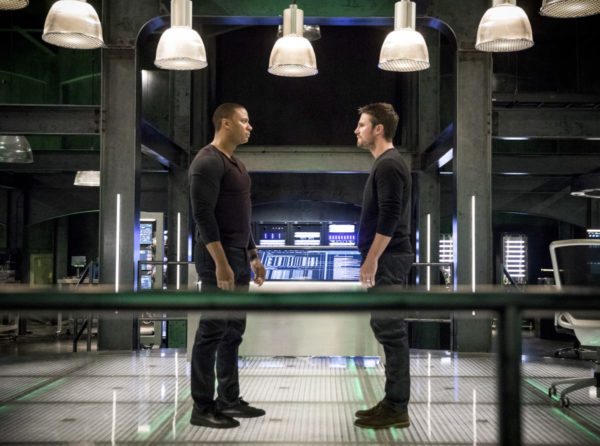 "Brothers in Arms" both exists in the world where Arrow creates its own drama, at the negligence of the characters and when in those so few and far between moments when it remembers its own history and uses it to pull in old fans. This episode is so resting within that weird medium. There's been this tension, underneath for a while, when Oliver entrusted the hood to John, but once William knew what was going on and was okay with it, Ollie was fully ready to take back the mantle. Yet, for some reason John fights him on it and this week it all came out to a powder keg.
There have been many fights over the seasons between Oliver and John; many disagreements, but I struggle to remember one over such a frail reason. Even John seems to not know what it is that draws him to being the Arrow as he explains to Lyla that he can't quite put his finger on it. Then why does this level-headed man scream and argue for it so loudly now???? It doesn't jive with who John is; he has a son, a family, he already puts his life on the line every single day as Spartan; does it really matter if he is the Arrow or not. There's an argument to be made about leadership; John points it out that Oliver isn't the best of them. But the hood is Oliver's identity whether that's good for himself or others or not. John has little to no association with that identity.
Felicity is mostly a bystander to this whole scenario (and fantastic fight scene) but she does give them both one of her classic speeches. The most pivotal moment came when they throw deep wounding digs at each other, with John telling Ollie he got William's mother killed and Oliver, coldly, responding he killed his own brother Andy. How do they come back from those comments? Felicity doesn't seem to feel they can.
Anatoly's in this episodes; he's fun to listen to. Curtis finally gets meaningful dialogue. Where's Wild Dog? Lance hands fake Laurel some law books as if she can homeschool herself to be a teacher. And Ricardo gets creepy with fake Laurel. Have I missed anything? Where is this show headed into its finale? It's starting to feel very uneven and the (final?) split between Ollie and John may have damaged it worse than all, but it sure was good TV watching it.
Rating: 7/10
Jessie Robertson