Midnight Sun, 2018.
Directed by Scott Speer.
Starring Bella Thorne, Patrick Schwarzenegger, Quinn Shephard, Ken Tremblett, and Rob Riggle.
SYNOPSIS:
A 17-year-old girl suffers from a condition that prevents her from being out in the sunlight.
Realistically speaking, myself and probably all critics are not the target demographic for an unapologetically melodramatic romance involving teenagers on the cusp of adulthood that talk in a hip-ish grating dialect, but such a dichotomy does not exempt Midnight Sun (based on Kenji Bando's screenplay Taiyô no uta which has been repurposed by Eric Kirsten no doubt to be Americanized and to fit the mold of its modern teenagers) from flaws, with the most glaring being the decision to use xeroderma pigmentosum, or XP, (a genetic disorder that causes fatal repercussions to an individual suffering from the condition that is exposed to sunlight), without diving nearly enough into why, and more specifically, how living with it can affect someone's life both physically and mentally.
Centering on recent homeschool graduate Katie (played by actress and singer Bella Thorne, who puts both of those skills on display here, although impressing very little with each), Midnight Sun (directed by Scott Speer whose other 2018 project Status Update releases soon) is more concerned with the swirling emotions of first love and fish out of water social interaction. Ever since childhood, Katie has had a crush (do kids nowadays actually develop crushes that early?) on Charlie (Patrick Schwarzenegger), whose daily commute to school still takes him walking right by her house, always unawre of her existence and unable to ever meet because apparently, Katie will nearly die from ONE SECOND of sunlight exposure, has never come across any children her own age outdoors at night, and is basically holed up in the house looked after by her overprotective father Jack (Rob Riggle continuing to branch out from his usually hilarious antics but is woefully lost and miscast here, unable to generate an ounce of emotion even from his more serious speeches) alone following the death of mom in a car accident years ago.
The good news is that while all the other young kids stood outside Katie's house greatly exaggerating rumors of her condition to bloodthirsty vampirism, a shy and seemingly dorky girl with glasses took the plunge and knocked on their door inquisitively curious about the girl. On that day, a friendship began that is ongoing in the current day with Morgan being played by Quinn Shephard. With that said,  here is a brief detour to draw attention to a much better experience comprised of teenagers that the 23-year old actress wrote and directed, Blame. There are two reasons why I chose to take on the screening of Midnight Sun and they are as follows: My younger sister demanding I take her to see it, and the chance to see this talented young actress in another film. Coincidentally, I hated the movie, my sister liked it, and I came away hoping Quinn gets even more work but better projects, or at the very least, funding to make another film herself.
Getting back on topic, Midnight Sun is simply a series of predictable occurrences; as a means of celebrating graduating high school conducted by her father, Katie ventures out at night to the train station to play her guitar surrounded by a very small audience of kind folks (singing is likely aututuned and is too professional sounding for a young adult, but the songs are admittedly fine for the target audience), and just so happens to meet the love of her life since about first grade; shocking literally no one, they get along. Charlie finds her beautiful and enjoys her socially awkward personality, and she likes him… because he's hot? To be fair, he winds up being a great guy to the point of pure fantasy, but there is no tension or drama. And this is not Call Me by Your Name, where the budding romance is so hypnotic that the lack of any real conflict for the majority of the running time is a non-issue; this is sentimental Hollywood hallmark romance designed to bring out the waterworks. Furthermore, it is slightly offensive that the script is only making use of a horrible disease like XP to bring audiences to tears, and no, a card during the end credits letting everyone know that it is a real condition is not enough justification.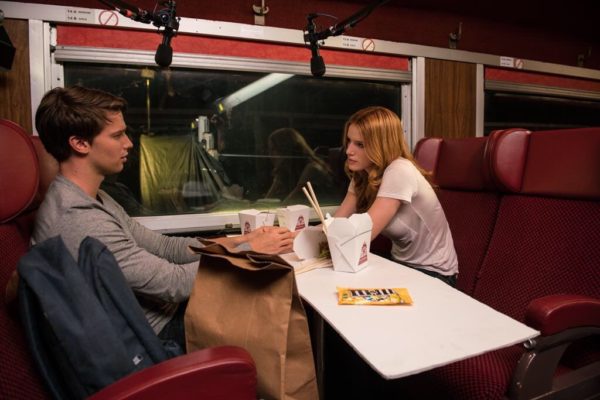 The one area where Midnight Sun does work (and is even relatable on a personal level to someone like me who also has a disease that essentially makes most aspects of life a living hell) is Katie's trepidation towards confessing to Charlie that the reason they can't hang out together during the daytime is because she has XP. To Bella Thorne's credit, in the few moments that focus on this, believably expresses nervousness and fear that once he knows the actual reason, things change and he will see the disease first (as most people do in the real world). Of course, it is the wrong decision to not say anything, but there is a great deal of empathy considering she is still a teenager prone to making mistakes and behaving incorrectly during such stressful situations.
However, I almost wish she kept her mouth shut, as the reveal to Charlie is where Midnight Sun freefalls into saccharine nonsense filled with convenient plot mechanics, genre tropes, and unbearable sap. The ending itself seems to come out of nowhere as if the script had exhausted the premise with only one thing left to do. Also, the final moments show a gross misunderstanding of how diseased people would act during a relationship or rationalize their feelings, but as has been said countless times already in this review, Midnight Sun is only concerned with eliciting tears, not telling an emotionally affecting story grounded in truth.
Flickering Myth Rating – Film: ★ / Movie: ★
Robert Kojder is a member of the Chicago Film Critics Association and the Flickering Myth Reviews Editor. Check here for new reviews, friend me on Facebook, follow my Twitter or Letterboxd, check out my personal non-Flickering Myth affiliated Patreon, or email me at MetalGearSolid719@gmail.com.