Entebbe, 2018.
Directed by Jose Padilha.
Starring Rosamund Pike, Daniel Brühl, Eddie Marsan, Denis Ménochet, Nonso Anozie, and Lior Ashkenazi.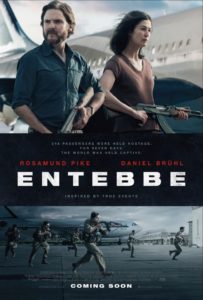 SYNOPSIS:
In July 1976, two terrorists (Rosamund Pike and Daniel Brühl) linked to the Popular Front for the Liberation of Palestine, hijacked an Air France passenger plane, forcing it to land at Entebbe airport in Uganda. Chronicling the rising tensions within the terminal, alongside the geopolitical mechanics of negotiating hostage release, Entebbe covers the seven days before the Israeli commandos stormed the airport while the world watched on.
As an integral part of a conflict that continues to echo through to this day, Entebbe is a gripping history lesson, albeit one with an accuracy disclaimer at the start. As a piece of cinema, it is brilliantly acted by a diverse cast, and intense in a ticking clock fashion, but almost fails to stick the landing with some strange creative choices.
Jose Padilha emerges from the wreckage of his Robocop reboot and producer duties on Narcos, with a film that veers from misjudged weaving of a dance recital into the narrative, which really undermines the tension of an important set-piece, to the framing of beautiful sunset vistas as birds dance across the fuselage. It's a unbalanced style indicative of a film that ambitiously tries to spin a lot of plates by providing a balanced view on the politics at play, but can't prevent a few crashing to the floor.
After a well shot, underplayed highjacking sequence, Entebbe becomes a film of parallel narratives and flashbacks. The action based at the terminal is anchored by the shark eyed brilliance and increased emotional detachment of Rosamund Pike, supported by the default setting watchability of Daniel Brühl. However, their performances feel secondary to plot momentum, so we never truly understand why they're doing what they're doing beyond a superficial level. 
More effective are the scenes in which we get to see the Israeli government make preparations for a potential rescue operation. It's here where Eddie Marsan impresses as Shimon Peres, planting the seeds for his own agenda in the political chambers, with a performance best described as reptilian.
Stylistically, Padilha cleverly uses archive footage as a means of scene transition, which helps to add weight to the historical resonance of what you're watching, particularly during the final moments, in which on-screen titles detail the fallout from the siege. However, this can't help but make you think that a documentary would have been more powerful than dramatisation.
Essentially Entebbe feels like the final act of Argo stretched out to feature length, and while it never attains that film's sense of sweaty palmed dread, it remains an intriguing thriller-cum-history lesson.
Flickering Myth Rating – Film ★ ★ ★ / Movie ★ ★ ★
Matt Rodgers