Solo: A Star Wars Story, 2018.
Directed by Ron Howard.
Starring Alden Ehrenreich, Emilia Clarke, Woody Harrelson, Donald Glover, Phoebe Waller-Bridge, Paul Bettany, Thandie Newton and Joonas Suotamo.
SYNOPSIS:
After escaping from a poverty-stricken upbringing, Han Solo becomes embroiled in a criminal gang carrying out a major heist for a dangerous underworld boss.
When it comes to Han Solo, most Star Wars fans are pretty sensitive to their favourite smuggler and scoundrel from the galaxy far, far away. That fact has become even more clear in the lead up to Solo: A Star Wars Story, the second spin-off film in the Star Wars franchise which, after plenty of behind the scenes drama, was directed by Ron Howard with Alden Ehrenreich filling in as Han Solo in the early days of his criminal career.
Despite all the drama and the hesitancy some fans have had since the film was announced, Solo: A Star Wars Story is a fun and fitting chapter in the Star Wars universe that hits all the right notes. The cast is great together, there's some nice action and the story flows well for the most part, but the film has a nice amount of heart and focus to it as it builds Han and Chewbacca up into one of the galaxy's best duos.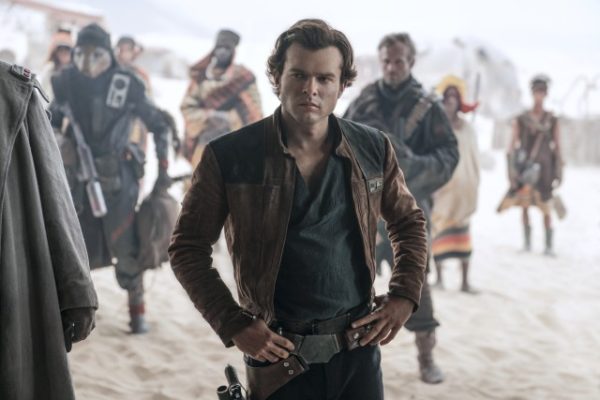 Ehrenreich gives a solid performance as Han, showing the various complexities within his younger self as a man who wants to make a name for himself in the galaxy, yet also has some good intentions that conflict with his cutthroat line of work. Solo shows how Han always had that spark of goodness inside him, but one that got buried a bit by the time A New Hope rolls around. Ehrenreich displays this conflict well, but also captures Han's arrogant and ingenious attitude and looks to be having the time of his life when seated at the Millennium Falcon's controls. He is definitely one of the best aspects of the film.
Joonas Suotamo gives a great performance as Chewie. Much like his predecessor, Suotamo displays all of Chewie's feelings solely through body language and the little facial expressions he can give. Whether its meeting Han for the first time or seeing another group of Wookiee slaves, Suatamo makes it quite clear what Chewie is going through, even with his unintelligible grunts and growls. Donald Glover, however, is unsurprisingly a scene stealer nearly every time he's onscreen as Lando Calrissian. He imbues all of Lando's classiness and style and has a good report with Ehrenreich, perfectly mirroring Harrison Ford and Billy Dee Williams' chemistry from the original films.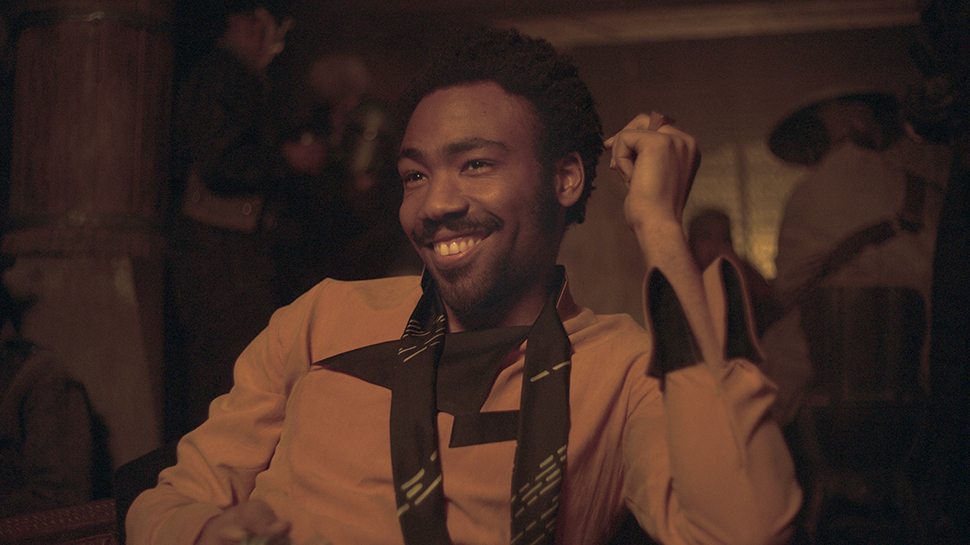 The rest of the supporting cast, though, aren't nearly as fleshed out. Emilia Clarke's Qi'ra is surprisingly more complex than she first lets on and connects with Ehrenreich on a nice emotional level despite the audience knowing how their relationship must work out given the events of the original and sequel films. Woody Harrelson makes for a good mentor figure for Han and similarly has several good scenes with Ehrenreich, but aside from them the rest of the cast is somewhat forgettable and don't appear nearly as long or are as important as you might believe. Phoebe Waller-Bridge's droid L3-37 stands out not just for her performance, but for being unlike any droid in personality and purpose than we've seen before, yet at the same time she is not quite fully utilized in the film.
Solo's story moves along at a nice pace. The first act feels somewhat rushed, but after that it finds room to breathe and collect itself, slowing down enough for character building moments and letting the story flow in a more natural way. It also benefits from telling a much smaller story in scale that focuses on the criminal element in Star Wars rather than the grand civil war between the Rebellion and Empire. Doing so opens the film up to new organizations, worlds and characters that are much less civilized than audiences are used to in the franchise.
Howard's direction is also clear throughout the film. From the way the film is shot and edited, Solo is one of the best looking instalments of the franchise yet. It has quite a striking colour palette, particularly in its second and third acts, and the film makes good use of lighting at various points, such as on the Falcon or in seedy bars. Its well shot and choreographed with some tense, exciting and inventive action sequences, making it a fresh entry in the Star Wars canon.
Fans of Star Wars and of Han Solo should come out of the theatre really enjoying Solo: A Star Wars Story. While some of its secondary characters aren't used enough as they could have been and the first act is somewhat rushed, the film is a worthy origin story for Han, Chewie and their stewardship of the Millennium Falcon. Ehrenreich gives a great performance as Han and Ron Howard's direction helps Solo stand out from the other films in the franchise for its visual look. Despite everything else that was going against it, Solo: A Star Wars Story is much like its title character where it beats the odds and delivers a satisfying adventure.
Flickering Myth Rating – Film: ★ ★ ★ ★ / Movie: ★ ★ ★ ★
Ricky Church