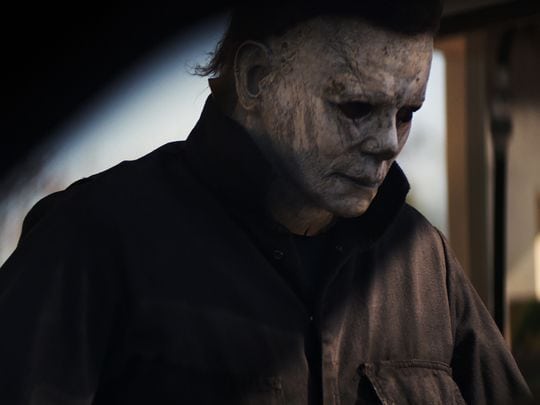 We've known for some time that David Gordon Green and Danny McBride's new Halloween movie would be ignoring all but the first instalment of the slasher series, and now that the first trailer for the film has arrived, Green has been explaining to Entertainment Weekly why they decided to disregard everything but John Carpenter's classic 1978 original.
"We watched all of them and I can actually enjoy all of them," explained Green. "But there just felt like such a simple truth to the original. I think by the time you add Michael and Laurie's relationship, being family, or he's only hunting his family, it takes that 'Boogeyman' out of it. I want everyone to be afraid of him. The first one really had that anonymity to who he was. [We are] stripping down the backstory, and philosophy, and motivation, and, you know, themes of cults, and things like that. In this one, we're trying to go bare bones and tell a horrifying story of questions that have no answers. It's just bad shit that happens."
Is it the right move to ignore all of the Halloween sequels, or are you disappointed that Michael and Laurie are no longer siblings in the new film? Let us know your thoughts in the comments…
SEE ALSO: Can we all admit the Halloween trailer was kind of terrible?
Master of horror John Carpenter will executive produce and serve as creative consultant on this film, joining forces with cinema's current leading producer of horror, Jason Blum (Get Out, Split, The Purge, Paranormal Activity). Inspired by Carpenter's classic, filmmakers David Gordon Green and Danny McBride crafted a story that carves a new path from the events in the landmark 1978 film, and Green also directs.
Halloween is being directed by David Gordon Green from a script by Green and Danny McBride. In addition to the returning Jamie Lee Curtis (Laurie Strode) and Nick Castle (Michael Myers), the film stars Judy Greer (War for the Planet of the Apes), Andi Matichak (Orange Is the New Black), Will Patton (Shots Fired), Virginia Gardner (Runaways), Miles Robbins (Mozart in the Jungle), Dylan Arnold (Mudbound) and Drew Scheid (Stranger Things).