Tom Jolliffe looks at cinema's preoccupation with Cults… 
Minor Spoilers Follow…
Film has always had a fascination with the odd. It delights in the macabre, the outsiders, and in portraying the sects who lurk off the grid, away from the rest of us. There was a particular shift toward the idea of cults especially after the Charles Manson murders. Whilst Manson's cult was slightly against the grain (stereotypically most cults are religiously focused) it captured the attention of the World more than any before or since.
As we speak there are two films destined for cult status, currently being unleashed to audiences. Both place the antagonism squarely in the realm of Cults. On one hand we have the Nic Cage, kaleidoscopic, heavy metal album cover opus, Mandy. I've written briefly about this before, but to surmise, it's amazing. Quite unlike anything I've seen before or likely will in the future. Is it the most consistent, honed and logical film this year? Absolutely not. It creates its own logic, but needless to say as a piece which affects me, Mandy sunk its claws in. It'll take quite something to nudge this away from being my film of the year. The Cult of the film, lead by Jeremiah Sand (played epically well by Linus Roache) exist in a spiritual, hedonist world where Sand's every whim must be answered. From summoning a biker gang that look like they escaped the Hellraiser franchise with 'the horn of Abraxas' to Sand creating his own music albums, it's all thoroughly bonkers, but that in itself is essential to the creation of any good film cult.
Then, premièring to much fanfare, Netflix released its Autumn tentpole, Apostle. Gareth Evans, who directed The Raid films, returns to English language cinema with a Welsh set horror set at the beginning of the 20th century. A Cult, lead by the Prophet Malcolm (Michael Sheen in great form) has kidnapped a woman and asked for ransom. Her brother travels to the Island to infiltrate and then rescue her. The film by any yardstick is strange (except the Mandy yardstick that is). It's The Wicker Man, upped several notches into the realms of fantasy. It's dark and it's savage. It's a good horror which builds at a steady pace, slowly enveloping us into the world where there is seemingly more to the island beyond the religiously fanatic cult. Definitely worth adding to your Netflix watchlist.
Earlier in the year, a film which owed a lot to Rosemary's Baby, also featured a Cult with a fascination for the demonic. Hereditary, which much like the aforementioned Mandy and Apostle, had critic reviews that were more impressive than Joe Public's reviews. I can fully understand why. Each film opts to yank the reigns on their respective horses and keep the pace slow. Hereditary has lost a little of its impact on me. As a theatrical experience it was engrossing and involving, but having watch Rosemary's Baby again since (for the first time in years), it really pales in comparison to Polanski's classic. It just owes too much. I also appreciate that Mandy is too un-mainstream to get universal public love. It'll have cult followers in abundance and die-hard fans who'll undoubtedly quote it and meme it to Cheese Goblin Kingdom Come, but its IMDb rating has a disparity compared to its Rotten Tomato rating. The point is, in an odd way, the fans of these films could be said to be a cult in and of themselves. In the filmmakers taking their time to create their film landscape, their logic, their respective cults, they require a level of concentration in the audience. Some will give it, some will go and see Venom instead. Each to their own.
From the likes of Rosemary's Baby and The Wicker Man, in the peak period for darkly spiritual and cult horror, we've seen countless horror films using dark cults as a backdrop. It just teases and invokes an idea within its viewer. Just what goes on behind closed doors? That spooky building you remember passing on your way to School back in the day, or the creepy bridge which apparently had a Witch on it. Cults exist away from us Muggles. They exist on the periphery, in the outskirts, behind the door, doing things we wouldn't understand. As a horror starting point, it's a gold-mine. You could make a film cult as weird as you like.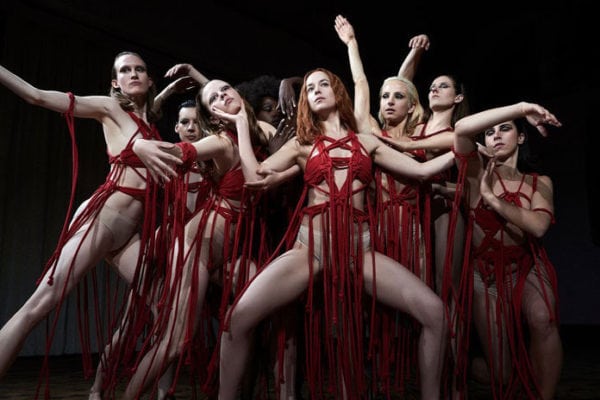 On the horizon we have the upcoming remake, Suspiria, another film which deals with a Cult. Again, the original, Dario Argento's near garish, technicolor exercise in stylish excess (a brilliant exercise I might add) has a loyal cult following. The remake had a mixed critical response during its premieres across Europe. By the consensus, it's either a Master-Work, or an over-long bloated mess. Either way, I'm itching to see it. I say it as an avid lover of Argento's original and someone with a regular belief that some films are untouchable as far as remaking. That said, when they released the trailers for Luca Guadagnino film, I was sucked in. Visually it looks amazing. So we shall see.
Cults haven't been purely a horror staple. Notably, master directors Stanley Kubrick and Paul Thomas Anderson have featured cults in films. Those respective films, again, saw a leaning for a laborious, considered pace. Eyes Wide Shut would end up as Kubrick's final film and probably his most maligned. It's laborious and then some, but that being said, it grows on me. It's not perfect and it needs cutting, but it has things to dig out from it. Likewise, P.T.A's The Master is one which has a selection of fans who will ardently call it a masterpiece, while others feel it's an underwhelming follow up to There Will Be Blood.
Let us know in the comments below. What is your favourite film featuring a cult integral to the plot?
Tom Jolliffe is an award winning screenwriter and passionate cinephile. He has three features due out on DVD/VOD in 2019 and a number of shorts hitting festivals. Find more info at the best personal site you'll ever see… http://tomjolliffe.wordpress.com/films/