Villordsutch reviews Doctor Who Series 11 Episode 8 – 'The Witchfinders'…
Director – Sallie Aprahamian
Writer – Joy Wilkinson
King James I – "Honi soit qui mal y pense"
After last week's Doctor Who turned its attention to the ever-expanding universe of "next day delivery" and its workforce with Kerblam!, this week takes us back in time to Lancashire's own dark history.  Back to a time were many fingers were pointed at those in league with Satan himself! Titled "The Witchfinders", we're dropped at the bottom of Pendle Hill and there is certainly something amiss.
The TARDIS arrives at the Pendle sometime during the 17th Century and while the Doctor (Jodie Whittaker) gives her Gang/Fam the "Do not interfere" warning, she herself is soon diving into a freezing lake in an attempt to free Old Mother Twiston (Tricia Kelly) who's currently being tried as a witch by landowner and widow Becka Savage (Siobhan Finneran).  However, the Time Lord is too late and Old Mother Twiston is pronounced dead, much to the disgust of Becka Savage and of course the Doctor. However, using the psychic paper the authority of Witchfinder General is placed over the aggrieved landowner, along with cancelling the further drowning of any 'supposed' witches today – namely Willa Twiston (Tilly Steele).
Yas (Mandip Gill) is sent to follow Willa as she prepares her grandmother for burial, whilst the rest of the TARDIS crew leave with Widow Savage to her home.  Shortly after they're joined by a surprise guest, King James I (Alan Cumming), who has been skulking around the village, only now making his presence known.  Elsewhere in the forest Yas witness roots leaping from the ground making an attempt to grab Willa, only at the last moment does our Police Officer from the future step in to make short work of these abominations.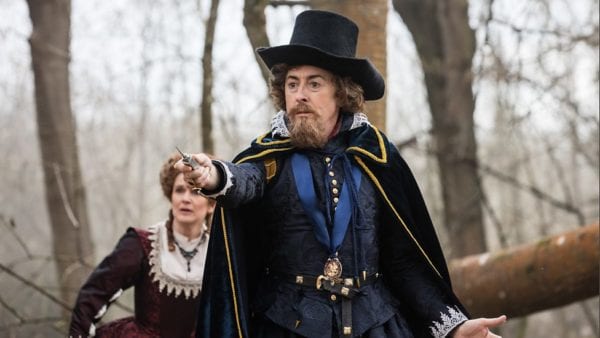 With King James assuming that Graham is in actual fact the Witchfinder General (what with the Doctor being a woman), the team sets off to discover what is going on within the village and why is the Widow Savage executing so many witches on her land – and why isn't this event recorded in history?  Answers begin to arrive quickly as the buried victims of the Widow Savage rise from the ground. Though this mass reanimation doesn't look good for the Doctor, who finds herself accused of being the witch that has caused all of this.
Well I'm in a bit of a pickle here.  On one hand I enjoyed this episode a fair bit for the fact it was again another self-contained affair, our characters all seemed to enjoy the roles, Alan Cumming was just brilliant as King James and it gave us a wee sniff of history lesson (as Doctor Who should).  However – and this is a big however – ignoring the ropey CGI big bad at the end (the Morax Queen make-up was great mind you), the Pendle Witch Trials and the persecution of the poor women and men – during that time – is being passed off as an Alien Prison Tree in the mud; this a bit insensitive to be honest.

Most people possibly think of the Witch Trials as what was seen here, drowning some poor victim because they wronged someone in the village and for the most part that was correct.  However, most famously in Pendle, Alice Nutter along with a number of others were (wrongly) arrested, chained and forced to walk near fifty miles (in horrendous conditions) to Lancaster Castle where 'witnesses' (some as young as nine years old) were called to point the finger as they were accused of murder.  On a number of recent occasions, petitions have been raised to pardon these women and men wrongly accused of being witches. So you see, making it all the fault of an Alien Prison Tree perhaps wasn't the best way to close this episode.
This all being said, to hear the Doctor quote Arthur C. Clarke to King James was a great piece of television.  If a wee bit more consideration had just gone into the final message, perhaps this episode would have been great slice of Doctor Who, but it'll just have to settle for enjoyable.  Also would it be possible to have Alan Cumming make more appearances other royals throughout history, extra-terrestrial or otherwise?