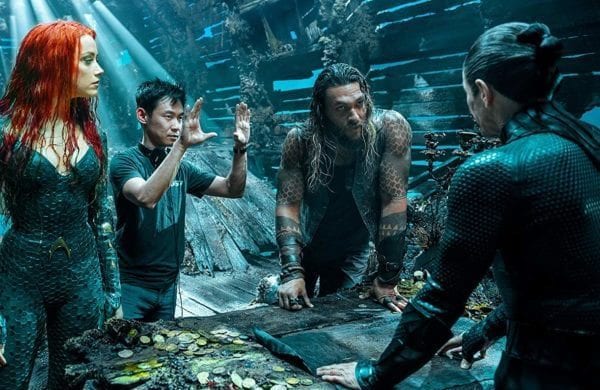 With Aquaman on course to surpass Christopher Nolan's The Dark Knight Rises this weekend to become the highest-grossing DC movie of all time, Deadline is reporting that Warner Bros. is now in talks with director James Wan about returning for a sequel to the billion dollar grossing superhero adventure.
According to the outlet, WB is looking to enlist Wan to oversee development on a second solo outing for Jason Momoa's King of Atlantis, which will include the selection of screenwriters for the script. Once this is completed, Wan will then decide whether to return to the director's chair for the second movie.
Wan – who has delivered two billion-dollar plus hits in Furious 7 and Aquaman – is certainly not averse to sequels, having previously helmed follow-ups to his horror hits Insidious and The Conjuring. And, similar to Patty Jenkins on Wonder Woman, Warner Bros. is naturally eager for him to return for the Aquaman sequel given the enormous critical and commercial success of the first movie.
SEE ALSO: Justice League concept art features a more comic book accurate Aquaman design
SEE ALSO: Warner Bros. chief says DC Films "far less focused on a shared universe" after Aquaman success
Are you hoping to see James Wan back in the director's chair for Aquaman 2? Let us know in the comments below or tweet us @FlickeringMyth…
From Warner Bros. Pictures and director James Wan comes an action-packed adventure that spans the vast, visually breathtaking underwater world of the seven seas, "Aquaman", starring Jason Momoa in the title role. The film reveals the origin story of half-human, half-Atlantean Arthur Curry and takes him on the journey of his lifetime — one that will not only force him to face who he really is, but to discover if he is worthy of who he was born to be … a king."
Aquaman is directed by James Wan (The Conjuring) and stars Jason Momoa as the titular hero, reprising his role from Batman v Superman: Dawn of Justice and Justice League, along with Amber Heard as Mera, Patrick Wilson as Ocean Master, Willem Dafoe as Dr. Vulko, Yahya Abdul-Mateen II as Black Manta, Dolph Lundgren as King Nereus, Nicole Kidman as Atlanna, Temuera Morrison as Tom Curry, Ludi Lin as Murk, Michael Beach as Jesse Kane, Djimon Hounsou as the Fisherman King, Randall Park as Dr. Stephen Shin, Otis Dhanji as a young Arthur Curry, Julie Andrews as Karathen and Graham McTavish as King Atlan.