Dice have revealed the next six months' worth of content updates that will be coming to Battlefield V. It looks as though new content will continue to arrive for the game every month and will come in the form of new weapons, game modes and maps. Each major content update is being referred to as a chapter, with chapter three, "Trial by Fire," coming out next week.
Trial by Fire will start with the launch of the Firestorm Battle Royale mode next week on March 25th. Following the launch of Firestorm, the cooperative Combined Arms mode will be getting updated with matchmaking services, a hardcore difficulty setting and two new missions. If that wasn't already enough: a new map called Mercury, with a Mediterranean setting, will be launched during the Trial by Fire chapter. A new game mode called Outpost will arrive by July which sounds as though it will focus on the games' fortification mechanics.
Battlefield V updates will continue through the summer in the "Defying the Odds" chapter. This chapter will be pushing the close quarters combat elements of Battlefield V through a new five versus five objective mode. Two new maps will be added during chapter four: one map will give players a look at wartime Greece and the other which has yet to be detailed is simply referred to as, "Urban Combat." Dice suggest that the Urban Combat map will be both "familiar and fresh at the same time." Will Urban Combat be a remake of maps seen earlier in the series, Operation Metro perhaps?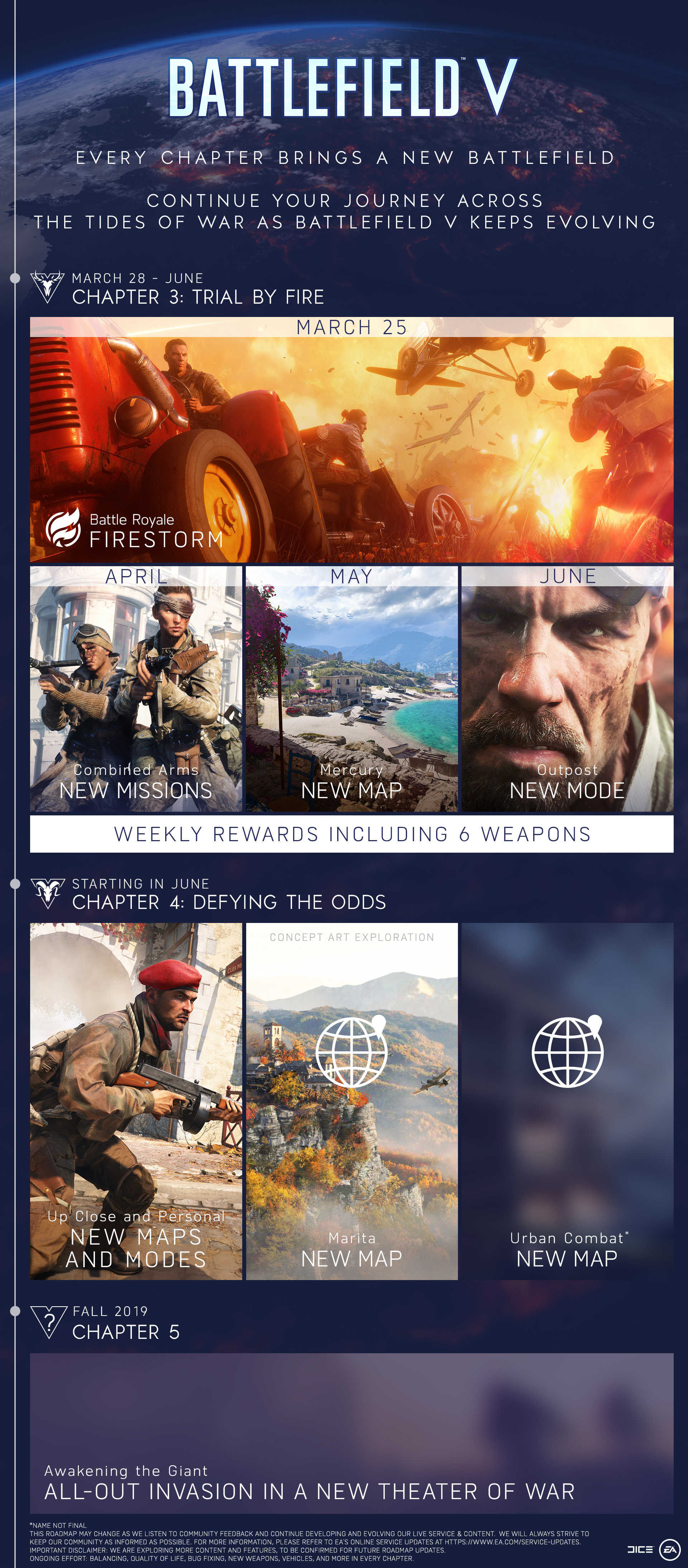 Chapter Five, "Awakening the Giant," promises to open a whole new theatre of war in a "land, air and sea invasion." The exact setting of the content or what will specifically be added appears to be a mystery: but as much of the content in Battlefield V takes place in the Western Europe it is likely that the Awakening the Giant update will focus on the Eastern Front or the Pacific Theatre.
This announcement suggests that Battlefield V will be receiving updates for a long period of time after it's somewhat rocky launch. According to GamesIndustry.biz, Battlefield V failed to meet sales expectations last year but it seems EA, the Battlefield publisher, are sticking it out with Battlefield V nevertheless.