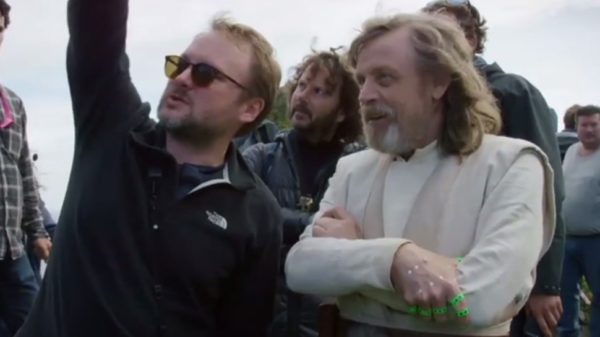 With a trailer for Star Wars: Episode IX expected to arrive at Star Wars Celebration next weekend, we'll soon have our first glimpse at the closing chapter of Disney's Star Wars Sequel Trilogy, and what is being billed as the final instalment of the Skywalker Saga.
Given the hugely divisive reaction to 2017's Star Wars: The Last Jedi (not to mention the box office disappointment of last year's Solo: A Star Wars Story), Disney and Lucasfilm will certainly be hoping that director J.J. Abrams will be able to get fans back on board with this latest trip to the galaxy far, far away.
The Last Jedi director Rian Johnson came under fire for some of his creative choices in his film, particularly the treatment of Luke Skywalker, and his handling of two of Star Wars: The Force Awakens' biggest mysteries: the story behind Supreme Leader Snoke, and the identity of Rey's parents.
As such, some fans are holding out hope that Abrams may 'retcon' Johnson's decisions for Episode IX – and, should that happen, it seems Johnson has no issue if this turns out to be the case, with the filmmaker telling MTV News:
"I've had a couple of conversations with [J.J. Abrams] but I've actually really enjoyed sitting back waiting to get my popcorn opening day and see how the thing turns out. I cannot wait. Like I said, I want to let go of all my expectations, I want to sit back, I want to be entertained. I want to be surprised. I want to be thrilled. I want him to do stuff that I wasn't expecting him to do and just go along for the ride For me, that's why I go to the movies."
SEE ALSO: Leaked Star Wars: Episode IX poster features the Knights of Ren, red Stormtroopers and new characters
Watch the interview with Johnson here:
.@rianjohnson is just as excited for J.J. Abram's #StarWars Episode IX as we are, and he tells us at #CinemaCon he hopes that the directors keep taking the universe to new heights: "I want him to do stuff that I wasn't expecting him to do" pic.twitter.com/D7Jh5SqgeT

— MTV NEWS (@MTVNEWS) April 5, 2019
Would you like to see Abrams retconning the Rey's parents reveal? Do you think it's something we might see in Episode IX? Let us know your thoughts in the comments below…
Star Wars: Episode IX is set for release on December 20th 2019 with J.J. Abrams (Star Wars: The Force Awakens) directing a cast that includes Star Wars veterans Daisy Ridley (Rey), Adam Driver (Kylo Ren), John Boyega (Finn), Oscar Isaac (Poe Dameron), Lupita Nyong'o (Maz Kanata), Domhnall Gleeson (General Hux), Kelly Marie Tran (Rose Tico), Joonas Suotamo (Chewbacca), Billie Lourd (Lieutenant Connix), Greg Grunberg (Snap Wexley), Mark Hamill (Luke Skywalker), Anthony Daniels (C-3PO), Billy Dee Williams (Lando Calrissian) and Carrie Fisher (Leia Organa) as well as new additions Naomi Ackie (Lady Mabeth), Richard E. Grant (Logan), Dominic Monaghan (Lost), and Keri Russell (The Americans).