Hasbro has released a new wave of action figures for the Marvel superhero epic Avengers: Endgame which includes 6-inch Ant-Man, Black Panther, Captain America, a Chitauri, Iron Spider, an Iron Man and Rescue 2-pack and a deluxe 6-inch Hulk figure, Titan Hero series 12-inch figures for Iron Spider, Rocket, Star-Lord, and Valkyrie, and an Electronic Gauntlet; check out the promotional images here (and a big thanks to Hasbro for sending the above our way!).
SEE ALSO: Funko unveils spoilery new Avengers: Endgame Pop! Vinyl figures
Imagine the incredible, super-powered action of the AVENGERS with figures inspired by AVENGERS: ENDGAME! MARVEL fans can imagine action-packed scenes with these poseable 6-inch figures, featuring articulated arms and head and movie-inspired deco. Collect AVENGERS: ENDGAME 6-inch-scale figures to assemble a team of MARVEL Super Heroes and imagine action-packed scenes from the MARVEL universe. Characters include CAPTAIN AMERICA, IRON SPIDER, BLACK PANTHER, ANT-MAN, and CHITAURI.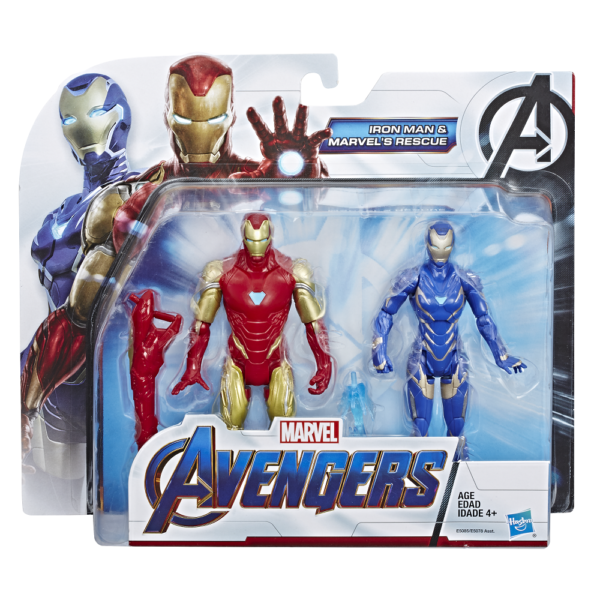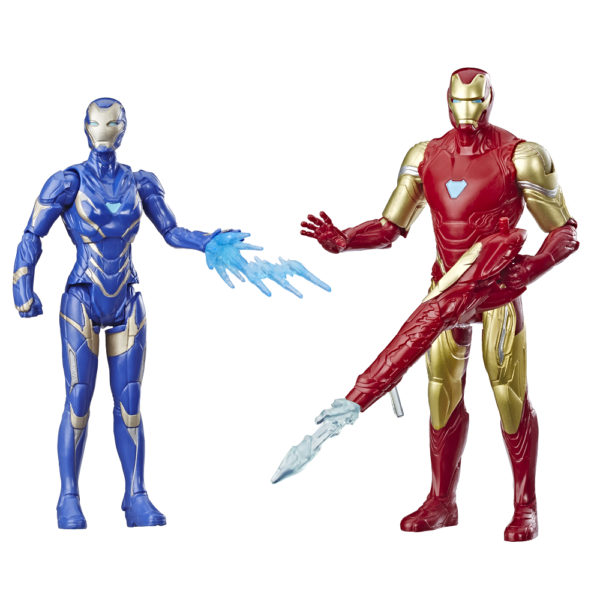 The armored Super Heroes IRON MAN and RESCUE team up to stop THANOS and his evil plans to wield the Infinity Stones. These 6-inch AVENGERS figures feature design inspired by AVENGERS: ENDGAME, so kids can imagine their favorite Super Heroes battling against the evil THANOS. Look for other AVENGERS: ENDGAME figures (each sold separately) to imagine even more adventures in the Marvel Universe. Includes 2 figures and 2 accessories.
This MARVEL AVENGERS: ENDGAME DELUXE 6-INCH HULK Figure lets kids imagine AVENGERS action as the big, green Super Hero battles to protect the universe. This 6-inch figure features design inspired by the HULK'S appearance in AVENGERS: ENDGAME, with multiple points of articulation and a character-inspired accessory. Include figure and accessory.
Imagine battling like your favorite AVENGER with these 12-inch scale MARVEL AVENGERS: ENDGAME figures from the TITAN HERO SERIES! When kids connect the TITAN HERO POWER FX launcher (not included; sold separately with Titan Hero Power FX figures) to this figure's arm port, they can activate character-specific sounds and phrases and launch projectiles! Characters in this assortment include IRON SPIDER, MARVEL'S VALKYRIE, STAR-LORD, and ROCKET RACOON. Each sold separately. Available at most major retailers.
Kids can imagine summoning the power of the Infinity Stones and controlling the fate of the galaxy with the MARVEL AVENGERS: ENDGAME ELECTRONIC FIST, including lights and sounds! Press the center button on the fist to light up the center stone and to activate mighty sound FX! The ELECTRONIC FIST is inspired by the AVENGERS: ENDGAME movie and is designed to fit most kid hand sizes.
Avengers: Endgame stars Robert Downey Jr. (Iron Man), Chris Evans (Captain America), Mark Ruffalo (Hulk), Chris Hemsworth (Thor), Scarlett Johansson (Black Widow), Jeremy Renner (Hawkeye), Josh Brolin (Thanos), Brie Larson (Captain Marvel), Paul Rudd (Scott Lang), Don Cheadle (War Machine), Karen Gillan (Nebula), Chadwick Boseman (Black Panther), Tom Holland (Spider-Man), Sebastian Stan (Winter Soldier), Anthony Mackie (Falcon), Elizabeth Olsen (Scarlet Witch), Benedict Cumberbatch (Doctor Strange), Danai Gurira (Okoye), Benedict Wong (Wong), Chris Pratt (Star-Lord), Zoe Saldana (Gamora), Dave Bautista (Drax), Bradley Cooper (Rocket), Vin Diesel (Groot), Karen Gillan (Nebula), Pom Klementieff (Mantis), Tom Hiddleston (Loki), Gwyneth Paltrow (Pepper Potts), Evangeline Lilly (The Wasp), Letitia Wright (Shuri) and Tessa Thompson (Valkyrie).