The Hummingbird Project, 2018.
Directed by Kim Nguyen.
Starring Jesse Eisenberg, Alexander Skarsgård, Salma Hayek, Michael Mando, Sarah Goldberg, Frank Shorpion, Johan Heldenbergh, and Kwasi Songui.
SYNOPSIS:
Vincent Zaleski (Jesse Eisenberg) and his cousin, Anton Zaleski (Alexander Skarsgård) leave their jobs as high-frequency traders to lay a fibre-optic line across America that could make them millions.
Although at times it might lull the audience into a sense of 'based on a true story', The Hummingbird Project is surprisingly a work of fiction written by the film's director, Kim Nguyen. Maybe it's the social political commentary, or that it deals with trading and finance in a way that both The Wolf of Wall Street and The Social Network looked at in their own unique visions. If DiCaprio's riotous Jordan Belfort was at the top of the money-making chain, the Zaleski cousins are somewhere near the bottom. As the pair leave their careers as high-frequency trading behind with a goal of laying a cable in one straight line from Kansas to New York, the aim is still to get rich by doing so – they just have a hands on approach.
It isn't the most glamorous plot, but neither does it promise to be a grand epic tale. From the very beginning it's clear that this is a character driven excuse to look at how fast technology is progressing. And for the large part, it succeeds. There are moments where it stumbles, especially in the beginning but once the audience is used to the Zaleski cousins and their situation it's an intriguing watch that proves to be entertaining.
Jesse Eisenberg's Vincent Zaleski has big dreams that feel entrenched with naivety at every turn as he places absolute faith that his cousin can sort the code that saves traders milliseconds in time – thus making them millions of dollars. There's the obvious comparison to Eisenberg's performance of Mark Zuckerberg in The Social Network, except that as Vincent Zaleski there's more of a genuine connection with the rest of the characters – rather than using them in a manipulative fashion. As he's troubled by his own mortality, his drive to achieve this monumental goal only becomes more intense – placing more pressure on the people around him. Most notably on his cousin, Anton.
It's a huge step away from some of Alexander Skarsgård's recent action-orientated appearances in Mute and Tarzan. He gives an impressively focused performance of a hyper intelligent coder, but at times goes overboard as Anton drowns in his desperation and paranoia to shave off a millisecond in his code's transference of data. He's literally hunched over with the weight of self-doubt and pressure to complete the task. The character dynamic between the two cousins is largely more entertaining than the trials and tribulations of laying the fibre-optic pipe across America. There are moments where they refer to David and Goliath, comparing themselves to David as they attempt to undertake all the other trading companies to quickly make a fortune. It's obvious there's something of an ego lurking beneath Vincent's fast-talking salesman, as he truly believes that this is something he deserves to achieve.
As they stumble their way into making their dream a reality, they're plagued by Salma Hayek's Eve – who the pair both used to work for until leaving for their own project. While she attempts to derail the pair she spends most of her time onscreen either belittling her employees, aside from one intimidating scene threatens Anton. Although her performance is charismatic and entertaining, Hayek feels wildly out of place and would instead fit nicely in something like the Ocean's franchise rather than a drama that at times raises socio-political questions.
One stand-out performance in the supporting cast comes from Michael Mando. His engineer with a positive 'can-do' attitude brings levity to the somewhat complicated familial relationship between the two cousins. That isn't to say that the pair don't get on, but it's clear that Vincent struggles with Anton's particular behaviour and habits at times. But Mando's character is not only there to drive their operation forward at a base level, but as a friend too – and it's clear how much he and Vincent have become friends towards the back half of the film.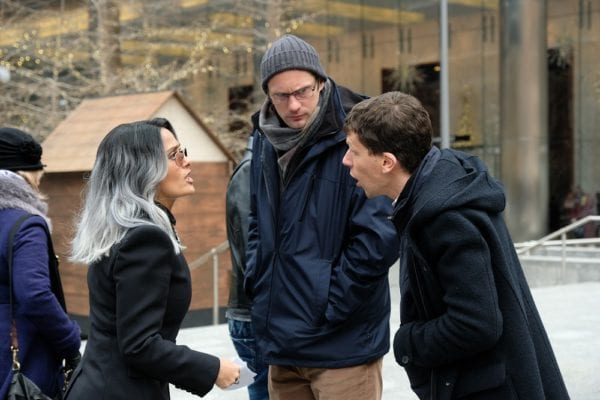 The direction from Nguyen leans into the aspirations of these men and their goals, making it feel incredibly grounded. There's a climactic scene in a forest towards the end of the film that reveals everything we need to know about Vincent's journey, who he is and how this whole operation has affected his mindset with the use of some clever imagery and a single repeated line of dialogue. So while the pacing of the film might not be as slick as it could be, it still manages to be effective.
The Hummingbird Project interestingly poses a question on the ethics of trading and how it affects the working class at the bottom of the rung. And later it asks whether speeding up the digital world and our connections across the globe is a step forward for humanity, or a misguided leap in the wrong direction. The questions posed to the audience on whether humanity should be allowed to process information so quickly are answered by the Zaleski cousins descent into desperate paranoia while their former employer becomes increasingly greedy.
Although it struggles to get going, The Hummingbird Project manages to grab the audience by examining a pair of determined workers while giving them questions to ask about technology, money and family. With a touching final scene that strips it all back to basics, it's clear that the filmmakers believe that the grass is not always greener.
Flickering Myth Rating – Film: ★ ★ ★ ★ / Movie: ★ ★ ★
Eammon Jacobs