Ricky Church on Battlestar Galactica…
In today's climate of film and television, its pretty common for an old property to be rebooted or remade for a modern audience. The last several years have seen it done so many times with various series or films, from Batman, Lethal Weapon, Magnum P.I., The Jungle Book and Twin Peaks, reboots have been a dime and dozen and often not lived up to the original. But flashback to 2003 when they weren't as common. One classic 1970s series was remade into something more serious and gritty, but with powerful characters, stories and themes. That show was Battlestar Galactica, which premiered with its miniseries back in 2003.
The original 70s series of Battlestar followed a ragtag group of humans on the verge of extinction after the Cylons, a race of robotic beings, launched a surprise attack on humanity and largely wiped out the population. The few survivors band together in search of their mythical colony, Earth, as their new home. While the show was fun and campy, the reimagined series was anything but as Ronald D. Moore, a writer and showrunner for Star Trek: The Next Generation and Deep Space Nine, took the franchise to a whole new level as he adopted a realistic and grounded approach to the story. What Moore ended up doing, in my opinion, surpassed the original series and delivered some of the best sci-fi television ever made.
The miniseries brought some sweeping changes to the original series that used post-9/11 culture as a huge influence. Some of the imagery the miniseries uses during the Cylon attacks is quite evocative of 9/11, from Baltar watching live footage of a nuclear explosion, huge plumes of smoke seen miles away to the scattered rumours collected on various spaceships on the attacks. The show let audiences know right away this wasn't going to be the fun, adventure filled, kid-friendly series of the 70s, but something deeper to examine current societal events and history.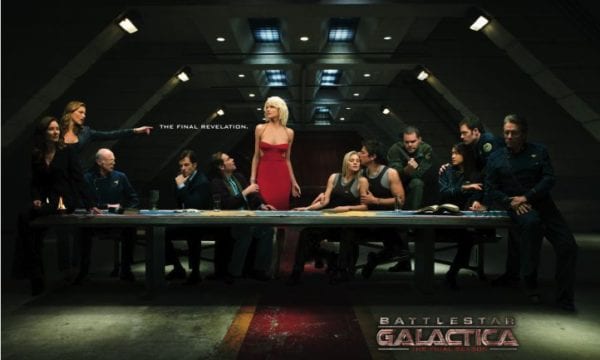 Rather than being a race of aliens, the Cylons were created by humanity before revolting and going into self-imposed exile for 40 years. During that time, they evolved from simple robotic drones into humanoid copies that looked and acted like people, a move that allowed the show to play off the character's paranoia that anyone could be a Cylon whole also examining what makes them human. Though there are 12 models of Cylons, each one has the capacity to act differently from their model instead of following a bland code, something that makes a few of the Cylons, such as Caprica Six, Boomer and Athena, quite unique from the rest. Through this, Battlestar Galactica examined one of the big themes of the series: what makes us human, even if, perhaps especially in, the face of the apocalypse?
Edward James Olmos' Commander Adama lays down this theme in the miniseries by asking an audience made up of military personnel, politicians and journalists what makes humanity a species worth saving. This one little question branches several other themes on family, love, loyalty, torture and many more as the series attempted to give an answer. Battlestar provided some very deep and thought-provoking themes, especially when it came to the morality of war. The topics of suicide bombers, interrogation torture, military conscription are all brought up at one point or another. Perhaps one of the big sticking points to the series in these themes was the arrival of the Battlestar Pegasus, another Battlestar that had survived the Cylons big attack. Due to their different circumstances though they took a much different path than the Galactica as they waged a guerrilla war against the Cylons and lost their humanity along the way as they resorted to torture, killing and forcefully conscripting civilians and even rape to achieve their goals.
That was one thing about Battlestar that separated it from many other shows; it was unafraid to go places most shows were. From its discussions on rape, ethics, religion, racism and war, there seemed very little it wouldn't talk about. One episode that has always stuck with me is Season 2's 'The Captain's Hand' which discusses a topic many shows try avoiding: abortion. Though the episode and character of President Roslin took the stance of pro-choice, it examined it from the position of humanity's near-extinction which forced Roslin to ban it for the survival of the species. It was a very risky position to take, but where most shows use abortion for dramas sake Battlestar discussed it in a serious and respectful manner.
Of course, the power of discussions such as those only succeed because of the greatness of the show's cast. From Olmos, Mary McDonnell, Katee Sackhoff, Jamie Bamber, Tricia Helfer, James Callis and the rest of the ensemble, Battlestar's cast gave it their all. Over the course of its four season run, as well as its few web-series and feature specials, the cast delivered some truly emotional and powerhouse performances. What makes them and their characters so endearing, though, is they are presented as flawed people from start to finish. None of them are perfect, even the moral paragon that is William Adama. It presented them as real people that were allowed to have faults and failures, yet still grow. Each character goes through some remarkable development even with their flaws, particularly Callis' Gaius Baltar, that makes them feel relatable and human. Battlestar delivered some great character examinations that were given by an even better group of actors. There was one character, though, that hung over all the others: Battlestar Galactica herself.
Click below to continue onto the second page…