In a one-on-one situation, Marvel Studios boss Kevin Feige thinks that the Scarlet Witch would defeat Thanos.
To take down Thanos in Avengers: Endgame, it took a truly colossal effort, with every Avenger on hand during the battle. But is there someone that could have beaten Thanos in single combat?
Well, Kevin Feige thinks so, with the Marvel Studios boss telling Comic Book (via CBR) that he thinks Elizabeth Olsen's Scarlet Witch could do the job: "Wanda Maximoff, who is probably near the upper echelons of power – I contend she would have taken down Thanos if he hadn't called the [army], it was done."
And regarding the character appearing in Doctor Strange and the Multiverse of Madness, he said: "…her being the Scarlet Witch now, as Lizzie said on stage in a full sort of unabashed power-based [way], coming into the Doctor Strange movie, that is two heroes coming together in a fun way."
SEE ALSO: Avengers: Endgame writers explain why Nick Fury was absent from the final battle
What do you think? Could Scarlet Witch have really won all by herself against just Thanos? Let us know in the comments below and on Twitter @flickeringmyth.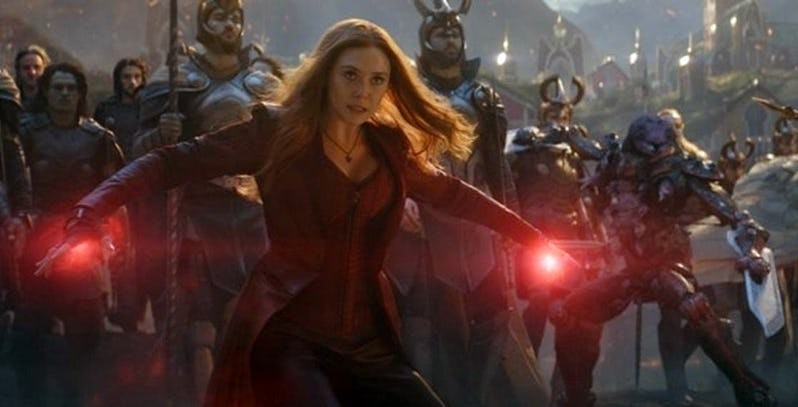 Avengers: Endgame stars Robert Downey Jr. (Iron Man), Chris Evans (Captain America), Mark Ruffalo (Hulk), Chris Hemsworth (Thor), Scarlett Johansson (Black Widow), Jeremy Renner (Hawkeye), Josh Brolin (Thanos), Brie Larson (Captain Marvel), Paul Rudd (Scott Lang), Don Cheadle (War Machine), Karen Gillan (Nebula), Chadwick Boseman (Black Panther), Tom Holland (Spider-Man), Sebastian Stan (Winter Soldier), Anthony Mackie (Falcon), Elizabeth Olsen (Scarlet Witch), Benedict Cumberbatch (Doctor Strange), Danai Gurira (Okoye), Benedict Wong (Wong), Chris Pratt (Star-Lord), Zoe Saldana (Gamora), Dave Bautista (Drax), Bradley Cooper (Rocket), Vin Diesel (Groot), Karen Gillan (Nebula), Pom Klementieff (Mantis), Tom Hiddleston (Loki), Gwyneth Paltrow (Pepper Potts), Evangeline Lilly (The Wasp), Letitia Wright (Shuri) and Tessa Thompson (Valkyrie).