Tone-Deaf. 2019
Directed by Richard Bates Jr.
Starring Amanda Crew, Robert Patrick, Hayley Marie Norman, Johnny Pemberton, Kim Delaney, AnnaLynne McCord, Nancy Linehan Charles, and Ray Wise.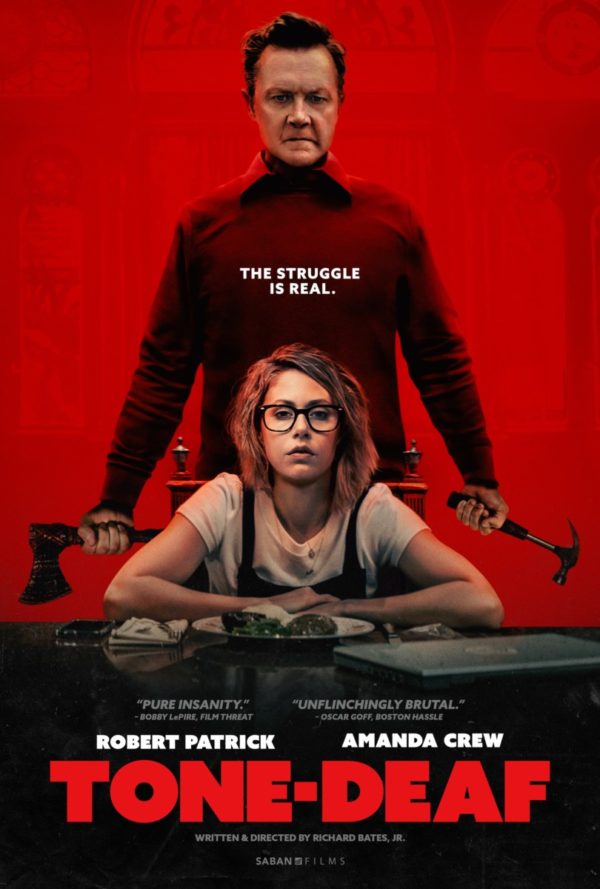 SYNOPSIS:
A woman goes to the countryside to spend a quiet weekend after losing her job and having her last complicated relationship implode. She rents a country house to an old-fashioned widower, who struggles to hide his pyschopatic tendencies.
Tone-Deaf, while not necessarily a good movie, is nonetheless self-aware. Robert Patrick (iconic for playing the T-1000 in Terminator 2: Judgment Day and an all-around respectable genre actor) is introduced as Harvey, clearly unstable breaking the fourth wall and rambling to the audience about them darn millennials. The actor goes for it with such over-the-top conviction that it's both hilarious and entertaining. Moments later, the mentally ill widower rents out his home over the weekend for $500 to Olive (Amanda Crew), a woman in need of rest and relaxation after breaking off a toxic relationship with a man-child and wrongfully losing her job for not being interested in her boss. Imagine Harvey's reaction when Olive pulls up to the fancy countryside home with a bumper sticker on the back of her car promoting coexistence across the universe.
Harvey is slowly going off the deep end, also becoming fascinated with what it feels like to murder a human being. Couple this with his baby boomer tirades and it's not long before Olive becomes the perfect target. Yes, at a time when Universal Pictures has canceled the release of a film for potentially being interpreted as a hunting sport depicting the far left picking off the far right, here comes a movie involving the exact opposite. Now I fully understand this movie will fall under the radar seeing as it is a VOD release, but you have to love those double standards from the USA, specifically the president. The Hunt apparently leaves things open to interpretation, whereas Tone-Deaf contains quite a few sequences of Robert Patrick losing his shit ranting about liberals.
Hypocrisy and controversy aside, writer/director Richard Bates Jr. fails at saying anything worthwhile regarding its dynamic pitting opposing political forces against one another. It also lacks excitement, functioning as a disjointed viewing experience with painful attempts at humor, random demonic jump scares, and a full-on acid trip segment where the script attempts to have a serious discussion about suicide and provide some sort of emotional catharsis for Olive. There are also supporting characters such as Olive's spiritually inclined hippie mother dating a much younger man that's both full of himself yet also a courageous sweetheart; it amounts to nothing besides bland jokes and a resolution to their arc that is excellent black humor on paper unfortunately terribly executed. Tone-Deaf is a disaster when Robert Patrick is not on-screen, and even when he is on-screen it's only more of a watchable disaster; a car wreck that you can't look away from.
There are too many diversions for any of this to work; rather than crafting a thrilling game of cat and mouse, Richard Bates Jr. is focused on outside elements and tragic backstories that don't necessarily add anything to the movie. A home invasion movie summed up as one angry and irrelevant baby boomer preparing to become a murderer of millennials that are ruining his pure envisioning of the world doesn't need commentary about depression and suicide. It doesn't need random comedy involving hippies. It sure as hell does not need supernatural jump scares. The decision to ditch the home invasion concept is also a head-scratcher.
Calling out bad acting is never fun, but it must be said that anyone not named Robert Patrick is absolutely awful in this movie. There's an extended portion of the movie where Harvey is torturing an older woman, at one point prompting her to deliver unconvincing shrieking. Amanda Crew doesn't fare much better with some of her lines, and she does receive the opportunity for some decent one-liners during the grand showdown. The less said about everyone else the better. As for Robert Patrick, for anyone that recently saw The Intruder and came away itching to see him playing the same role as Dennis Quaid did, but somehow more cartoonish, than it's worth checking out. Lower your expectations going in and know that once it's over, you still won't know what the hell this movie is actually supposed to be. No wonder it's titled Tone-Deaf.
Flickering Myth Rating – Film: ★ ★ / Movie: ★ ★
Robert Kojder is a member of the Chicago Film Critics Association and the Flickering Myth Reviews Editor. Check here for new reviews, friend me on Facebook, follow my Twitter or Letterboxd, check out my personal non-Flickering Myth affiliated Patreon, or email me at MetalGearSolid719@gmail.com