Knives Out, 2019.
Written and directed by Rian Johnson.
Starring Daniel Craig, Ana De Armas, Lakeith Stanfield, Chris Evans, Jamie Lee Curtis, Toni Collette, Don Johnson, Michael Shannon, Christopher Plummer, Katherine Langford, Jaeden Martell, and Riki Lindholme.
SYNOPSIS:
When renowned crime novelist Harlan Thrombey (Christopher Plummer) is found dead at his estate just after his 85th birthday, the inquisitive and debonair detective Benoit Blanc (Daniel Craig) is mysteriously enlisted to investigate. From Harlan's dysfunctional family to his devoted staff, Blanc sifts through a web of red herrings and self-serving lies to uncover the truth behind Harlan's untimely death.
Following the divisive response to Rian Johnson's unfairly maligned Star Wars: The Last Jedi, the filmmaker made surely the smartest next move possible; he created something completely different in style and form that, in its confident ingenuity, is sure to re-affirm his cred with even those ardent detractors.
Filthy-rich crime novelist Harlan Thrombey (Christopher Plummer) is murdered on the evening of his 85th birthday, his throat slashed by an unseen assailant. With his extensive family gathered at the homestead, they're relentlessly grilled by an eccentric detective, Benoit Blanc (Daniel Craig), who attempts to separate fact from fiction and get to the bottom of Thrombey's demise.
Knives Out is, effectively, an Agatha Christie story cut with a mainline dose of neo-noir – a genre the Brick director is no stranger to – cross-breeding the ornate high-drama of a classic murder-mystery with a generation defined by smartphones, social media and, yes, the rise of the alt-right. But we'll get to that last part later.
And while murder-mystery films tend to both transpire in a period setting and play things relatively straight, Knives Out is a rare jaunt that's not only set in the present-day but knows it's a murder-mystery, with the huge cast of characters entirely au fait with the litany of tired crime tropes therein.
One character even remarks that Thrombey "practically lived on a Clue board." However, in this consummately riveting and continually inventive film, the genre's conventions aren't much more than a gloss, a primer for Johnson and his cast to leap off and do something very different.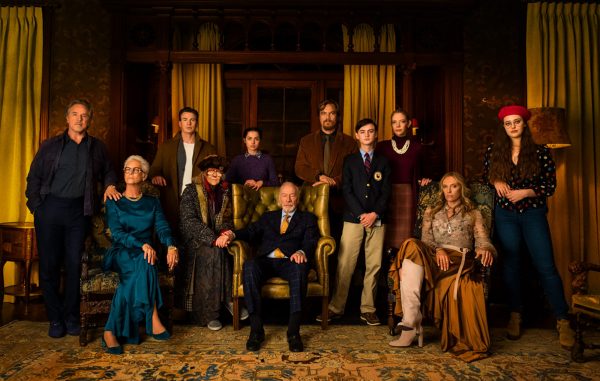 In many ways Knives Out is a tough film to review because its success is so predicated on the viewer being bamboozled – not to say that it will play any worse on a second viewing; likely quite the opposite, in fact. But if Johnson left a sour taste in some viewers' mouths with his expectation-subverting The Last Jedi, his smart reshuffle of this genre should play decidedly more comfortably with most.
The marketing has admirably played its cards close to the chest, showing only specific passages largely bereft of context, such that a lot of what you've already seen plays out differently in the film itself. Without going into detail, Johnson opts for a highly unconventional structure here, effectively taking the traditional whodunnit blueprint and turning it inside out.
The writer-director makes the brave move to shed much of the initial mystery early on, leaping off to set up an additional series of intertwining threads, each connected together in a perilous pyramid of unfurled backstories, alternate perspectives and, yes, double crosses. It's a bold strategy and one that could so easily have exposed Johnson's storytelling vulnerabilities, but the central conceit is so cleverly constructed that it opens itself up to surprisingly little logical scrutiny – on a first viewing, anyway.
Impressively, Johnson goes far to ensure the film isn't simply a glib thumbing of the nose at a defunct genre; there's actually a mystery-thriller plot for the ages here, one accentuated by its twisty logic and well-drawn characters. Subjective perspectives are hurriedly piled on top of one another, whirling around others which appear to be objective, though of course, Johnson playfully keeps audiences on their toes until late in the picture with regard to what is precisely unambiguous, objective truth.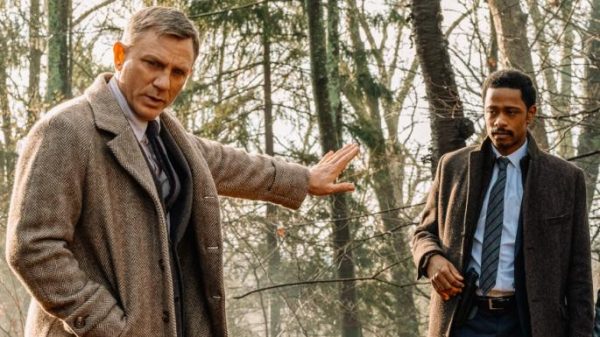 There's also a significant and quite unexpected political dimension present in a film that could so easily have been vacuum-sealed away from the "real world." There are whispers of Donald Trump prevalent throughout the film, with numerous direct references to Nazis, immigrants locked in cages, and even the explicit presence of an "alt-right troll", as embodied by Jaeden Martell's insufferable grandson character. But Johnson is careful not to draw along any stridently simplistic political lines, as even the characters siding on the seemingly virtuous left aren't always shown to be wonderful either.
But Johnson's brio and ambition as a storyteller is entirely matched by the efforts of a fantastic ensemble cast. Where to even begin? Jamie Lee Curtis, Don Johnson, Toni Collette, Michael Shannon, and Katherine Langford are all gunning for it here as Thrombey's various children, grandchildren and in-laws, yet this is a film so stacked with choice talent and strong work that they're far from the best it has to offer.
One can tell that Chris Evans, as Thrombey's cocksure, foul-mouthed grandson Ransom, is relishing the free rein to play a prickly asshole after spending almost a decade suited-up as the squeaky-clean Captain America.
He doesn't show up proper until the movie's half-way point, but energises every single scene he's in thereafter. Galvanising the film in an entirely different way is Plummer, who despite his character being dead for 99% of the movie, appears in a number of well-placed flashbacks, enjoying some especially terrific chemistry opposite Ana de Armas, who plays Thrombey's carer Marta.
De Armas makes for a thoroughly likeable audience proxy, even accepting her rather peculiar penchant for vomiting whenever she tells a lie. She comes to represent the film's closest approximation of an actual human soul, giving a surprisingly poignant performance that ensures the film is tethered to some sort of tangible emotional reality even in its daftest moments.
But the unmistakable show-stealer is Craig's Benoit Blanc, an approximation of what would happen if you drove Hercule Poirot through a KFC at Mach 1. His campy, ridiculous southern American accent is all part of the dappy charm, dropping rootin' tootin' one-liners left-and-right with a sly joy that Craig has, sadly, rarely been able to convey in many of his other screen roles. But he's so brilliant here that few would likely complain if Blanc went full Poirot by getting his own spin-off franchise.
If all this isn't enough, there's also a bevy of smaller cameo and support roles, such as Johnson's pal Noah Segan, who as the awkward Trooper Wagner is given a number of the film's funniest quips. Elsewhere, there's a rare live-action role for Frank Oz (the man behind Star Wars' Yoda), a fun cameo for the inimitable M. Emmet Walsh, and even a neat part for veteran character actress K. Callan as the sepulchral, terse Great Nana Thrombey.
It goes without saying that, likely for the sake of logistics above all else, this cast is often squared off into a number of self-contained hang-outs, an understandable approach even if you'd be forgiven for wishing there were a little more interaction between the whole. What verbal sparring there is between the entire cast, however, is marvelously catty and possibly worth the price of admission alone.
Additionally, Knives Out is a ravishingly produced film which fuses the robust technicals of any murder-mystery worth its salt with a sure contemporary flair. Johnson's ever-present DP Steve Yedlin pays tribute to the film's genre brethren through the comfortingly warm interiors, unquestionably aided by the gorgeous design of the mansion itself even if the actual geography of the house remains surprisingly ambiguous throughout.
Editor Bob Ducsay also deserves a shout-out for what must've been a mind-boggling job piecing together the various narrative shards into a film that's not only legible but also easy enough to follow. And even in its most breathless moments, the film's snappy visual language ensures confusion is minimal. Johnson's cousin Nathan Johnson meanwhile provides the musical score, which like the film as a whole places one foot in the sleuth traditions of yore and the other in a wholly more contemporary mood.
This slick style combines with a slew of barmy reveals and the cast's sheer personality offensive to make the film's hefty 130 minutes snappily pass by. This is the most playful film Johnson has made since The Brothers Bloom, enhancing a relatively simple story – for the most part – with a clever and complex presentation.
But even as the film appears to become more convoluted in its increasingly demented – and dementedly funny – third act, there's a solid logical track throughout. This ensures the story stays true to its relatively grounded tone from the outset, counter to the prevailing silliness that defines so many pulp crime outings. And better still, it winds up with surely the most quietly brilliant final shot you're likely to see all year.
One could argue that Johnson could've done more had the film been given an R-rating – Evans, for one, could've traded those S-bombs for F-bombs – and some will inevitably take umbrage with Johnson's unnecessary-yet-cutting politicisation of the story. But to call Knives Out a compromise of the realities of Hollywood filmmaking feels too backhanded a compliment, because there's never less than the feeling that Johnson delivered precisely the film he wanted to.
Unburdened by the concerns of a 40-year-old blockbuster franchise and its many millions of fans, Knives Out isn't merely a stop-gap breather film for its embattled filmmaker, but a fresh, daring spin on a shopworn genre. An ingeniously constructed, devilishly creative murder-mystery enhanced by a first-rate ensemble cast and some risky, surprising narrative choices.
Flickering Myth Rating – Film: ★ ★ ★ ★ / Movie: ★ ★ ★ ★
Shaun Munro – Follow me on Twitter for more film rambling.